Lasagna Recipes
Mushroom Ragù Lasagna
Course

Main Dish

Servings

6 to 8 servings

Prep Time

15 minutes

Cooking Time

90 minutes

Total Time

1 hour 45 minutes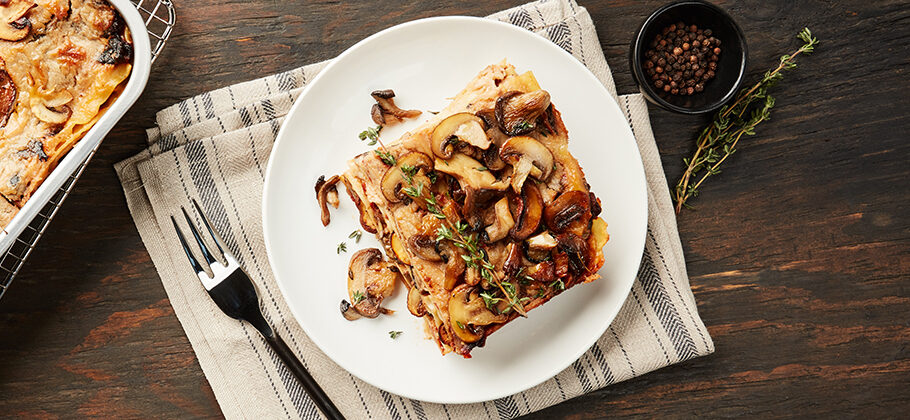 Made with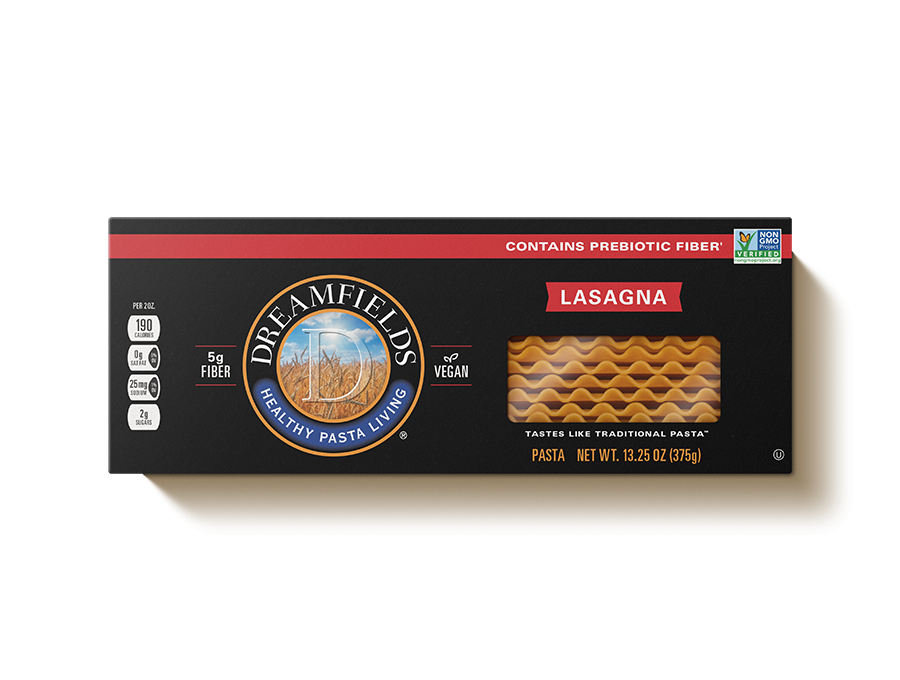 Dreamfields®
Lasagna
Ingredients
3 pounds, 8 ounces mixed fresh mushrooms
4 tablespoons extra-virgin olive oil
2 medium yellow onions, minced
15 medium garlic cloves, minced, reserving 2 tablespoons
1 cup dry white wine
1 (15 ounce) can whole peeled tomatoes, crushed with juices
4 sprigs thyme
1 box Dreamfields® Lasagna, cooked al dente
2 tablespoons vegetable oil
2 tablespoons flour
2 cups oat milk (or plant milk, if preferred)
⅛ teaspoon grated nutmeg
Directions
In a large pot, heat oil over high heat. Add onion and garlic (reserve 2 tablespoons garlic), and cook, stirring until softened and beginning to brown, about 6 minutes. Add mushrooms and cook, stirring until they begin to brown, about 10 minutes. Add wine, scraping up browned bits. Add tomatoes and thyme sprigs.
Lower heat to medium-low and cook, stirring often until mushroom sauce is thick, about 45 minutes. Discard thyme stems. Season with salt and pepper.
While ragù cooks, heat vegetable oil and remaining 2 tablespoons minced garlic in a medium saucepan over medium heat. Cook about 1 minute. Add flour and cook about 2 minutes. Whisking continuously, slowly add the oat milk and bring to a boil, whisk vigorously then remove from heat. Add nutmeg and season to taste with salt and pepper. Set aside.
Adjust oven rack to middle position and heat oven to 400° F.
Cook lasagna per the directions on the box.
Spread a thin layer of the white sauce over the bottom of a 9x13 dish and top with three lasagna noodles. Add a thin layer of mushroom ragù and top with a thin layer of white sauce. Repeat with 3 more layers of noodles, ragù and white sauce. Place the final 3 noodles on top of the lasagna, top with the remaining ragù and drizzle with the remaining white sauce.
Cover with aluminum foil and transfer to the oven. Bake covered for 20 minutes. Remove foil and continue baking until browned and bubbly, about 15 minutes longer.
Nutrition Facts
530 Calories
77g Carbohydrates
2g Saturated Fat
85mg Sodium
16g Fat
19g Protein
0mg Cholesterol
11g Dietary Fiber
Find Dreamfields Pasta near you.

Find Dreamfields at your favorite grocery and retail stores nationwide. Also available online.

Find a store