Angel Hair Recipes
Fennel Pesto Pasta With Fennel, Roasted Tomato And Cannellini Salad
Course

Main Dish

Servings

Makes 6 Servings

Prep Time

25 minutes

Cooking Time

40 minutes

Total Time

1 hour, 5 minutes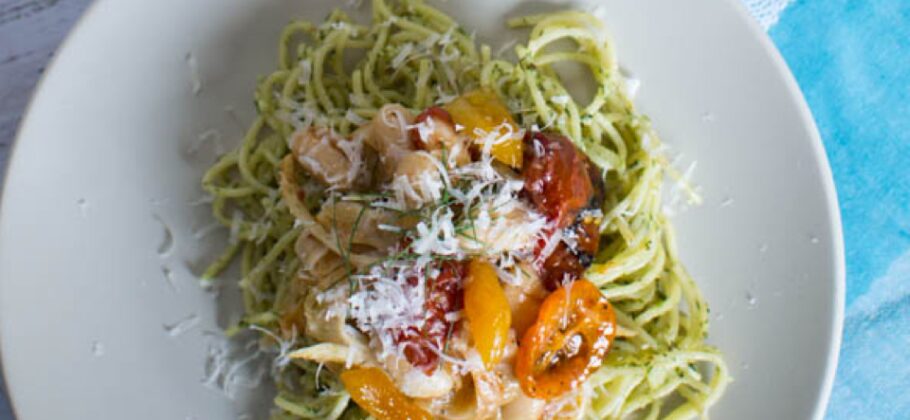 Made with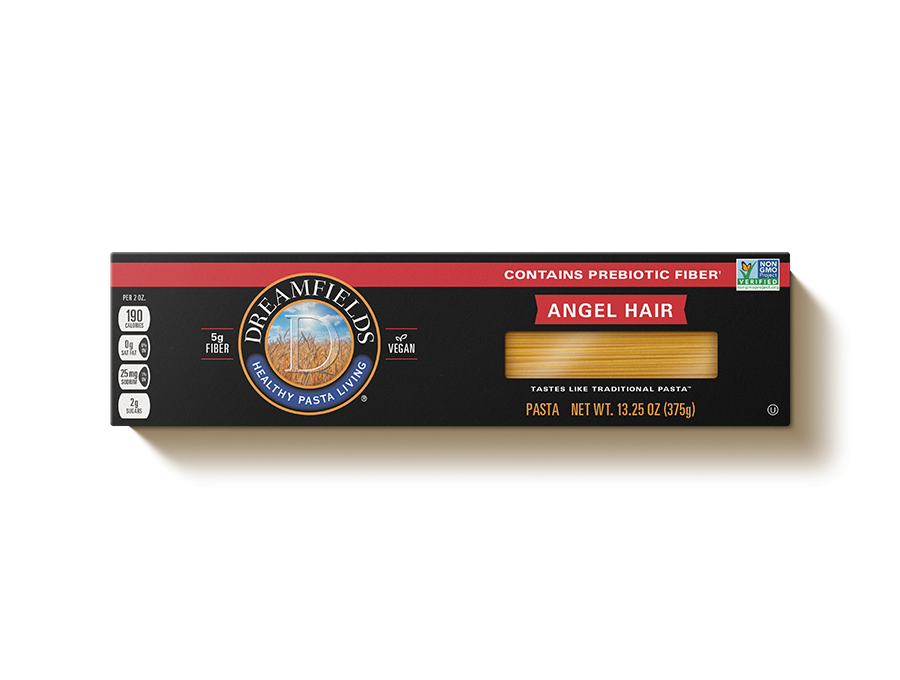 Dreamfields®
Angel Hair
Ingredients
FENNEL PESTO
1 box Dreamfields Angel Hair Pasta
2 cups fennel fronds chopped
1/2 cup whole almonds toasted and crushed
1/2 cup olive oil
1/2 cup Parmigiano Reggiano cheese grated
1/4-1/2 cup water
salt and pepper
FENNEL, ROASTED TOMATO AND CANNELLINI SALAD:
16 ounces cherry and grape mixed tomatoes halved
2 tablespoons olive oil divided
salt and pepper
1/2 cup balsamic vinegar (+1 additional tablespoon)
1/4 cup dried apricots thinly sliced
2 cups fennel bulb thinly sliced
1 15.5 oz can cannellini beans drained and rinsed
fennel fronds (optional)
Parmigiano Reggiano cheese grated (optional)
Directions
Preheat oven to 425°F.
Cook pasta according to package directions. Place pasta in large bowl; set aside.
Meanwhile, for pesto place fennel fronds and almonds in bowl of food processor. Pulse until finely chopped. With food processor running, slowly add oil. Add Parmigiano, salt and pepper, as desired. Process to combine ingredients. Add water if necessary for pesto consistency. Toss with cooked pasta.
For salad, place tomatoes cut-side-up on rimmed baking pan lined with aluminum foil. Drizzle with 1 tablespoon of the oil. Season with salt and pepper, as desired. Roast 15 to 20 minutes or until tomatoes have started to caramelize, but still retain their shape.
While tomatoes are roasting, combine 1/2 cup of the vinegar and the sliced apricots in small skillet. Cook over medium-low heat 5 to10 minutes or until vinegar has reduced by about half. Remove sliced apricots; reserve for garnish. Reserve reduced vinegar.
Place sliced fennel in large bowl. Add remaining 1 tablespoon vinegar, remaining 1 tablespoon oil, and salt and pepper, as desired. Gently toss with roasted tomatoes and beans; season with salt and pepper, as desired.
Add fennel-tomato mixture to pasta. Drizzle with reserved reduced vinegar. Garnish with reserved apricots, and fennel fronds and Parmigiano, as desired.
Nutrition Facts
650 Calories
75g Carbohydrates
0g Saturated Fat
240mg Sodium
32g Fat
20g Protein
7mg Cholesterol
13g Dietary Fiber
Find Dreamfields Pasta near you.

Find Dreamfields at your favorite grocery and retail stores nationwide. Also available online.

Find a store