Penne Rigate Recipes
Penne with Roasted Eggplant & Savory Mushroom Ragu
Course

Main Dish

Servings

Makes 6 Servings

Prep Time

20 minutes

Cooking Time

35 minutes

Total Time

1 hour, 15 minutes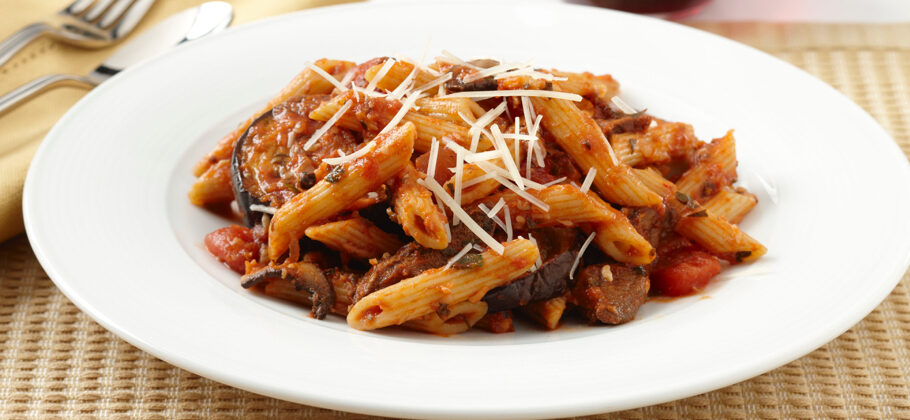 From the kitchen of Dreamfields Pasta

Made with
Dreamfields®
Penne Rigate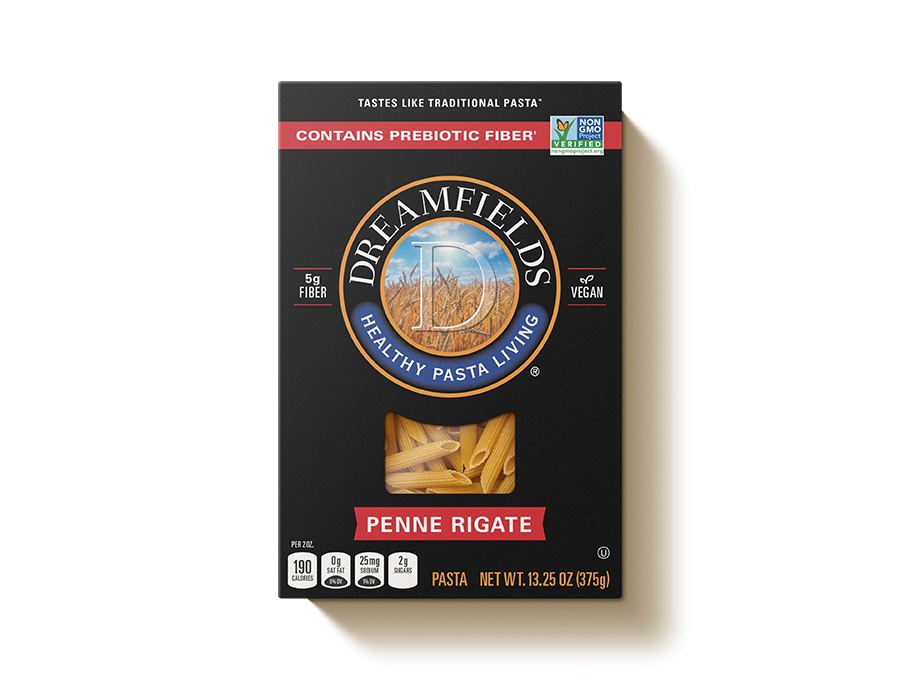 Ingredients
1 box Dreamfields Penne Rigate or Dreamfields Rotini
2 medium eggplants (about 3/4 pound each)
2 olive oil
1 cup fresh parsley chopped
1 tablespoon fresh rosemary chopped
1 tablespoon garlic minced
1 tablespoon red onion chopped
1 cup Porcini mushrooms dried, sliced (see note below)
1 cup portobello fresh, sliced
1 cup shiitake mushrooms fresh, sliced
1/2 cup dry red wine
2 cups prepared marinara sauce used reduced-sodium (about 16 ounces)
1/2 teaspoon salt (optional)
1 teaspoon pepper
1/3 cup Parmesan cheese shredded
Parmesan cheese shredded (optional)
Directions
Cut eggplant into 1/2-inch rounds. Spray cut sides with nonstick cooking spray. Place on nonstick baking sheet or foil-lined baking sheet. Bake in preheated 450°F oven 15 minutes or until tender. Remove from oven. Place eggplant on paper towels. When cooled, cut slices in half.
Meanwhile, heat oil in large nonstick skillet over medium-high heat until hot. Add parsley, rosemary, garlic and onion. Cook 1 to 2 minutes until sizzling, stirring frequently. Add mushrooms. Stir in wine; cook 2 to 3 minutes until wine evaporates. Stir in marinara sauce and eggplant. Sprinkle with salt and pepper. Bring to boil; reduce heat and simmer 15 to 20 minutes, stirring occasionally.
Cook pasta according to package directions. Drain well. Toss with eggplant sauce and 1/2 cup Parmesan cheese. Sprinkle with additional cheese, if desired.
Note: To hydrate porcini mushrooms, cover mushrooms with hot water. Allow to stand about 20 minutes to soften; drain.
Nutrition Facts
397 Calories
65g Carbohydrates
2g Saturated Fat
641mg Sodium
10g Fat
14g Protein
6mg Cholesterol
12g Dietary Fiber
Find Dreamfields Pasta near you.

Find Dreamfields at your favorite grocery and retail stores nationwide. Also available online.

Find a store