Lasagna Recipes
Mexican Lasagna
Course

Main Dish

Servings

Makes 10 Servings

Prep Time

45 minutes

Cooking Time

80 minutes

Total Time

2 hours, 15 minutes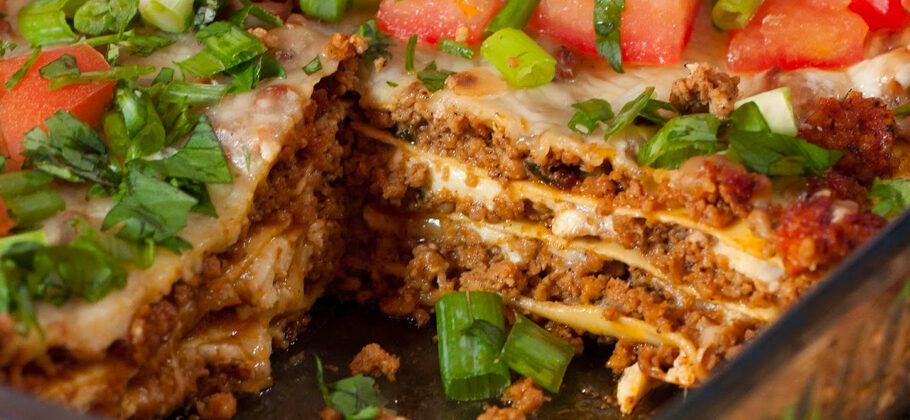 Made with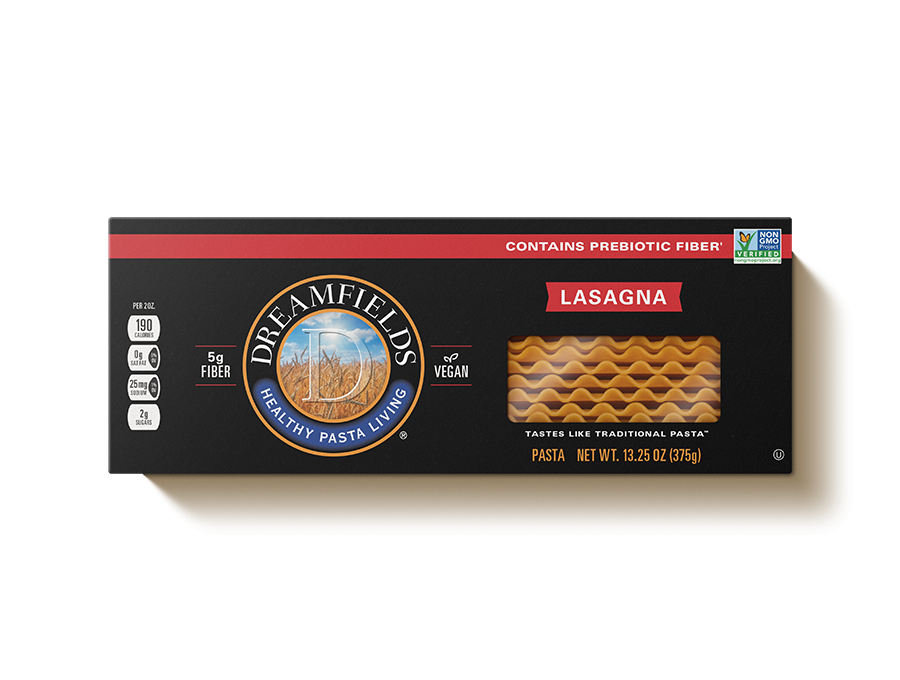 Dreamfields®
Lasagna
Ingredients
12 Dreamfields Lasagna Noodles
1/4 pound raw chorizo sausage
1 1/2 tablespoons vegetable oil divided
2 dried ancho chiles stemmed, seeded and chopped
1 large Spanish onion chopped
2 tablespoons tomato paste
6 cloves garlic minced
4 teaspoons Mexican oregano dried
1 teaspoon pepper
2 teaspoons cumin preferably freshly ground
2 teaspoons coriander preferably freshly ground
3 tablespoons all-purpose flour
3 cups unsalted fat-free chicken broth
2 pounds ground pork (96% lean)
8 scallions sliced (separate white and green portions), divided
1 cup fresh cilantro chopped, divided
1/4 cup lime juice freshly squeezed
1-1/2 cups Chihuahua cheese freshly shredded
1-1/2 cups queso fresco crumbled
1/2 cup queso Cojtia freshly grated
2 large tomatoes cored and chopped
Directions
Preheat oven to 350°F.
Cook pasta according to package directions.
Meanwhile, heat 1/2 tablespoon of the oil in 12-inch nonstick skillet over medium-high heat until shimmering. Add chorizo; cook and stir 1 minute or until it begins to render fat; set aside.
Toast chilies in a large skillet over medium heat, shaking pan constantly, 3 to 7 minutes or until fragrant. Transfer toasted chilies into blender container.
Heat remaining 1 tablespoon oil in large Dutch oven over medium to medium-high heat until shimmering. Add onion; cook 8 to 10 minutes or until softened, stirring occasionally. Stir in tomato paste; cook 1 to 2 minutes. Stir in garlic, oregano, cumin, coriander and pepper; cook 1 to 2 minutes or until fragrant, stirring frequently.
Sprinkle in flour; cook and stir 1 to 2 minutes or until flour is blended into the onion mixture. Slowly add broth, stirring constantly and scraping any browned bits from bottom of Dutch oven. Continue cooking until sauce is slightly thickened, about 3 to 5 minutes, stirring frequently.
Add sauce to blender with chilies and process until smooth, about 30 to 40 seconds. Return sauce to Dutch oven. Add pork, breaking up with a wooden spoon or spatula. Cover; cook pork in sauce over medium to medium-high heat until fully cooked, about 15 to 20 minutes. Stir in scallion whites, 1/2 cup of the cilantro, and the lime juice. Set aside.
Combine Chihuahua cheese and queso fresco in large bowl; set aside.
Spread about 1/2 cup of sauce over bottom of 9x13-inch baking dish. Layer 4 lasagna noodles, about 3/4 cup of sauce, about 1/2 cup cheese mixture. Repeat with 4 more lasagna noodles, 3/4 cup sauce, 3/4 cup cheese mixture. Top with remaining 4 lasagna noodles, remaining sauce, chorizo, and remaining cheese mixture.
Cover baking dish with aluminum foil; bake 15 to 20 minutes or until cheese is melted. Remove aluminum foil; sprinkle with cojita cheese; bake 10 minutes. Remove from oven. Let lasagna stand about 10 minutes. Sprinkle with tomatoes, scallion greens and remaining cilantro.
Nutrition Facts
415 Calories
36g Carbohydrates
0g Saturated Fat
434mg Sodium
17g Fat
33g Protein
82mg Cholesterol
6g Dietary Fiber
Find Dreamfields Pasta near you.

Find Dreamfields at your favorite grocery and retail stores nationwide. Also available online.

Find a store