Linguine Recipes
Chicken with Olives & Linguine
Course

Main Dish

Servings

Makes 4 Servings

Prep Time

15 minutes

Cooking Time

30 minutes

Total Time

45 minutes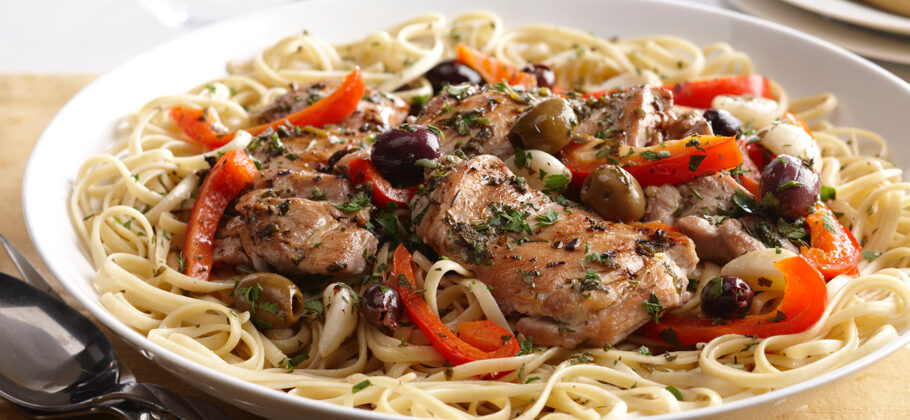 From the kitchen of Dreamfields Pasta

Made with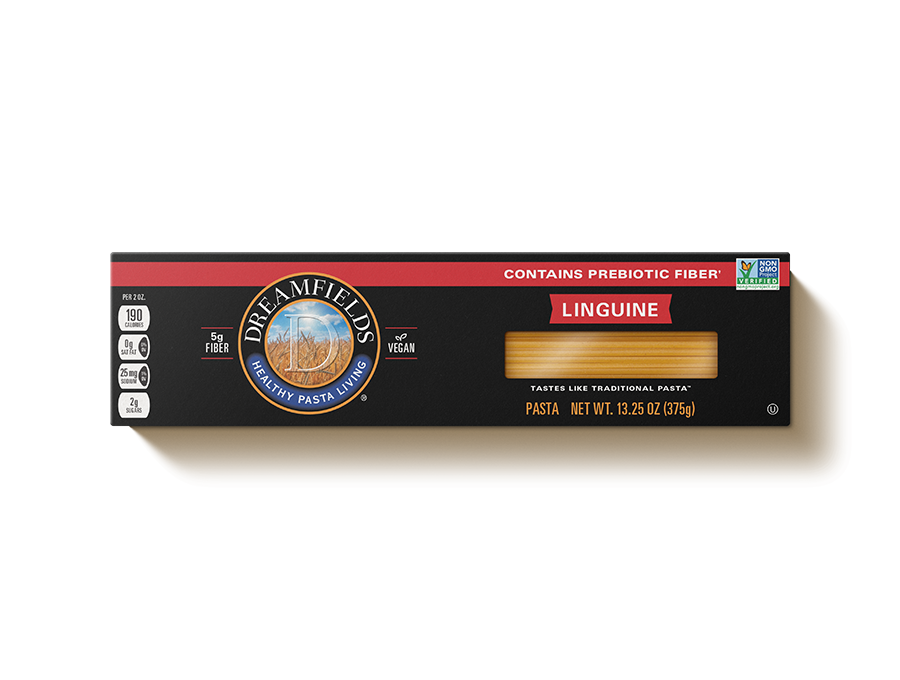 Dreamfields®
Linguine
Ingredients
1/2 box Dreamfields Linguine
1 pound boneless, skinless chicken thighs
1 tablespoon olive oil
8 cloves garlic
1 medium bell pepper cut into 1/2-inch wide strips
1/4 cup pitted olives (Kalamata, green or other favorite)
1/4 cup fresh herbs* chopped
3/4 cup dry white wine (or chicken broth)
2 teaspoons balsamic vinegar
additional fresh herbs* for garnish (optional)
black pepper coarsely ground
Directions
Trim any excess fat from chicken; set aside.
Heat oil in large nonstick skillet over medium heat. Place chicken in skillet; cook 2 to 3 minutes until browned. Turn chicken; sprinkle with black pepper, as desired. Scatter garlic cloves around chicken; cook 2 to 3 minutes until browned, stirring garlic as needed.
Add bell pepper and olives to skillet; sprinkle herbs over chicken and peppers. Pour wine into skillet. Bring to boil; reduce heat and simmer, covered, about 20 minutes or until chicken is cooked through.
Meanwhile, prepare pasta according to package directions. Place in large serving bowl or on platter.
Remove chicken and peppers from skillet and arrange over pasta. Stir vinegar into pan. Bring to boil; pour over chicken and pasta. Garnish with fresh herbs, if desired.
*Note: Use parsley, rosemary, sage, oregano, thyme, chives or other favorites. If fresh herbs are not available, substitute dried. About 1 teaspoon dried equals about 1 tablespoon fresh.
Nutrition Facts
412 Calories
40g Carbohydrates
3g Saturated Fat
178mg Sodium
14g Fat
27g Protein
73mg Cholesterol
5g Dietary Fiber
Find Dreamfields Pasta near you.

Find Dreamfields at your favorite grocery and retail stores nationwide. Also available online.

Find a store