Spaghetti Recipes
Spicy Asian Noodle Bowl
Course

Main Dish

Servings

Makes 4 Servings

Prep Time

20 minutes

Cooking Time

30 minutes

Total Time

55 minutes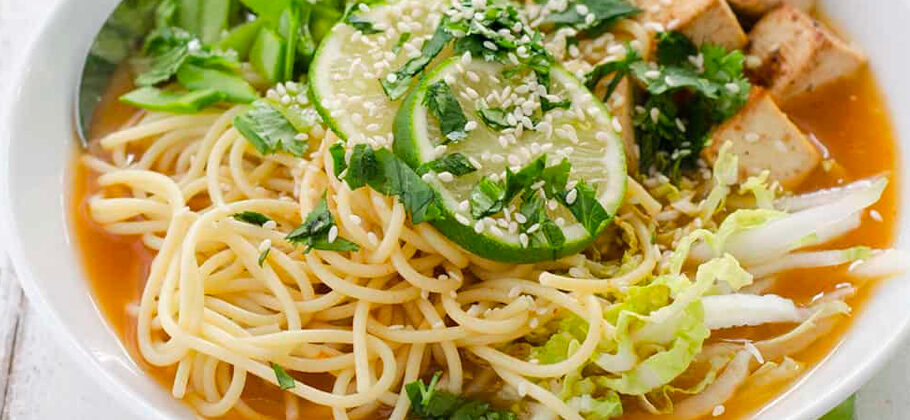 Made with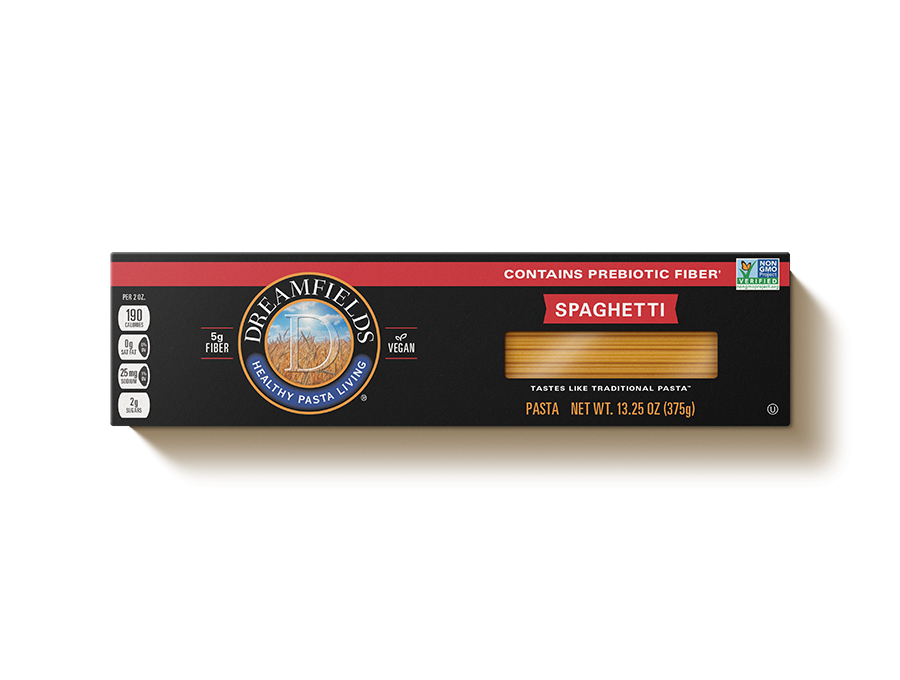 Dreamfields®
Spaghetti
Ingredients
8 ounces Dreamfields Spaghetti
12 ounces tofu pressed and drained (see note)
1 tablespoon fresh lime juice +1 teaspoon (divided)
3 teaspoons reduced-sodium soy sauce divided
1 teaspoon olive oil
1-2 teaspoons sriracha sauce
1 1 inch piece fresh ginger grated
6 cups low-sodium vegetable broth
2 cups napa cabbage finely shredded
1 cup snow peas sliced
1/4 cup cilantro chopped
lime rounds (optional)
sesame seeds (optional)
Directions
Preheat oven to 400°F.
Cut tofu into 1-inch pieces. Toss with 1 teaspoon each of the lime juice and soy sauce, and the olive oil. Place on foil-lined rimmed baking sheet in single layer. Bake 20 minutes or until golden brown. Remove from oven; set aside.
Meanwhile, cook pasta according to package directions; set aside.
In large saucepan or Dutch oven, whisk together remaining 1 tablespoon of the lime juice, 2 teaspoons of the soy sauce, the Sriracha, red curry paste, ginger and vegetable broth. Bring to boil over high heat; reduce heat and simmer 10 minutes, stirring occasionally. Add cabbage and snow peas; continue simmering 3 to 4 minutes until cabbage is wilted and snow peas are just cooked through.
Divide cooked pasta among 4 bowls. Top each with equal amounts cooked tofu. Ladle vegetable broth into each bowl. Garnish with cilantro, and lime rounds and sesame seeds, if desired.
Note: Cooked chicken or shrimp can be substituted for tofu.
Nutrition Facts
330 Calories
52g Carbohydrates
0g Saturated Fat
480mg Sodium
7g Fat
16g Protein
0mg Cholesterol
7g Dietary Fiber
Find Dreamfields Pasta near you.

Find Dreamfields at your favorite grocery and retail stores nationwide. Also available online.

Find a store