Angel Hair Recipes
Thai Peanut Pasta with Shrimp
Course

Main Dish

Servings

Makes 6 Servings

Prep Time

35 minutes

Cooking Time

10 minutes

Total Time

45 minutes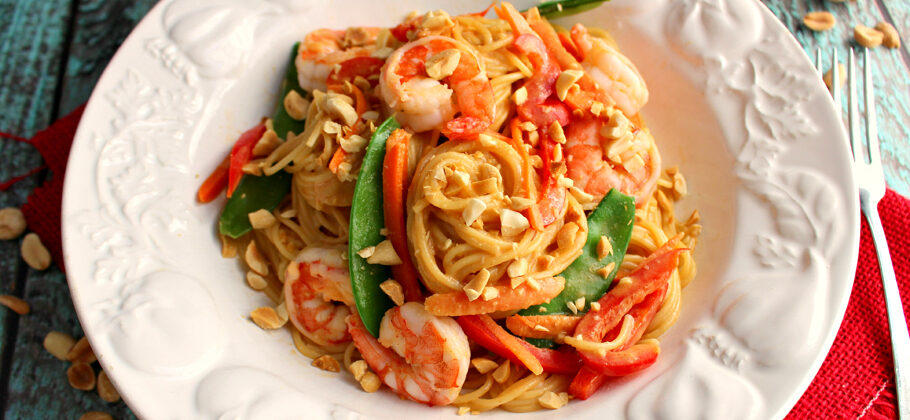 Made with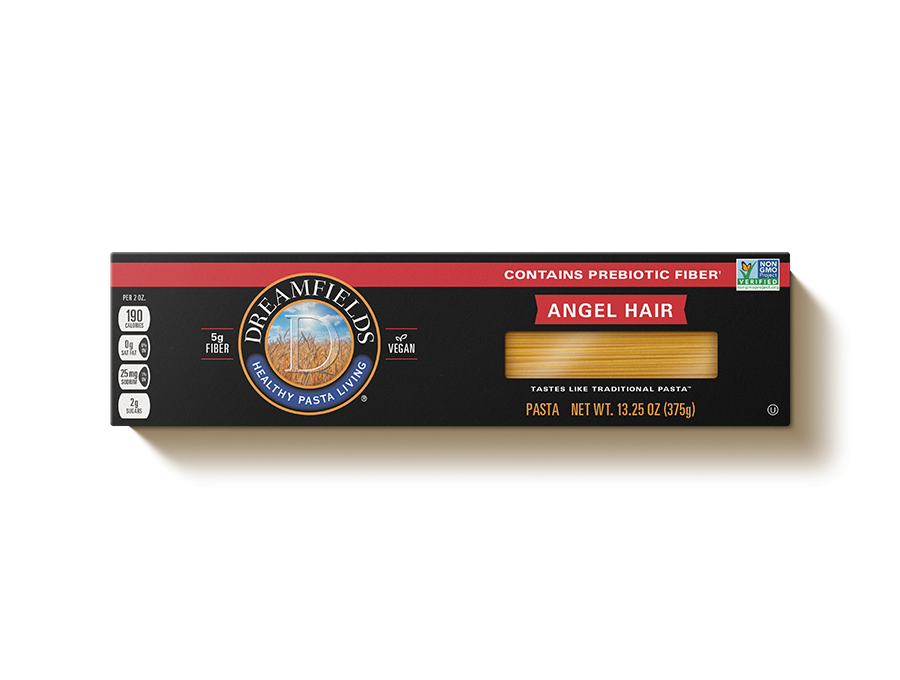 Dreamfields®
Angel Hair
Ingredients
1 box Dreamfields Angel Hair Pasta
1 cup red bell peppers julienne cut into matchstick pieces
2 tablespoons olive oil divided
1 pound frozen uncooked shrimp peeled, deveined and rinsed
1 cup carrots julienne cut into matchstick pieces
1 cup snow peas left whole, string removed
Sauce
1/2 cup creamy peanut butter
1/2 cup reduced-sodium, fat free chicken broth
1/4 cup rice wine vinegar
1 tablespoon sesame oil
1 tablespoon low-sodium soy sauce
1 tablespoon chili sauce (like Siracha)
1 tablespoon ginger root grated fresh
1 teaspoon garlic salt
Directions
In a large stock pot, cook pasta al dente according to package directions. Set aside.
Meanwhile, in a large skillet, sauté shrimp in 1 tablespoon olive oil just until it turns pink, about 3 to 4 minutes. Remove from skillet; place in separate bowl. Add remaining 1 tablespoon of olive oil to skillet. Sauté peppers, carrots and peas for 4 to 5 minutes or until crisp-tender. Remove from skillet and place in bowl with shrimp, keeping warm.
In a medium mixing bowl, combine peanut butter, broth, vinegar, sesame oil, soy sauce, chili sauce, ginger, garlic salt; whisk together well.
Transfer cooked pasta to the large skillet and pour sauce over it. Toss. Add shrimp and vegetables; toss.
Serve immediately, as the sauce will absorb into the pasta right away. Enjoy!
Nutrition Facts
510 Calories
56g Carbohydrates
3g Saturated Fat
1240mg Sodium
20g Fat
32g Protein
160mg Cholesterol
8g Dietary Fiber
Find Dreamfields Pasta near you.

Find Dreamfields at your favorite grocery and retail stores nationwide. Also available online.

Find a store