Angel Hair Recipes
Easy Mediterranean Angel Hair
Course

Main Dish

Servings

Makes 8 Servings

Prep Time

20 minutes

Cooking Time

10 minutes

Total Time

30 minutes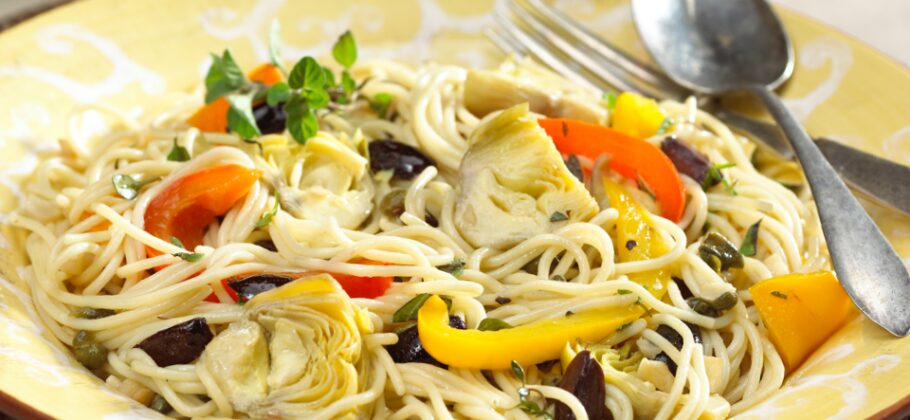 From the kitchen of Dreamfields Pasta

Made with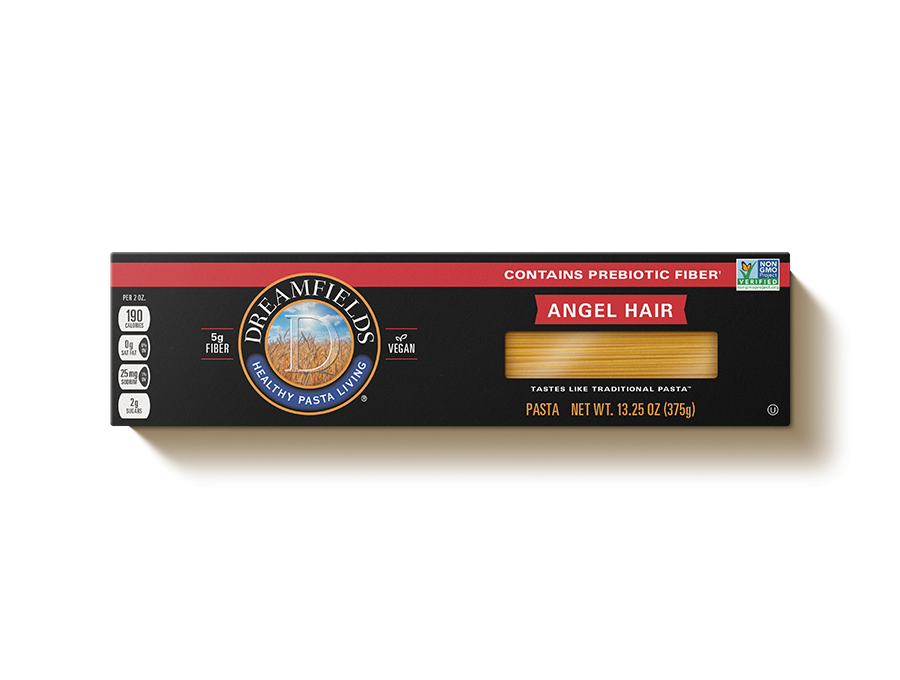 Dreamfields®
Angel Hair
Ingredients
1/2 box Dreamfields Angel Hair Pasta uncooked
1 tablespoon olive oil
5 cloves garlic chopped
2 anchovy fillets mashed (optional)
1 14 oz can artichoke hearts drained, halved, patted dry
2 cups bell pepper cut into 1/4 in strips), assorted colors
2 tablespoons capers rinsed and drained (optional)
1/4 cup Kalamata olives pitted, sliced lengthwise into quarters
1/2 cup reduced-sodium, fat free chicken broth
1 tablespoon fresh thyme chopped leaves
1 tablespoon fresh oregano chopped leaves
feta cheese crumbled (plain or Mediterranean flavor)
Directions
Cook pasta according to package directions; set aside.
Meanwhile, heat oil in large nonstick skillet over medium heat. Add garlic; stir to coat with oil. Cook about 1 minute to soften, stirring constantly. Stir in anchovies, if desired. Add artichokes; cook 2 to 3 minutes until heated through, stirring occasionally.
Add bell peppers and capers, if desired. Cook and stir 1 to 2 minutes until peppers are just crisp-tender. Stir in olives. Add broth; cook and stir 2 minutes. Remove from heat.
Add pasta to skillet. Toss to combine. Stir in thyme and oregano. Sprinkle with feta cheese, as desired.
Nutrition Facts
135 Calories
23g Carbohydrates
1g Saturated Fat
325mg Sodium
4g Fat
4g Protein
0mg Cholesterol
0g Dietary Fiber
Find Dreamfields Pasta near you.

Find Dreamfields at your favorite grocery and retail stores nationwide. Also available online.

Find a store