Lasagna Recipes
Vegetable Lasagna
Course

Main Dish

Servings

Makes 6 Servings

Prep Time

20 minutes

Cooking Time

50 minutes

Total Time

1 hour, 20 minutes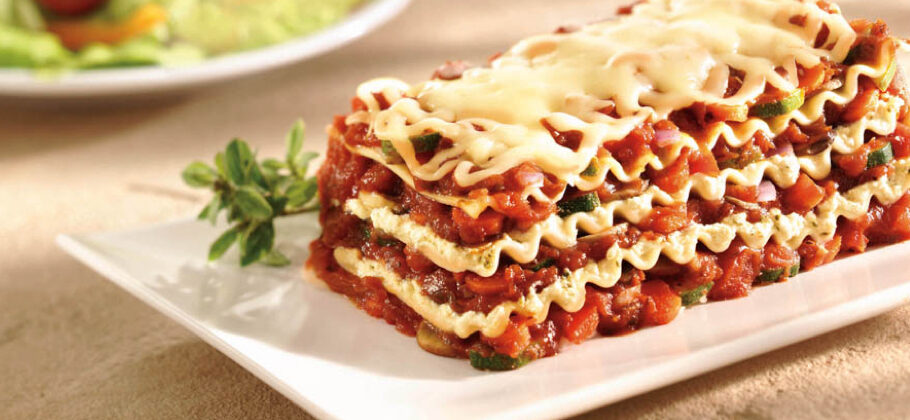 Made with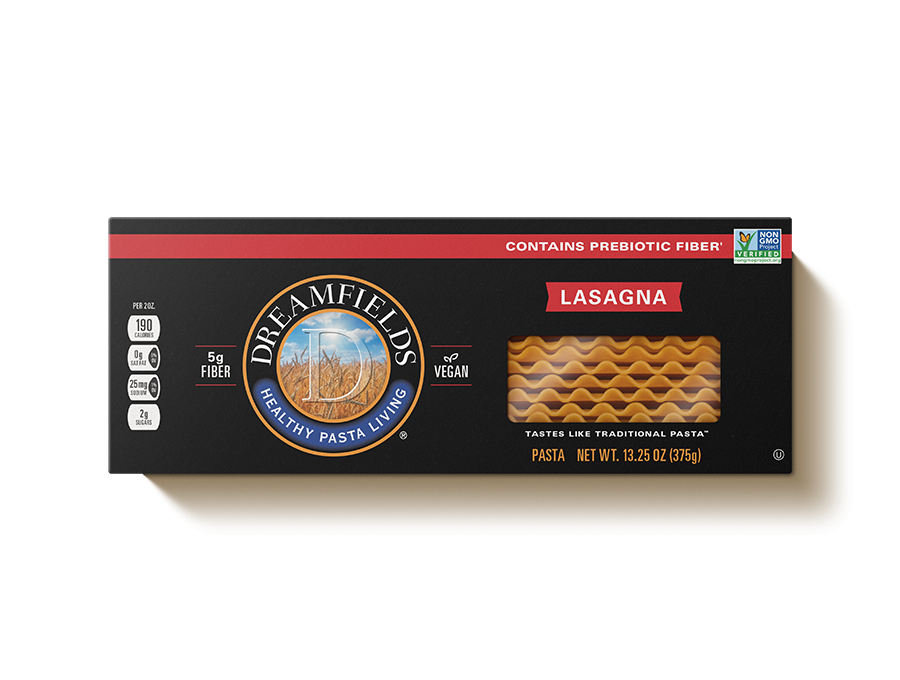 Dreamfields®
Lasagna
Ingredients
6 pieces Dreamfields Lasagna Noodles
1 tablespoon olive oil
2 cloves garlic minced
3/4 cup mushrooms sliced
3/4 cup zucchini chopped
1/2 cup carrot sliced
1/2 cup red bell pepper chopped
1/2 cup red onion thinly sliced
1/4 teaspoon black pepper
1/4 cup dry red wine
2 cups tomato-basil pasta sauce
1 cup part-skim ricotta cheese
1/4 cup Parmesan cheese grated
2 tablespoons basil pesto homemade or commercial
nonstick cooking spray
3/4 cup part-skim mozzarella cheese shredded
Directions
Preheat oven to 375ºF.
Cook lasagna according to package directions. Drain and cut each piece in half.
Meanwhile, heat olive oil in medium saucepan over medium heat. Cook garlic 2 minutes, stirring frequently. Add mushrooms, zucchini, carrot, bell pepper, red onion and black pepper; cook 5 minutes, stirring frequently. Add wine; cook 3 minutes or until wine has evaporated. Add pasta sauce; bring to a boil. Reduce heat; simmer 10 minutes.
In a small bowl combine ricotta cheese, Parmesan cheese and pesto.
Spray 8-inch square baking dish with cooking spray. Spread 3/4 cup vegetable-pasta sauce in bottom of baking dish. Arrange 4 noodle halves over sauce. Top with one-third of cheese-pesto mixture, then 1 cup sauce. Repeat layers twice, using any remaining sauce on top. Sprinkle with mozzarella.
Cover and bake at 375°F 30 minutes. Uncover and bake an additional 20 minutes. Let stand 10 minutes.
Note: This recipe may be doubled and made in a 9x13 baking dish for 12 servings.
Nutrition Facts
331 Calories
37g Carbohydrates
5g Saturated Fat
652mg Sodium
14g Fat
16g Protein
24mg Cholesterol
6g Dietary Fiber
Find Dreamfields Pasta near you.

Find Dreamfields at your favorite grocery and retail stores nationwide. Also available online.

Find a store