Linguine Recipes
Cauliflower Cheese Pasta with Bechamel
Course

Main Dish

Servings

Makes 4 Servings

Prep Time

25 minutes

Cooking Time

1 hour

Total Time

1 hour, 25 minutes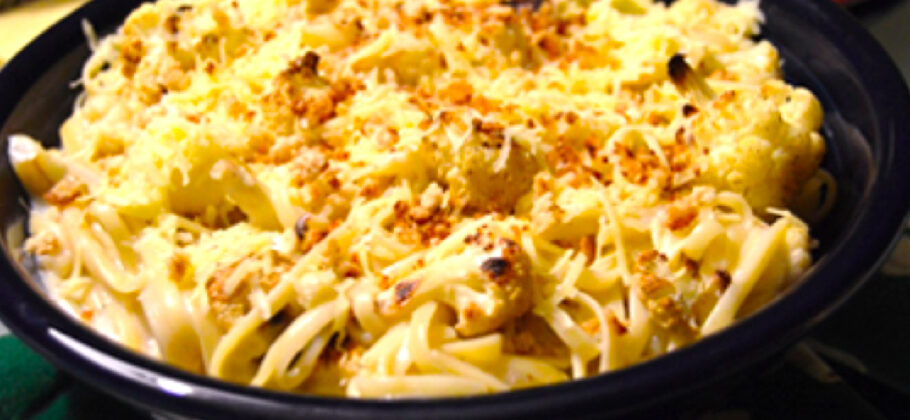 Made with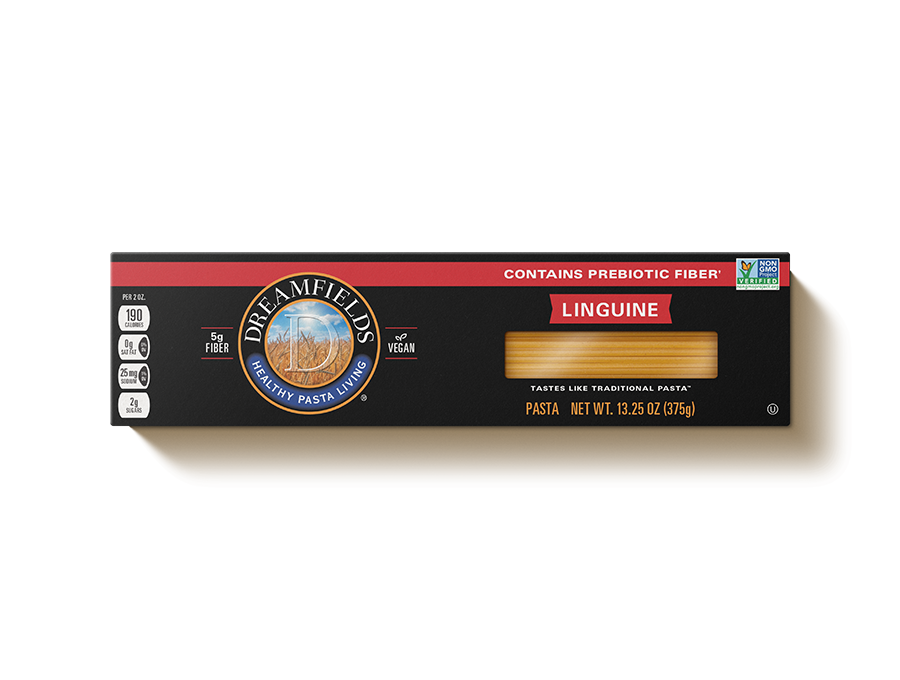 Dreamfields®
Linguine
Ingredients
8 ounces Dreamfields Linguine
1 medium cauliflower cut into bite-size pieces
2 tablespoons extra virgin olive oil divided
3 tablespoons unsalted butter
3 tablespoons all-purpose flour
2 cups 2% milk
1/8 teaspoon nutmeg ground
2 ounces aged white Cheddar cheese (optional)
2 tablespoons coarse plain breadcrumbs
kosher salt and black pepper
Directions
Preheat oven to 400°F.
Spread cauliflower on rimmed baking sheet. Drizzle with 1 tablespoon of the oil; season with salt and pepper, as desired. Roast for 30 minutes. Remove baking sheet from oven; turn cauliflower once. Continue roasting 15 to 30 minutes or until golden brown.
Cook pasta according to package directions. Place pasta in large bowl; set aside.
Meanwhile, heat butter in medium saucepan over medium-low heat until melted. Add flour to saucepan; whisk until smooth. Slowly add 1/2 cup milk, stirring until smooth and no lumps remain. Slowly whisk in remaining 1-1/2 cups milk. Increase heat to medium. Add nutmeg; cook and stir 4 minutes or until mixture begins to thicken. Continue cooking and stirring 2 minutes or until mixture is thickened and bubbly. Remove from heat.
Heat remaining tablespoon of oil in small saucepan over medium heat until hot. Add breadcrumbs; stir to coat with oil. Cook 1 minute or until golden brown, stirring frequently.
Add cauliflower and bechamel sauce to pasta; toss to combine. Top with cheese, then breadcrumbs.
Nutrition Facts
510 Calories
61g Carbohydrates
0g Saturated Fat
230mg Sodium
24g Fat
18g Protein
50mg Cholesterol
8g Dietary Fiber
Find Dreamfields Pasta near you.

Find Dreamfields at your favorite grocery and retail stores nationwide. Also available online.

Find a store