Spaghetti Recipes
Roasted Brussels Sprouts and Bacon Pasta
Course

Main Dish

Servings

Makes 2 Servings

Prep Time

15 minutes

Cooking Time

30 minutes

Total Time

45 minutes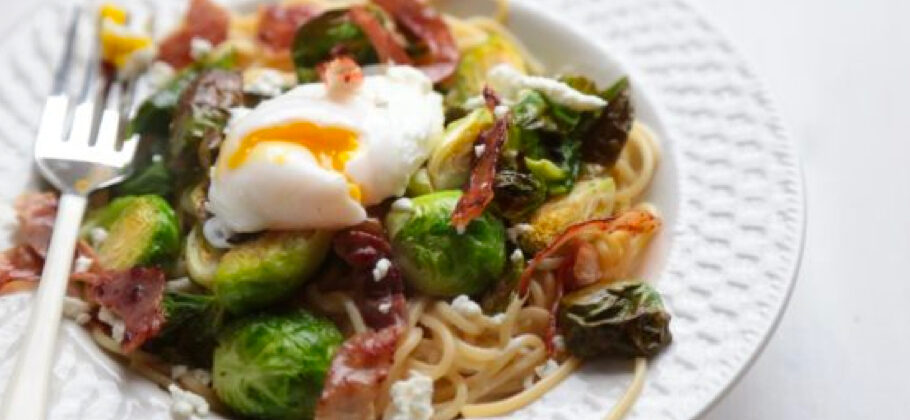 Made with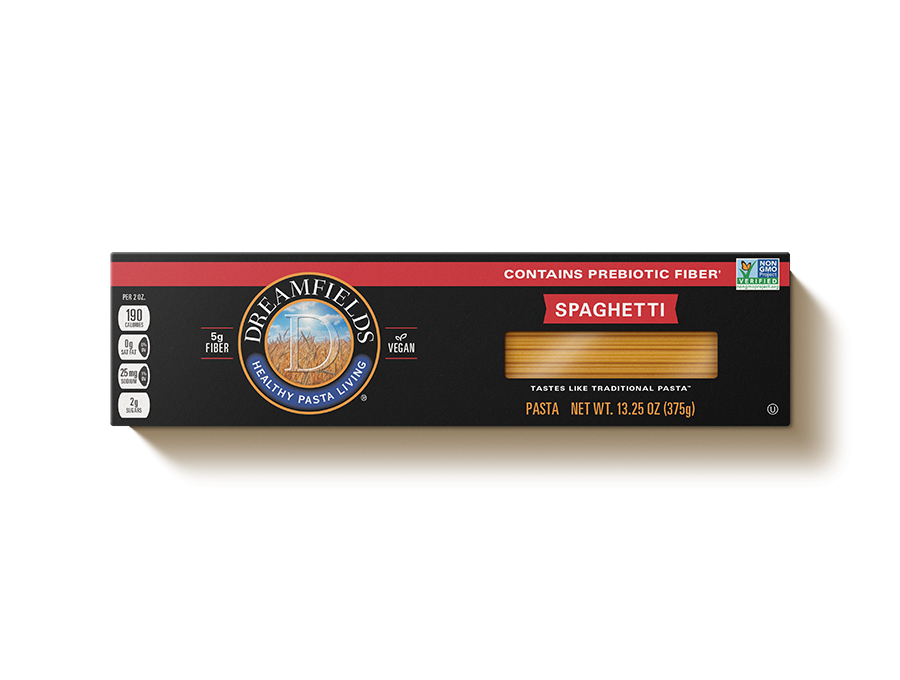 Dreamfields®
Spaghetti
Ingredients
4 ounces Dreamfields Spaghetti dry
1 pound brussel sprouts
2 ounces bacon or prosciiutto sliced into thin strips, fried
3 tablespoons garlic-infused olive oil
2 eggs
1/4 cup goat cheese
salt and pepper
Directions
Preheat oven to 325 degrees. Trim Brussels sprouts of their ends and discard. Cut smaller sprouts into halves and larger sprouts into quarters. Remove any loose leaves as well, they will be roasted also. Place onto a non-stick baking sheet. Drizzle with olive oil and sprinkle with salt and pepper. Roast for 20 minutes, turning half way through. Loose leaves will be crispy and browned and the quarter will be fork tender.
While Brussels sprouts are roasting, bring a sauce pan to a boil with salted water. Also bring a 2 inch deep sauce pan to a simmer with water for poaching the eggs.
Cook the pasta according to package directions. Reserve ½ cup of the pasta water. Drain remaining water, rinse the pasta lightly with cold water and set aside. In the saucepan that the pasta was cooked in crumble the goat cheese and pour in the reserved pasta water. Stir together until a light sauce forms.
While the pasta is cooking poach the eggs. Crack each egg into a separate shallow dish. With the edge of the shallow dish touching the water GENTLY slip the eggs into the water. Using a spoon gather the eggs white around the yolk to set. Cook each egg about 3 minutes, or until the whites are set. Remove with a spoon and drain away liquid.
Divide pasta into two shallow bowls, pouring the goat cheese sauce over the top. Top with roasted Brussels, fried bacon, egg and additional crumbled goat cheese if desired. Serve immediately.
Nutrition Facts
400 Calories
34g Carbohydrates
7g Saturated Fat
760mg Sodium
16g Fat
33g Protein
225mg Cholesterol
13g Dietary Fiber