Spaghetti Recipes
Pantry Spaghetti with Wild Mushroom Sauce*
Course

Main Dish

Servings

Makes 6 Servings

Prep Time

20 minutes (approximate)

Cooking Time

20 minutes (approximate)

Total Time

40-60 minutes (approximate)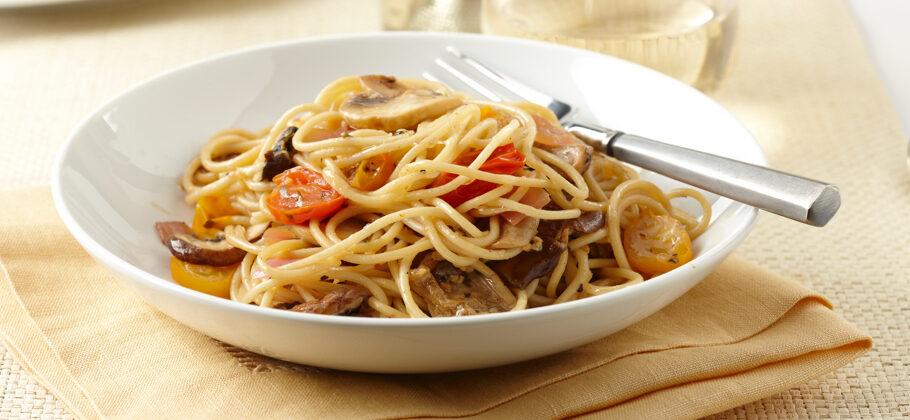 *Photograph, Prep Time, Cooking Time and Nutritional Facts are based on original website recipe and are approximate for this Pantry Recipe.
Original Recipe: Spaghetti with Wild Mushroom Sauce
From the kitchen of Dreamfields Pasta
Made with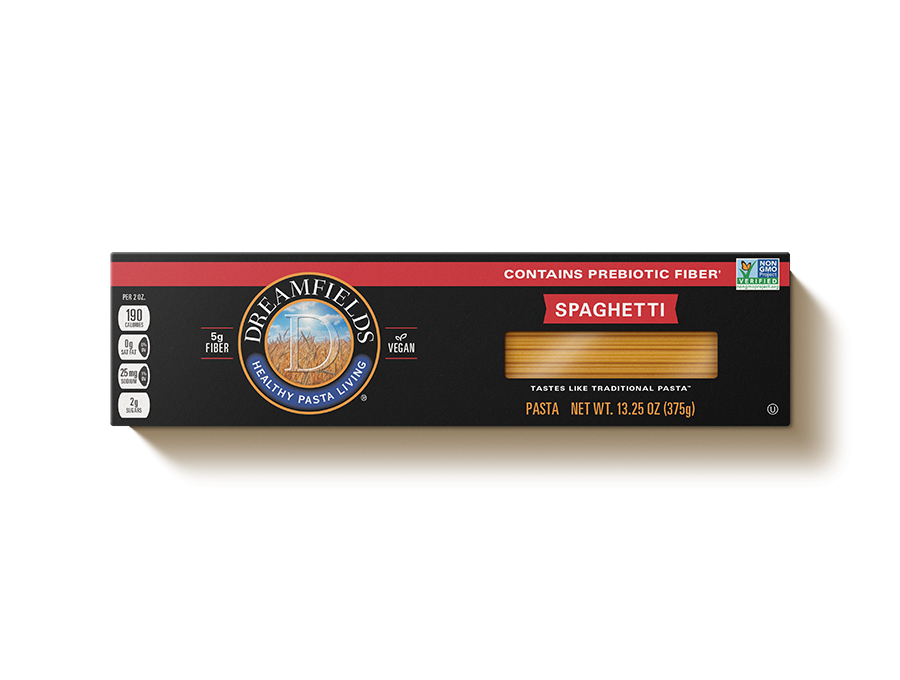 Dreamfields®
Spaghetti
Ingredients
1 box Dreamfields® Spaghetti
1 oz dried Porcini mushrooms
2 tablespoons olive oil
2 teaspoons jarred minced garlic
1 teaspoon herbs de Provence
1 (28 oz) can crushed tomatoes
1 teaspoon pepper
1/2 teaspoon salt
1/4 cup Parmesan cheese shredded
Directions
Place mushrooms in glass measuring cup. Cover with hot water and let soak for 15-20 minutes, until very soft. Line a small strainer with cheesecloth or a coffee filter and strain mushrooms, reserving 1/4 cup liquid. Rinse mushrooms thoroughly, pat dry, and coarsely chop.
In large skillet, heat olive oil over medium heat. Add garlic, dry herbs, and mushrooms; cook for 2 minutes. Add tomatoes and reserved mushroom liquid, pepper, and salt. Once tomatoes start to bubble, reduce heat and simmer for 15-20 minutes.
Meanwhile, cook pasta according to package directions. Drain pasta reserving 1/2 cup of pasta water. Toss pasta with sauce adding pasta water, as needed, for desired consistency. Stir in Parmesan.
Look for packaged dry mushrooms in the produce department.
Nutrition Facts
319 Calories
52g Carbohydrates
2g Saturated Fat
330mg Sodium
8g Fat
12g Protein
5mg Cholesterol
7g Dietary Fiber
Find Dreamfields Pasta near you.

Find Dreamfields at your favorite grocery and retail stores nationwide. Also available online.

Find a store