Penne Rigate Recipes
Pantry Roasted Corn & Tomato Penne Salad*
Course

Pasta Salad

Servings

Makes 8 Servings

Prep Time

30 minutes (approximate)

Cooking Time

40 minutes (approximate)

Total Time

1 hour, 10 minutes (approximate)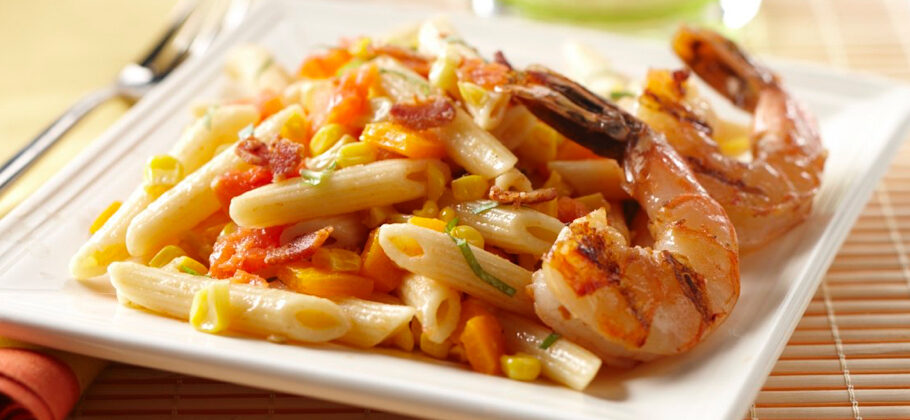 *Photograph, Prep Time, Cooking Time and Nutritional Facts are based on original website recipe and are approximate for this Pantry Recipe.
Original Recipe: Roasted Corn & Roma Tomato Salad
From the kitchen of Dreamfields Pasta
Made with
Dreamfields®
Penne Rigate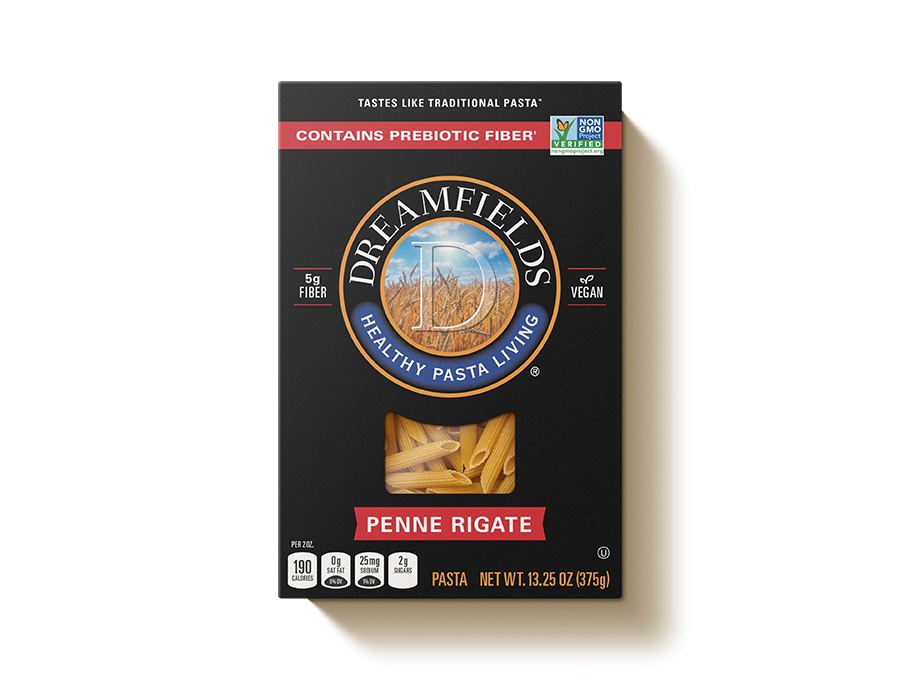 Ingredients
1 box Dreamfields® Penne Rigate
1 tablespoon olive oil
1 can (11 oz) sweet corn, drained
1 tablespoon tomato paste
1 teaspoon smoked paprika
1/2 teaspoon dry thyme
1 can (14.5 oz) diced tomatoes
1 cup chicken or vegetable broth
1/4 cup crumbled bacon (approximately 4 slices microwaveable fully cooked bacon) or bacon bits
3 tablespoons grated Parmesan
Directions
In large non-stick skillet heat olive oil over medium heat. Add corn; sauté, stirring occasionally, until corn is lightly browned. Stir in tomato paste, smoked paprika, and thyme. Cook for 30 seconds, stirring, until herbs are fragrant. Add tomatoes and broth; simmer for 10 minutes.
Meanwhile, cook pasta according to pasta directions. Drain well.
Add drained pasta to skillet and toss to combine. Remove from heat and stir in crumbled bacon and Parmesan.
Nutrition Facts
310 Calories
51g Carbohydrates
1g Saturated Fat
170mg Sodium
10g Fat
9g Protein
0mg Cholesterol
7g Dietary Fiber
Find Dreamfields Pasta near you.

Find Dreamfields at your favorite grocery and retail stores nationwide. Also available online.

Find a store