Penne Rigate Recipes
Roasted Corn & Roma Tomato Salad
Course

Main Dish

Servings

Makes 8 Servings

Prep Time

30 minutes

Cooking Time

40 minutes

Total Time

1 hour, 10 minutes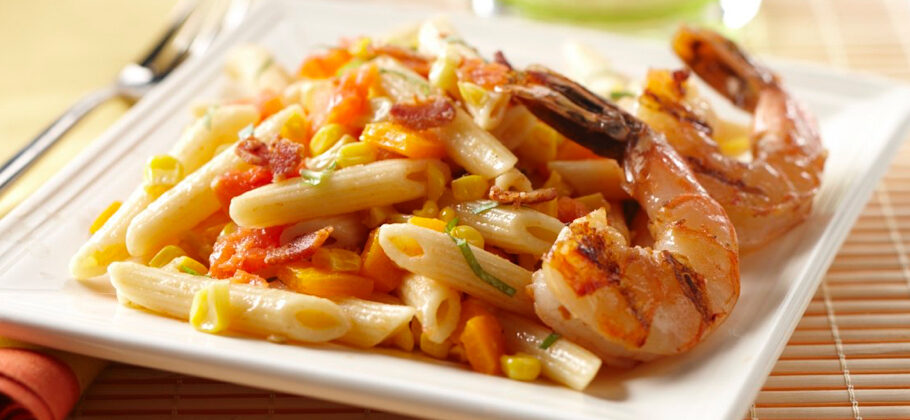 From the kitchen of Dreamfields Pasta

Made with
Dreamfields®
Penne Rigate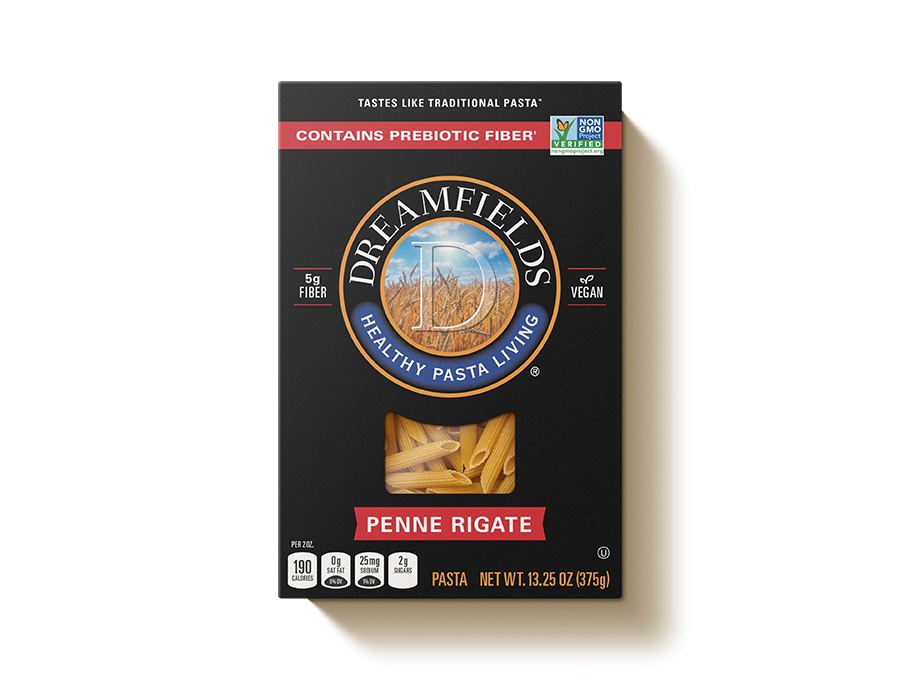 Ingredients
1 box Dreamfields Penne Rigate
1 tablespoon olive oil (+ 5 teaspoons)
4 cups corn (see note below)
1 medium bell pepper halved, seeds, membrane removed
6 Roma tomatoes cut in half lengthwise
1/2 cup fresh basil sliced
black pepper coarsely ground
Dressing:
2 tablespoons olive oil
2 tablespoons white wine vinegar
1/2 teaspoon salt
1/3 cup bacon cooked, crumbled
Parmesan cheese shredded (optional)
Directions
Preheat oven to 425°F. Line two rimmed baking pans (15x10x1-inch) with aluminum foil. Brush lightly with olive oil (about 1 teaspoon each).
Toss corn with 2 teaspoons oil. Spread in even layer on one baking pan, covering 3/4 of pan. Place pepper halves cut side down in pan with corn; brush with 1 teaspoon oil.
Place tomatoes cut side down in second pan. Brush with remaining 1 tablespoon oil. Place both pans in oven, using center rack and rack below center.
Roast corn and peppers about 30 minutes, stirring corn two times and turning peppers once until corn and peppers are lightly browned and peppers are tender. Roast tomatoes 30 to 40 minutes until tender and browned on top. (Switch rack positions after 15 minutes.)
Meanwhile, cook pasta according to package directions; drain. Rinse pasta in cold water; drain again. Place pasta in in large bowl. Remove skin from peppers; chop. Remove skin from tomatoes; chop. Toss corn, peppers and tomatoes with pasta. Add basil; toss gently. Season with black pepper, as desired.
For dressing, whisk together 2 tablespoons oil, vinegar and salt. Toss with pasta mixture. Sprinkle with bacon and Parmesan cheese, if desired.
Variations: If desired, add chopped avocado and/or cooked shrimp.

Note: Fresh or frozen corn kernels (thawed) may be used. Grilled corn, cut off the cob, may be substituted; omit roasting.
Nutrition Facts
310 Calories
51g Carbohydrates
1g Saturated Fat
170mg Sodium
10g Fat
9g Protein
0mg Cholesterol
7g Dietary Fiber
Find Dreamfields Pasta near you.

Find Dreamfields at your favorite grocery and retail stores nationwide. Also available online.

Find a store