Linguine Recipes
Holiday Chocolate Linguine
Course

Dessert

Servings

Makes 4 Servings

Prep Time

15 minutes

Cooking Time

15 minutes

Total Time

30 minutes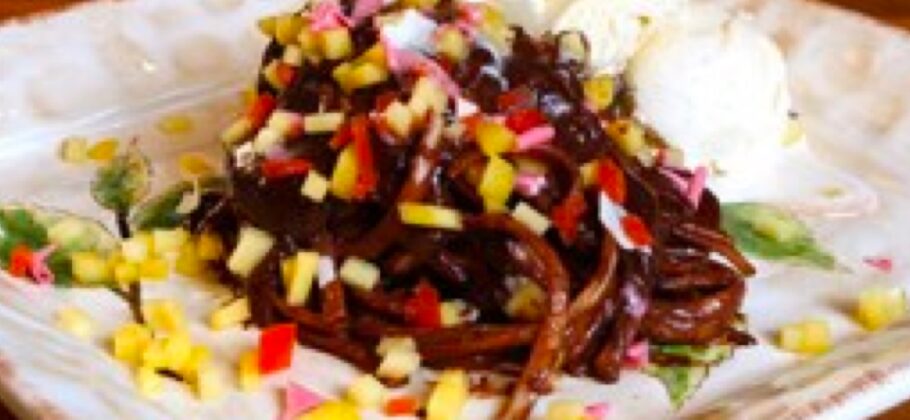 Made with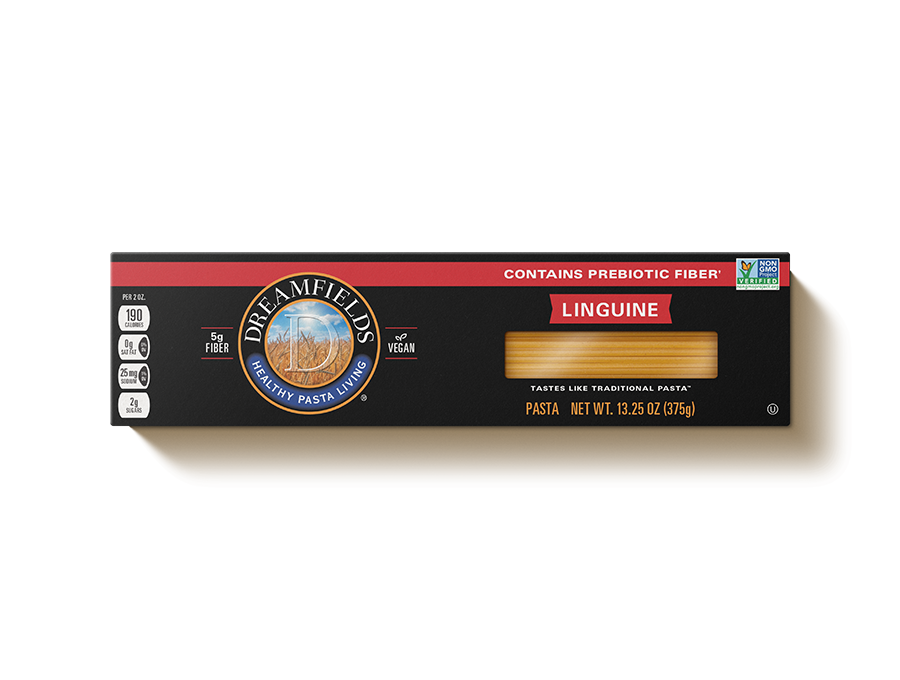 Dreamfields®
Linguine
Ingredients
8 ounces Dreamfields Linguine *
2 cups milk divided
1/4 cup unsweetened cocoa powder
3 tablespoons maple syrup
1/2 teaspoon cinnamon ground
cinnamon or vanilla frozen yogurt (or ice cream)
white chocolate shaved (optional)
mango diced (optional)
strawberries diced (optional)
Directions
Cook pasta according to package directions. Drain; rinse with cold water, and drain again.
Meanwhile, in small bowl, combine 1/4 cup milk and cornstarch, stirring until smooth and cornstarch is dissolved.
In large saucepan, stir together remaining 1-3/4 cups milk, cocoa, maple syrup, and cinnamon. Place over medium-high heat; bring to boil, stirring constantly. Stir in cornstarch-milk mixture; stir constantly until mixture thickens. Remove from heat and continue stirring.
Place pasta in large bowl; add chocolate sauce, reserving about 1/3 cup. Toss pasta and sauce, coating pasta completely.
Divide pasta among 4 to 6 individual serving dishes. Drizzle with reserved sauce. Serve with frozen yogurt. Garnish with shaved white chocolate, diced mango and strawberries, if desired.
Notes:
* Note: Two ounces of uncooked linguine is equal to a 1/2-inch circle of linguine.
Nutrition Facts
317 Calories
63g Carbohydrates
2g Saturated Fat
63mg Sodium
4g Fat
12g Protein
10mg Cholesterol
7g Dietary Fiber
Find Dreamfields Pasta near you.

Find Dreamfields at your favorite grocery and retail stores nationwide. Also available online.

Find a store