Ingredient Substitutions
Understanding Ingredients
Substitutions Made Easy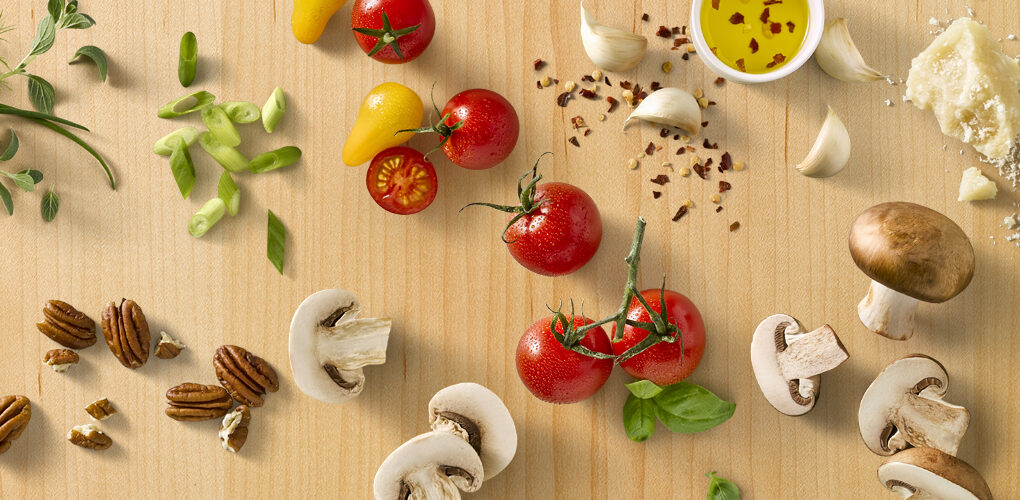 Right now it's all about being crafty and flexible in your kitchen while still creating delicious meals.
Don't let a missing ingredient derail your recipe plans – we've made it easy to find substitutions for just about anything you might need. The best part? Most of these alternative ingredients can be found right in your pantry.
Fresh herbs
Stock up on dry herbs – but know the ratio will change. In general, 1 teaspoon of dry herbs is equivalent to 1 tablespoon of fresh. Bonus tip: If you're completely out of basil, you could try prepared pesto instead.
---
Fresh meat
Canned chicken or fish can be substituted for fresh poultry in many recipes. For recipes that call for ground beef, vegetarian-friendly lentils are a popular substitute. They're high in fiber and adaptable in most recipes that use ground beef.
---
Bacon
Fully cooked microwaveable bacon slices are your best substitute for fresh bacon. You can also use real bacon pieces that are sold in pouches with croutons and other salad toppers. And in a pinch, you can also use bacon bits.
---
Fresh tomatoes
Use canned tomatoes, but you'll have to modify your recipe a bit. 1 pound of fresh tomatoes = 1 ½ cup canned chopped tomatoes or 1 (14.5 oz) can. And be sure to cook them to intensify the flavor and get rid of the raw taste. For an especially flavorful canned tomato, try roasting them. Here's how:
Drain the tomatoes, toss with olive oil and dry herbs and slow roast in a 300-degree oven for 2-2 ½ hours, turning occasionally.
---
Wine
If a recipe calls for red wine, substitute with beef, vegetable, or mushroom broth to consistency/taste. For white wine, use vermouth or chicken broth.
---
Eggs
For 1 egg, use 1/4 cup applesauce OR 1/4 cup mashed banana OR 3 tablespoons mayonnaise OR 3 tablespoons aquafaba (liquid from canned garbanzo beans) OR 2 tablespoons ground flax seed mixed with 3 tablespoons water OR liquid/powdered eggs.
---
Sugar
For granulated sugar, 1 cup = 1 ¾ cup powdered sugar OR 1 cup superfine (baker's) sugar OR 1 cup packed light brown sugar.
For brown sugar, 1 cup = 1 cup dark brown sugar OR 1 cup granulated sugar plus 1 tablespoon molasses.
---
All-purpose flour
You can replace up to half with whole wheat flour or replace entirely with self-rising flour (just make sure you omit the salt and baking powder in the recipe).
---
Baking powder
Substitute 1 teaspoon with 1/2 teaspoon baking soda or 5/8 teaspoon cream of tartar. Or substitute by adding 1/4 teaspoon baking soda with dry ingredients plus 1/2 cup buttermilk or plain yogurt in place of 1/2 cup of the liquid ingredients.
---
Pasta sauce
Switch up your typical marinara with alternative sauces – jarred Indian sauces like tikka masala, stir-fry sauce, salsa, and even soups can make a tasty sauce substitute.
---
Low-fat milk
Use canned evaporated milk (diluted, equal parts canned milk + water) OR 1 cup plant-based milk. For baking, non-fat milk is acceptable. However, note that when adding to hot soups/stews/sauces, non-fat milk can curdle.
---
Half-and-Half
Use canned evaporated milk (undiluted) OR 1 cup whole milk + 1 tablespoon melted butter.
---
Heavy cream
Use full-fat coconut milk OR full-fat sour cream (thinned with a little water) OR 3/4 cup whole milk + 1/3 cup melted butter.
---
Buttermilk
1 tablespoon vinegar or lemon juice plus enough milk to equal 1 cup OR 1:1 sour cream OR powdered buttermilk.
---
Sour cream
Substitute with either plain Greek yogurt or buttermilk. (No buttermilk? See substitutions above.)
---
Cheese
Don't fret if you don't have the exact cheese called for in the recipe. Feel free to substitute for an alternative cheese that has a similar texture and flavor profile.
---
Ricotta
Substitute with cottage cheese.
---
Goat cheese
Feta and cotija cheeses are also delicious substitutes.
---
Parmesan
Try Pecorino-Romano.
---
Monterey Jack
Try Muenster, Gouda or Fontina instead.