Lasagna Recipes
Veggie Lovers Lasagna
Course

Main Dish

Servings

Makes 9 Servings

Prep Time

20 minutes

Cooking Time

60 minutes

Total Time

1 hour, 20 minutes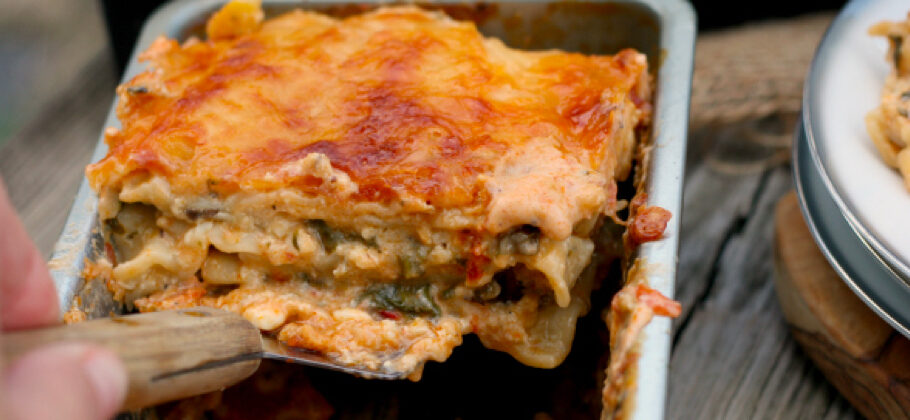 Made with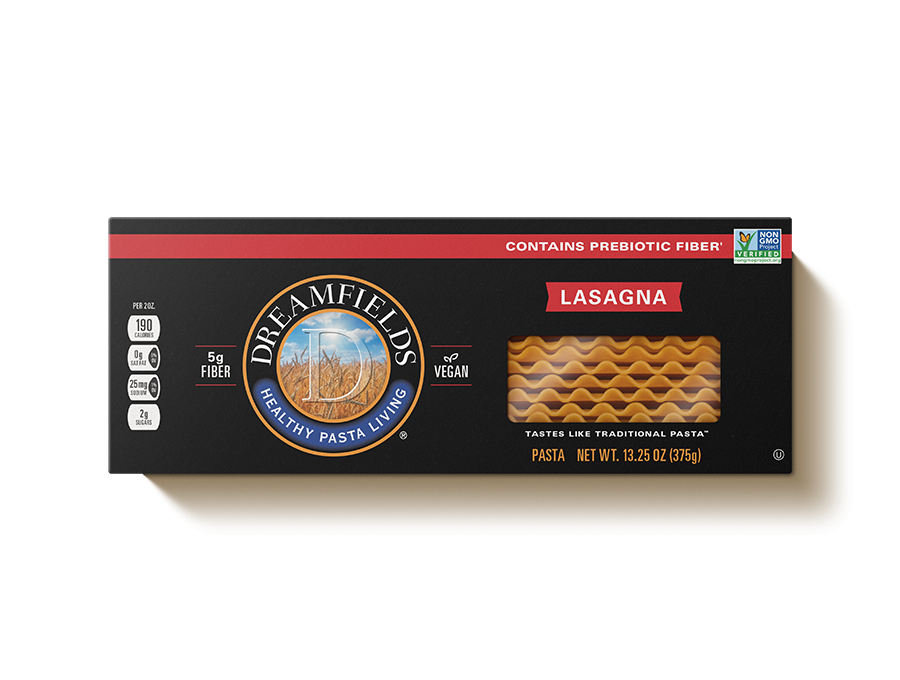 Dreamfields®
Lasagna
Ingredients
18 Dreamfields Lasagna Noodles (most of a 13.25 oz package)
16 ounces small curd 2% cottage cheese (about 2 cups)
1 large egg
1 tablespoon fresh oregano chopped (or 1 teaspoon dried)
1 tablespoon fresh basil chopped (or 1 teaspoon dried)
1 tablespoon fresh flat leaf parsley chopped (or 1 teaspoon dried)
1 tablespoon garlic minced
1 teaspoon kosher salt (or sea salt)
1/2 teaspoon ground black pepper
23 ounces light Alfredo sauce homemade or store bought
1/2 cup sundried tomatoe pesto sauce homemade or store bought
1 heaping cup cremini mushrooms small, diced
1 heaping cup red bell pepper small, diced
1 heaping cup yellow squash small, diced
1 heaping cup tiny broccoli florets
4 ounces baby spinach leaves
12 ounces part-skim mozzarella cheese shredded
3 tablespoons Parmesan cheese freshly grated
Directions
Cook lasagna noodles according to package instructions; rinse and drain well. Stack a few noodles at a time and carefully cut the last 3 inches off of them (so that they will fit neatly into the pans); reserve the ends to eat later.
Preheat oven to 375° F. Spray the bottom and sides of three 8 x 4-inch loaf pans with non-stick spray. You can line them with foil first, and then spray them if you want to use the foil to help lift the lasagna out later. Set all three pans onto a baking sheet.
Place the cottage cheese, egg, herbs, garlic, salt, and pepper in a bowl; stir to combine. In another bowl, whisk together the Alfredo and pesto sauce. In a separate bowl, toss the diced veggies together.
Spread about 2 tablespoons of Alfredo-pesto sauce into the bottom of each prepared pan.
Place 2 lasagna noodles in bottom of each pan, overlapping to fit. Spread each with 1/4 cup cottage cheese mixture, scant 1/4 cup Alfredo-pesto sauce, heaping 3/4 cup vegetables and 3/4 cup spinach leaves. Top each with heaping 1/3 cup shredded cheese. Repeat layering once.
Place 2 remaining noodles in each pan. Spread each with 1/4 cup Alfredo-pesto sauce. Top each with equal amounts of grated Parmesan and the remaining shredded cheese.
Spray one side of a large sheet of foil with non-stick spray, then place spray-side-down over all of the pans and tuck the edges over to hold in place. Place baking sheet in oven. Bake 45 minutes. Remove the foil; bake for another 15 minutes.
Remove the lasagna from the oven and allow it to sit for at least 20 minutes before cutting each pan of lasagna into 3 even pieces.
Notes:
Notes:
Customize this lasagna by changing up the veggies that you use (just use a heaping quart-sized measuring cup total).
Substitute basil pesto (or any other kind) for the sundried tomato pesto.
Make this in disposable loaf pans for easy gifting--they are the perfect size for a single person or a family of 2 or 3. You can wrap and freeze the uncooked pans, and provide instructions for baking. You could also bake and cool them, then wrap and refrigerate. Reheat to serve.
Nutrition Facts
390 Calories
34g Carbohydrates
10g Saturated Fat
1210mg Sodium
18g Fat
23g Protein
80mg Cholesterol
4g Dietary Fiber
Find Dreamfields Pasta near you.

Find Dreamfields at your favorite grocery and retail stores nationwide. Also available online.

Find a store