Spaghetti Recipes
Vegetable Stir Fry with Spicy Peanut Sauce
Course

Main Dish

Servings

Makes 8 Servings

Prep Time

15 minutes

Cooking Time

20 minutes

Total Time

35 minutes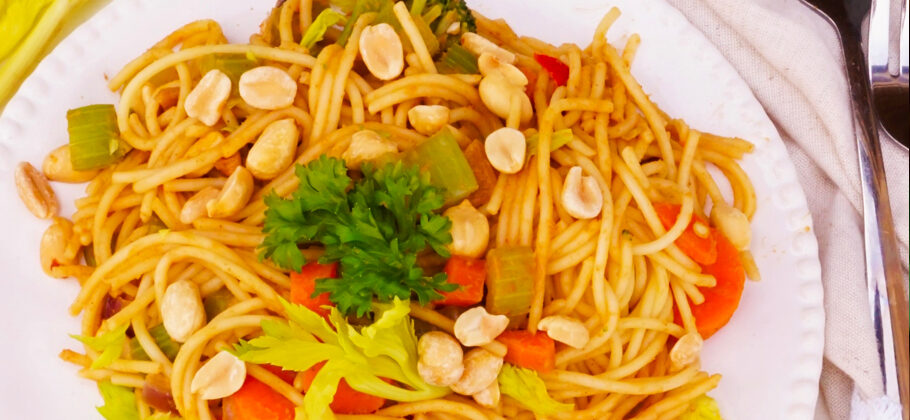 Made with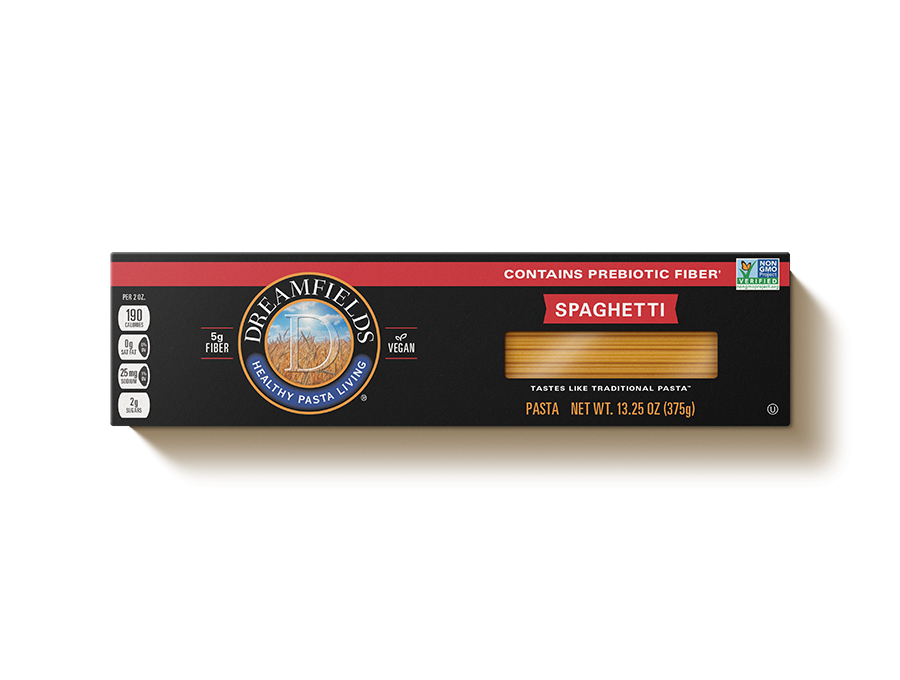 Dreamfields®
Spaghetti
Ingredients
1 box Dreamfields Spaghetti
1 tablespoon toasted sesame oil
6 stalks celery chopped (about 12 oz)
3 medium carrots chopped (about 6 oz)
1/2 cup onion chopped (about 3 oz)
1 cup broccoli florets and stems (about 3 oz)
3 cloves garlic minced
1 small jalapeno pepper diced (seed for less spice)
1 small red chili diced (seed for less spice)
Sauce
1/4 cup peanut flour (plus 2 tablespoons)
1 1/4 cups low-sodium vegetable broth
2 tablespoons low-sodium soy sauce
1 tablespoon lemon juice
1 1/2 teaspoons ground ginger
1 teaspoon crushed red pepper flakes
1/2 cup dry roasted unsalted peanuts chopped
Directions
Prepare pasta according to package directions. Set aside.
Meanwhile, for sauce, in small bowl, whisk together peanut flour and vegetable broth. Stir in soy sauce, lemon juice, ginger and red pepper flakes; set aside.
Heat sesame oil in large skillet over medium-high heat. Add celery, carrots, onion and broccoli. Cook 5 minutes or until vegetables are crisp-tender, stirring frequently. Add garlic, jalapeno and red chili to skillet. Cook 2 minutes, stirring frequently. Stir soy sauce mixture. Add to skillet with vegetables. Cook and stir until thickened and heated through. Remove from heat.
Add spaghetti to skillet. Toss to combine. Garnish with chopped peanuts.
Note: Purchase chopped onions, carrots, celery, frozen broccoli and minced garlic to decrease preparation time. Add edamame or shrimp to make this a complete meal.
Nutrition Facts
270 Calories
44g Carbohydrates
1g Saturated Fat
206mg Sodium
7g Fat
44g Protein
0mg Cholesterol
7g Dietary Fiber
Find Dreamfields Pasta near you.

Find Dreamfields at your favorite grocery and retail stores nationwide. Also available online.

Find a store