Elbows Recipes
Vegetable Soup with Pumpkin Seed Pesto
Course

Main Dish

Servings

Makes 8 Servings

Prep Time

30 minutes

Cooking Time

2 hours

Total Time

2 hours, 30 minutes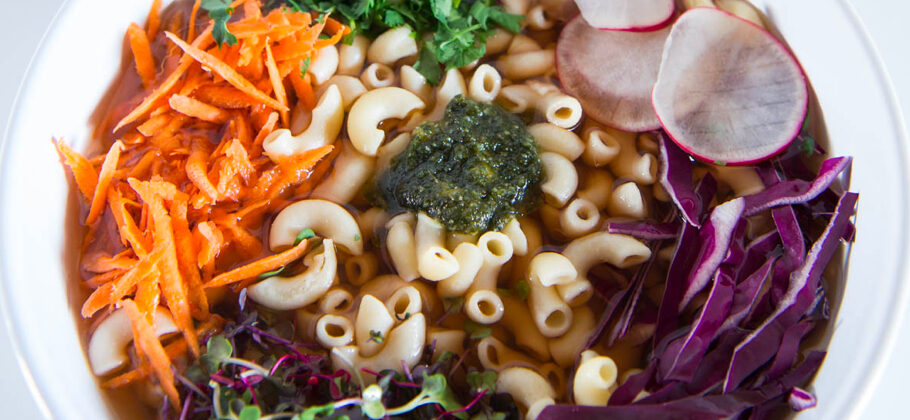 Made with
Dreamfields®
Elbows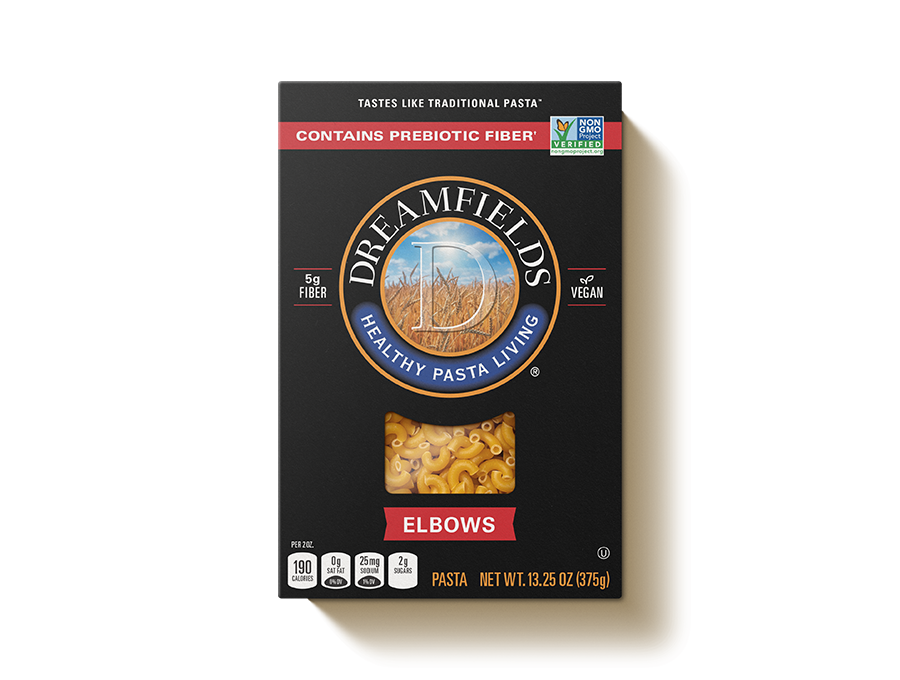 Ingredients
Vegetable Broth (See note):
1 gallon frozen vegetable scraps peels, tops, roots, etc.
12 cups water
2 teaspoons kosher salt
1 tablespoon peppercorns
Pesto
1 cup carrot tops packed
1/4 cup roasted pumpkin seeds unsalted
1/4 cup olive oil plus 2 tablespoons
1/3 cup Parmesan cheese grated
For Topping
salt
pepper
shredded and thinly sliced vegetables radishes, carrots, cabbage, cilantro, green onions, etc.)
Directions
To make vegetable broth, in large stock pot or Dutch oven, combine vegetable scraps, water, 2 teaspoons kosher salt, and the peppercorns. Bring to boil. Reduce heat to low; simmer 2 hours. Strain and reserve broth.
Meanwhile, to make Carrot Top and Pumpkin Seed Pesto, combine carrot tops and pumpkin seeds in food processor; chop completely. Slowly drizzle in olive oil; process until all of oil is incorporated. Add cheese and season with salt and pepper, as desired. Process until smooth.
To serve, prepare pasta according to package directions. Divide pasta among 8 bowls. Pour 1 cup hot vegetable broth over pasta. Top with 1 tablespoon pesto. Garnish with desired vegetables.
(1/8 of recipe prepared with 1/4 cup sliced radishes, 1/2 cup shredded carrots, 1/4 cup shredded red cabbage, 1 sliced green onion, 1/4 cup chopped cilantro):
Note: 8 cups low-sodium vegetable broth, heated, can be substituted for the homemade vegetable broth.
Nutrition Facts
310 Calories
36g Carbohydrates
3g Saturated Fat
580mg Sodium
16g Fat
9g Protein
4mg Cholesterol
5g Dietary Fiber
Find Dreamfields Pasta near you.

Find Dreamfields at your favorite grocery and retail stores nationwide. Also available online.

Find a store