Linguine Recipes
Stir-fry with Linguine, Beef and Vegetables
Course

Main Dish

Servings

Makes 6 Servings

Prep Time

25 minutes

Cooking Time

15 minutes

Total Time

1 hour, 10 minutes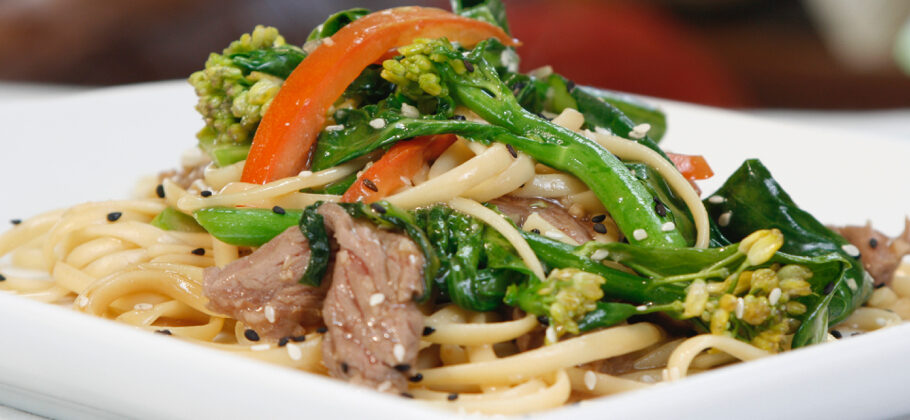 Made with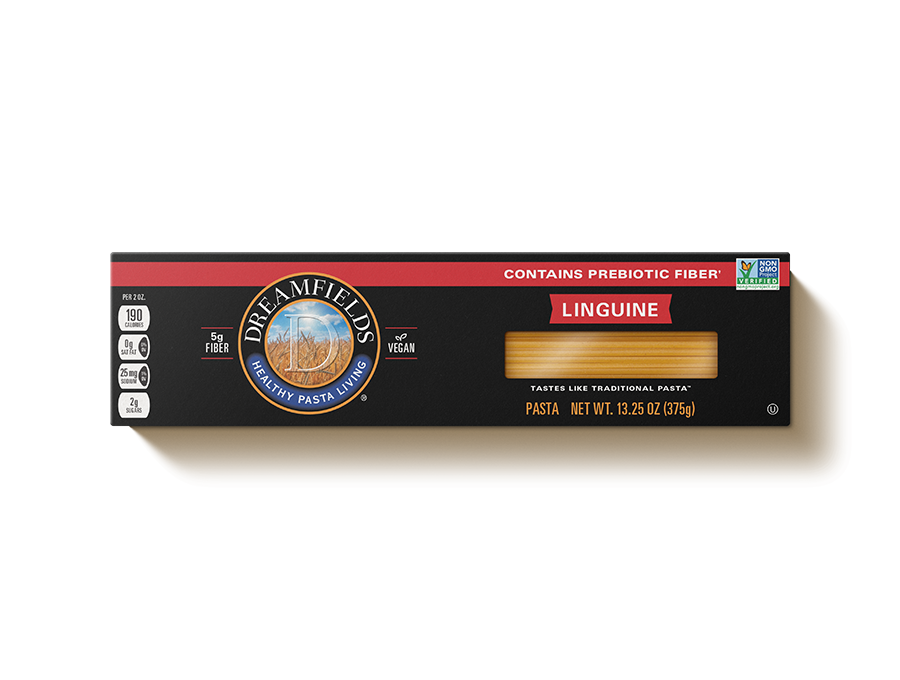 Dreamfields®
Linguine
Ingredients
3/4 box Dreamfields Linguine
2 tablespoons reduced-sodium soy sauce
2 tablespoons oyster sauce divided
2 tablespoons white wine divided
1 tablespoon cornstarch
2 teaspoons dark sesame oil divided
1 pound beef top sirloin cut 3/4 to 1 inch thick, thinly sliced
2 tablespoons olive oil
3 cloves garlic large, finely chopped
1 cup reduced-sodium, fat free chicken broth
1 pound Chinese broccoli cut into bite size chunks or florets
1 teaspoon sugar (optional)
2 tomatoes thinly sliced
sesame seeds (optional)
black pepper freshly ground
Directions
Cook pasta according to package directions. Drain and return to pan.
Meanwhile, in medium bowl, whisk together 1 tablespoon each soy sauce, oyster sauce and wine. Whisk in cornstarch until smooth. Add 1 teaspoon sesame oil and beef; stir to completely coat beef. Marinate, covered, 30 minutes at room temperature. (Refrigerate if marinating longer than 30 minutes.)
Heat 1 tablespoon olive oil in large nonstick skillet or wok over medium heat. Add garlic; cook and stir until fragrant, about 1 minute. Increase heat to medium-high. Add 1/2 cup broth; bring to boil. Add broccoli; cook 3 to 5 minutes until crisp-tender, stirring frequently. Transfer to plate.
In same skillet, heat 1/2 tablespoon olive oil over medium-high heat. Add 1/2 of beef; cook and stir 2 to 3 minutes or until no pink remains. Transfer to plate with broccoli. Repeat with remaining oil and beef.
Add remaining broth, soy sauce, oyster sauce, wine, sesame oil and sugar, if desired, to the same skillet; bring to boil over medium-high heat scraping up any browned bits from the pan. Add linguine; cook and toss 2 to 3 minutes until liquid has almost completely evaporated. Return beef and broccoli to skillet; add tomato slices and sesame seeds, if desired. Toss to combine. Season with pepper to taste.
Note: Broccoli rabe (rapini) or broccoli florets may be substituted for the Chinese broccoli.
Nutrition Facts
520 Calories
64g Carbohydrates
3g Saturated Fat
713mg Sodium
16g Fat
35g Protein
59mg Cholesterol
10g Dietary Fiber
Find Dreamfields Pasta near you.

Find Dreamfields at your favorite grocery and retail stores nationwide. Also available online.

Find a store