Lasagna Recipes
Spicy Sausage, Spinach, and Mushroom Lasagna
Course

Main Dish

Servings

Makes 9 Servings

Prep Time

30 minutes

Cooking Time

30 minutes

Total Time

1 hour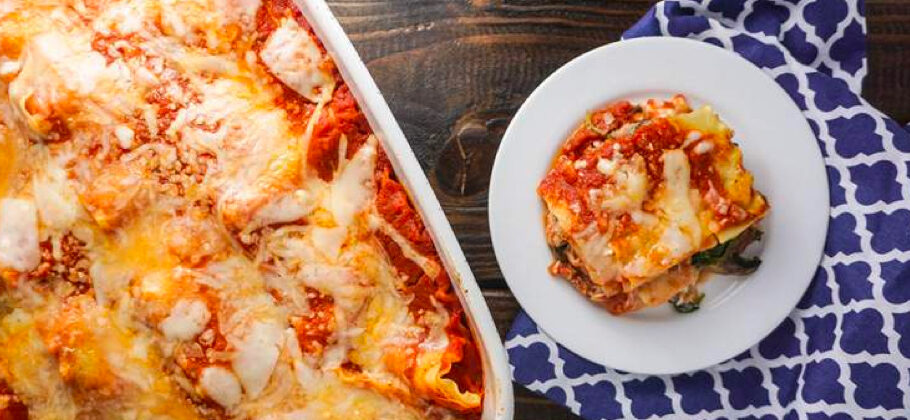 Made with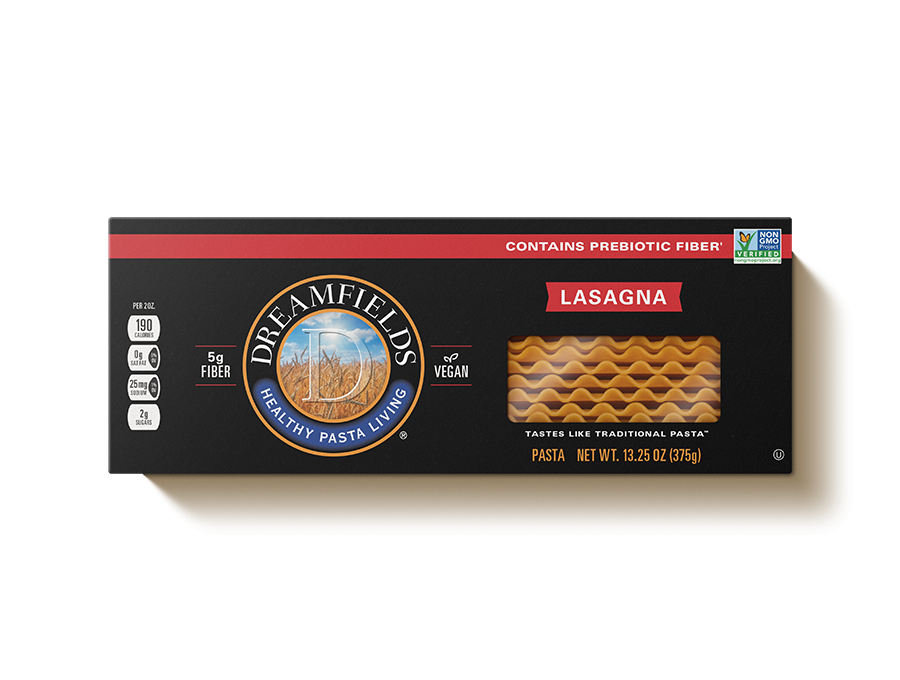 Dreamfields®
Lasagna
Ingredients
1 box Dreamfields Lasagna Noodles
1 pound lean spicy turkey sausage casings removed
1 medium onion diced
4 cloves garlic minced
3 cups low-sodium marinara sauce (or crushed tomatoes) divided
12 ounces fresh baby spinach
8 ounces mushrooms sliced
2 cups part-skim ricotta cheese (or low-fat cottage cheese)
1/2 cup fresh basil chopped
2 teaspoons crushed red pepper flakes
2 teaspoons Italian seasoning
2 cups part-skim mozzarella cheese shredded, divided
1/4 cup Parmesan cheese shredded
salt and pepper
Directions
Preheat oven to 375°F.
Cook pasta according to package directions. Lightly spray noodles with nonstick cooking spray when finished to prevent sticking; set aside.
Meanwhile, heat large skillet over medium-high heat. Add sausage and onion to skillet. Cook 10 minutes or until browned and cooked through, breaking into crumbles, stirring occasionally. Add garlic; cook 1 minute or until fragrant. Drain any excess liquid. Stir in 2 cups of the marinara sauce. Remove mixture from heat; reserve sausage-marinara sauce.
Wipe skillet clean with paper towel. Add spinach and mushrooms to skillet. Cook over medium heat about 5 minutes, stirring occasionally. Add 1 to 2 tablespoons water if necessary to prevent sticking. Season with salt and pepper, as desired.
In small bowl, whisk together ricotta, basil, red pepper flakes and Italian seasoning; set aside.
To assemble lasagna, spray 9X13-inch baking dish with nonstick cooking spray. Spread 1/2 cup of remaining plain marinara sauce on bottom of dish. Add a layer of lasagna noodles, half of ricotta cheese mixture, half of spinach mixture, and half of sausage-marinara sauce. Sprinkle with 3/4 cup of the mozzarella cheese. Repeat for next layer. To finish lasagna, add one layer of noodles and remaining 1/2 cup plain marinara sauce. Sprinkle with remaining 1/2 cup mozzarella cheese and the 1/4 cup Parmesan cheese.
Cover with foil; bake 25 minutes. Remove foil; bake additional 5 minutes. Let rest 10 minutes before serving.
Nutrition Facts
450 Calories
44g Carbohydrates
0g Saturated Fat
700mg Sodium
19g Fat
26g Protein
65mg Cholesterol
6g Dietary Fiber
Find Dreamfields Pasta near you.

Find Dreamfields at your favorite grocery and retail stores nationwide. Also available online.

Find a store