Penne Rigate Recipes
Spicy Penne
Course

Main Dish

Servings

Makes 6 Servings

Prep Time

20 minutes

Cooking Time

25 minutes

Total Time

45 minutes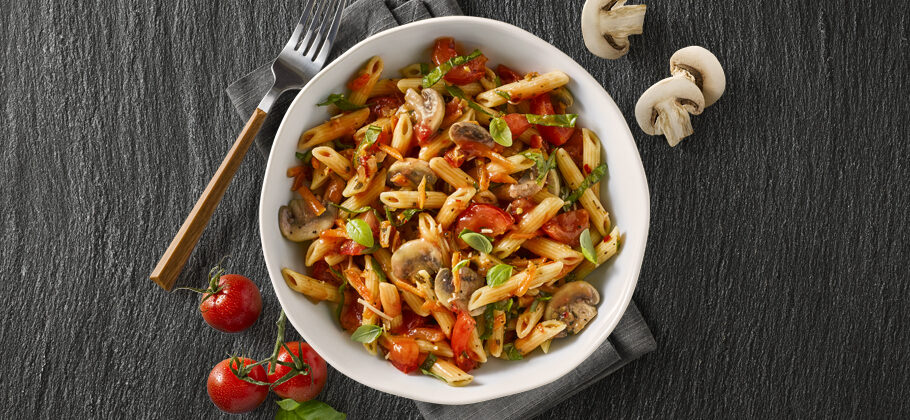 Made with
Dreamfields®
Penne Rigate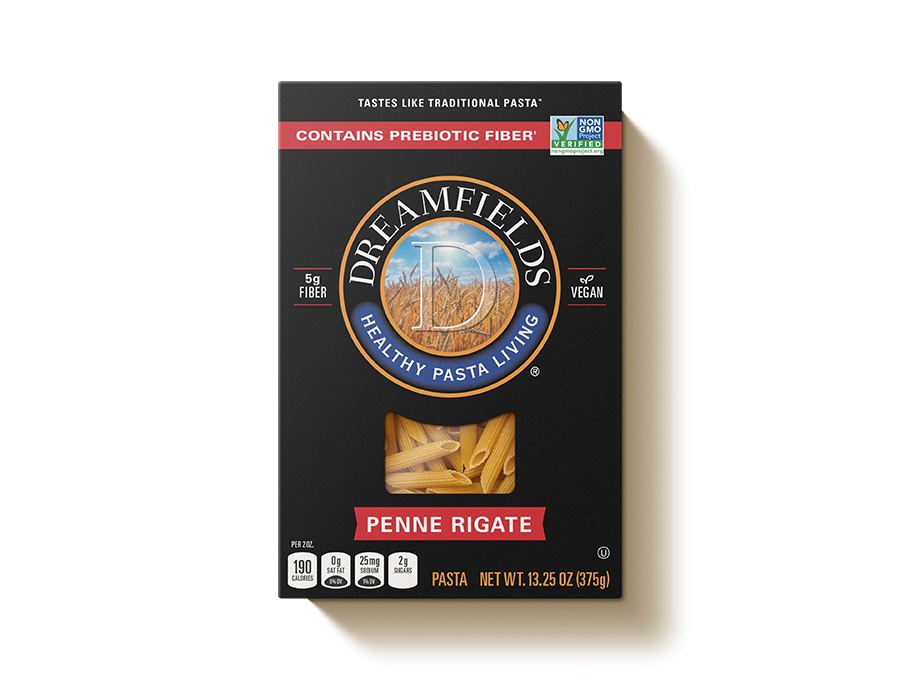 Ingredients
1 box Dreamfields Penne Rigate
1 tablespoon olive oil
1 cup yellow onion minced
4 carrots peeled and chopped
8 ounces mushrooms chopped
1/2 teaspoon salt
1 teaspoon dried oregano
1/2 teaspoon crushed red pepper flakes
1/2 teaspoon freshly ground pepper
1/2 cup red wine
1 can whole tomatoes with juice 28 ounces
1/4 cup shredded Parmesan cheese
1/4 cup freshly chopped basil leaves
shredded Parmesan cheese optional
fresh basil optional
Directions
Cook pasta according to package directions. Reserve 1/2 cup cooking liquid before draining; set aside.
Meanwhile, heat olive oil in large skillet over medium heat until hot. Add onion, carrots and mushrooms; cook 8 to 10 minutes or until vegetables are soft. Add salt, oregano, red pepper flakes and pepper. Stir in wine; cook about 5 to 8 minutes or until liquid is reduced by half, scraping up any browned vegetable bits on bottom of pan.
Crush tomatoes with hands and add them along with juice to skillet. Simmer 10 minutes, stirring often.
Remove skillet from heat. Add cooked pasta and 1/4 cup of the reserved cooking liquid, the Parmesan cheese and basil; toss to combine. If sauce is too thick, thin with a little more of reserved cooking liquid. Transfer to large serving dish. Garnish with additional Parmesan cheese and basil, if desired.
Nutrition Facts
320 Calories
1g Carbohydrates
1g Saturated Fat
450mg Sodium
5g Fat
12g Protein
2mg Cholesterol
10g Dietary Fiber
Find Dreamfields Pasta near you.

Find Dreamfields at your favorite grocery and retail stores nationwide. Also available online.

Find a store