Spaghetti Recipes
Spicy Hoisin-Glazed Salmon Spaghetti
Course

Main Dish

Servings

Makes 6 Servings

Prep Time

20 minutes

Cooking Time

20 minutes

Total Time

40 minutes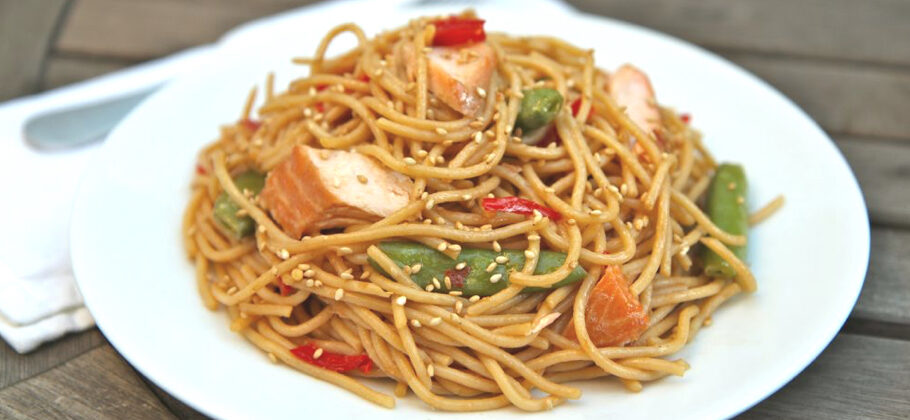 Made with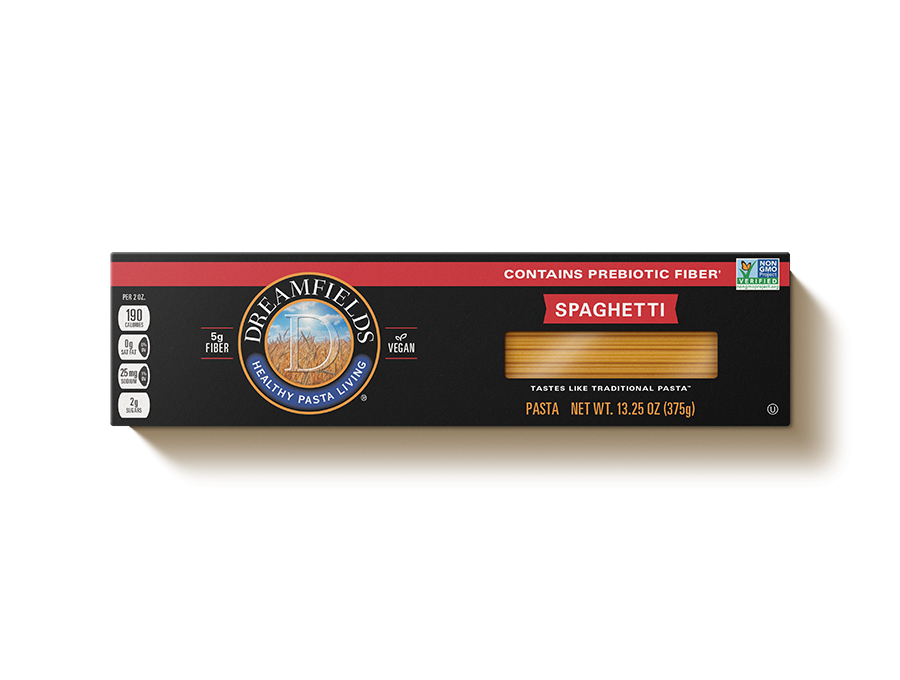 Dreamfields®
Spaghetti
Ingredients
1 box Dreamfields Spaghetti
1 filet salmon (about 1 pound)
1/3 cup hoison sauce
2 tablespoons soy sauce
2 teaspoons lemon juice
2 teaspoons fresh ginger minced
1 teaspoon garlic minced
2 teaspoons sesame oil
1/4-1/2 teaspoon crushed red pepper flakes
1/2 pound snow peas (or sugar snap peas)
1-1/2 cups bell pepper and/or carrots (cut into strips)
sesame seeds toasted (optional)
Directions
Line baking pan with aluminum foil. Spray with nonstick spray. Place salmon, skin side down, on foil. Preheat oven to 425°F.
In small bowl, stir together hoisin sauce, soy sauce, lemon juice, ginger, garlic, sesame oil and red pepper flakes until well combined. Brush 1 tablespoon over salmon. Let stand 10 minutes. (Reserve remaining hoisin mixture for use later in recipe.)
Bake salmon about 15 to 20 minutes in 425°F oven until fish flakes when tested with a fork, or to desired doneness. Remove from oven; allow to cool about 10 minutes.
Meanwhile, cook pasta according to package directions, adding snow peas during the last minute of cooking (2 minutes for sugar snap peas). Drain pasta and snow peas. Return to pot. Toss with reserved hoisin mixture, then with bell pepper and/or carrot strips. Transfer to platter or large shallow bowl.
Cut salmon into approximately 1-1/2 inch chunks, discarding skin. Place atop pasta; toss gently. Sprinkle with sesame seeds, if desired. Serve immediately.
Nutrition Facts
388 Calories
57g Carbohydrates
1g Saturated Fat
628mg Sodium
8g Fat
24g Protein
38mg Cholesterol
8g Dietary Fiber
Find Dreamfields Pasta near you.

Find Dreamfields at your favorite grocery and retail stores nationwide. Also available online.

Find a store