Spaghetti Recipes
Spaghetti with Roasted Brussels Sprouts & Greek Yogurt Cream Sauce
Course

Main Dish

Servings

Makes 4 Servings

Prep Time

20 minutes

Cooking Time

15 minutes

Total Time

35 minutes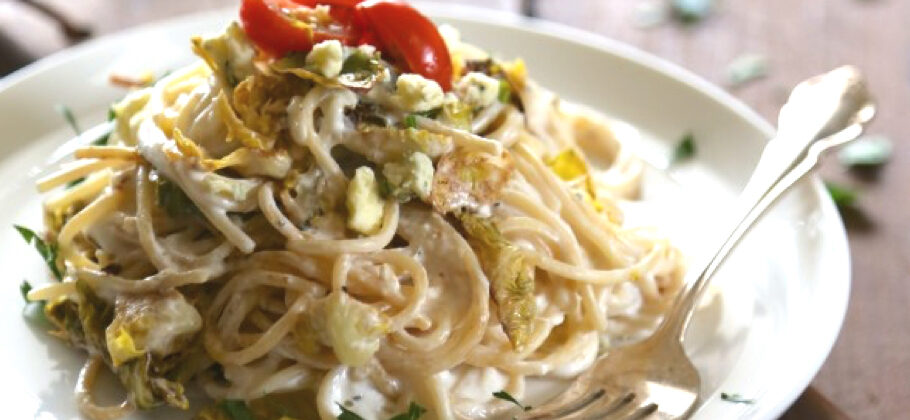 Made with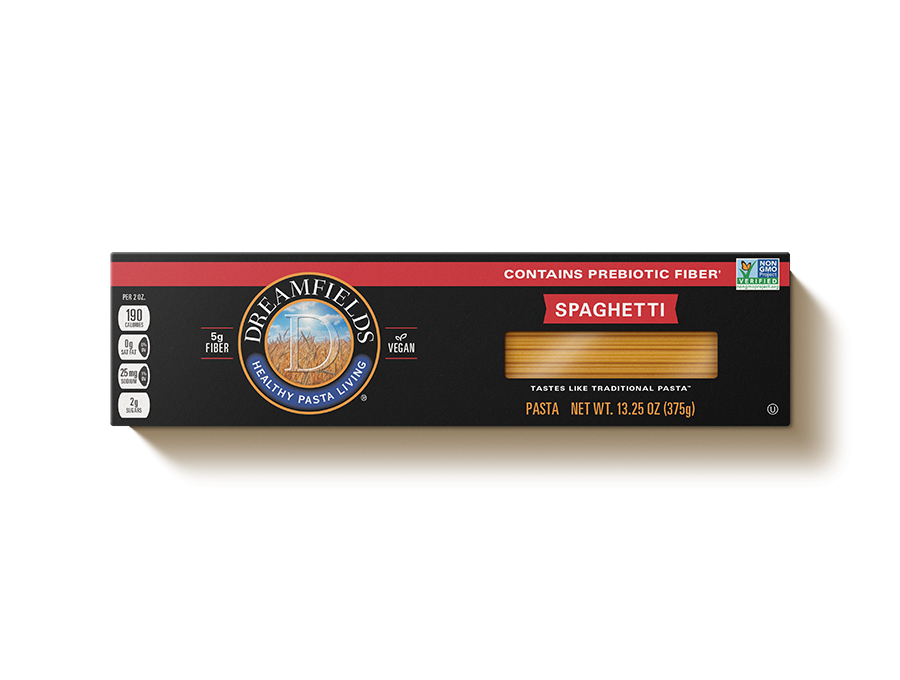 Dreamfields®
Spaghetti
Ingredients
1 box Dreamfields Spaghetti
3 cups brussel sprouts sliced
1 tablespoon olive oil
1 tablespoon balsamic vinegar
1 cup Greek yogurt
2 ounces goat cheese plain
1/2 cup mozzarella shredded
blue cheese garnish
fresh parsley garnish
grape tomatoes garnish
salt and pepper to taste
Directions
Preheat oven to 400 degrees.
Spray a baking sheet with non-stick cooking spray. Place sliced Brussels sprouts on baking sheet and drizzle tops with olive oil, balsamic vinegar, and s&p. Roast for about 10 to 15 minutes or until golden brown. Remove from oven and cool slightly.
Meanwhile, bring a large pot of water to a boil. Add about a teaspoon of salt to the boiling water to help flavor the pasta. Add the pasta in small bunches and continue to stir so the pasta doesn't stick together. In a large bowl, add the Greek yogurt, goat cheese, and mozzarella. Stir to combine. Once the pasta is al dente, remove spaghetti with tongs and place in bowl with all the cheeses. Ladle some of the reserved pasta water into the bowl to thin out the cheese allowing the pasta to absorb. Keep tossing and adding water to create a cream sauce. Then add the Brussels sprouts.
To serve, place some of the spaghetti on a plate. Top with blue cheese, parsley, and grape tomatoes.
Nutrition Facts
360 Calories
32g Carbohydrates
6g Saturated Fat
300mg Sodium
13g Fat
30g Protein
20mg Cholesterol
12g Dietary Fiber
Find Dreamfields Pasta near you.

Find Dreamfields at your favorite grocery and retail stores nationwide. Also available online.

Find a store