Angel Hair Recipes
Skinny Alfredo Pasta
Course

Main Dish

Servings

Makes 4 Servings

Prep Time

20 minutes

Cooking Time

10 minutes

Total Time

30 minutes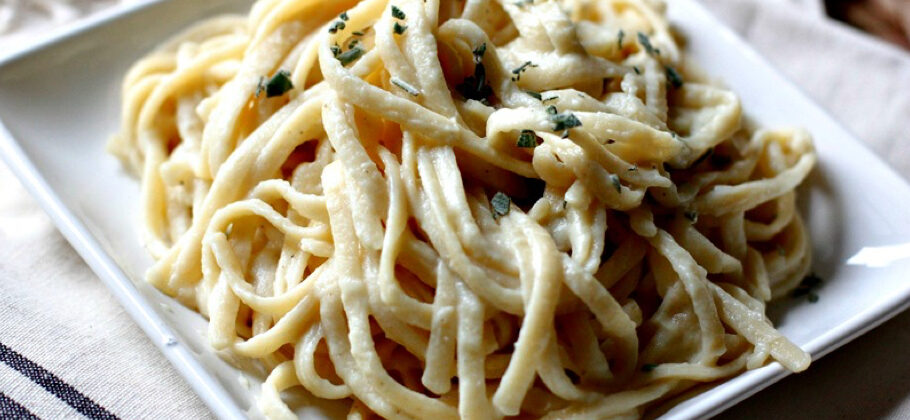 Made with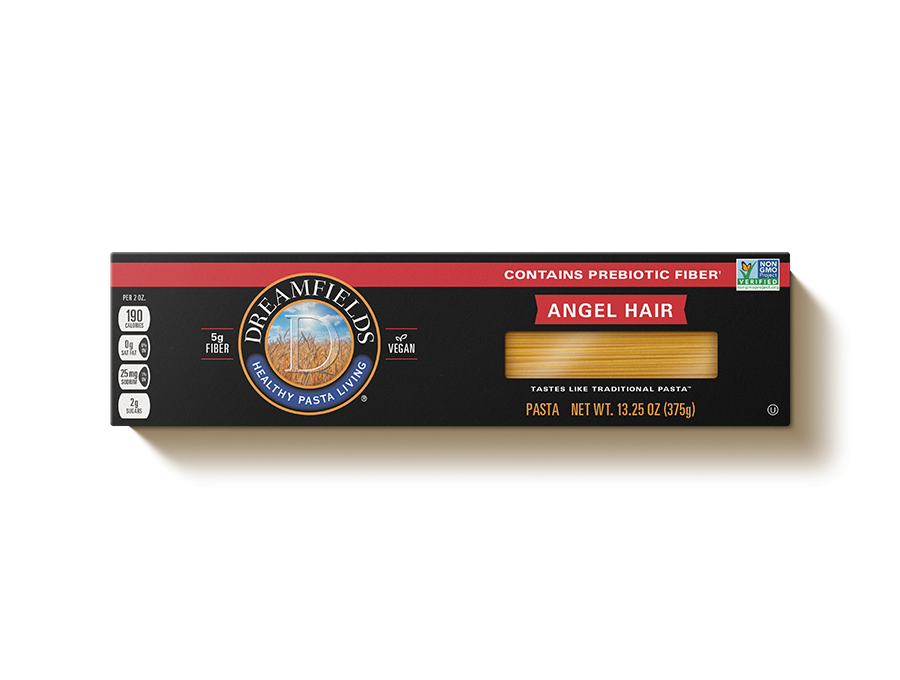 Dreamfields®
Angel Hair
Ingredients
8oz. Dreamfields Angel Hair Pasta
Alfredo sauce
4 cups cauliflower florets (1 small cauliflower)
1 teaspoon extra virgin olive oil
2 cloves garlic minced
1/2 cup evaporated skim milk
1/3 cup Parmesan cheese grated
2 tablespoons vegetable broth
1 teaspoon sea salt (or to taste)
1 teaspoon fresh sage leaves finely chopped
1/2 teaspoon black pepper (or to taste)
1/4 teaspoon garlic powder
1/4 teaspoon nutmeg
1-2 tablespoons Parmesan cheese grated (optional)
fresh parsley (optional)
fresh sage (optional)
Directions
Prepare pasta according to package directions. Place in large bowl; set aside.
Meanwhile, for sauce, place cauliflower in large pan or Dutch oven; cover with water. Bring to low boil. Cook 3 to 7 minutes or until fork-tender; drain. Or place cauliflower in large microwave-safe bowl and cook, covered, on HIGH, 3 to 4 minutes or until fork-tender.
Heat oil in small nonstick skillet over medium heat. Add garlic; cook and stir 30 seconds or just until browned; remove from heat. In high speed blender, add the cooked and drained cauliflower, browned garlic, evaporated milk, 1/3 cup Parmesan cheese, vegetable broth, salt, chopped sage leaves, pepper, garlic powder and nutmeg. Blend until very smooth and sauce-like, about 1 to 2 minutes. If sauce is too thick, add additional vegetable broth a tablespoon at a time, to reach desired consistency. Taste and adjust seasoning; set aside.
Add cauliflower sauce to pasta. Stir in 1 to 2 additional tablespoons Parmesan cheese, if desired. Taste and add additional salt, as desired. Top with black pepper, fresh sage or parsley, as desired.
Nutrition Facts
290 Calories
51g Carbohydrates
2g Saturated Fat
820mg Sodium
5g Fat
15g Protein
10mg Cholesterol
6g Dietary Fiber
Find Dreamfields Pasta near you.

Find Dreamfields at your favorite grocery and retail stores nationwide. Also available online.

Find a store