Lasagna Recipes
Simple Veggie Lasagna with Butternut Squash and Chive Ricotta Cheese
Course

Main Dish

Servings

Makes 10 Servings

Prep Time

45 minutes

Cooking Time

45 minutes

Total Time

1 hour, 30 minutes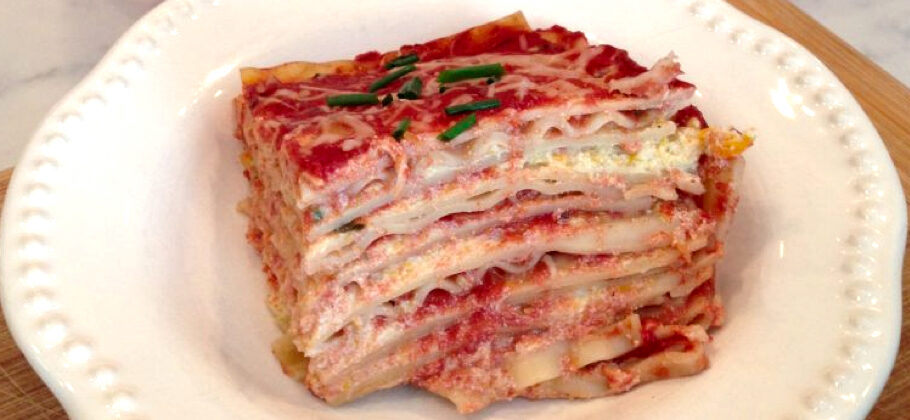 Made with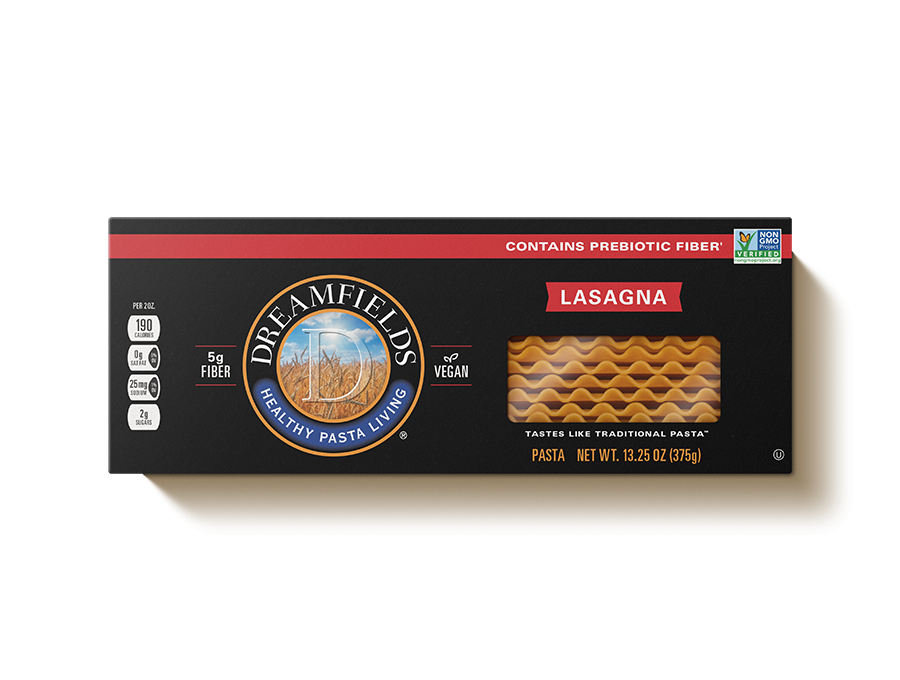 Dreamfields®
Lasagna
Ingredients
1 box Dreamfields Lasagna Noodles
2-1/2 cups butternut squash raw, cubed
2 cloves garlic chopped
2 tablespoons fresh chives chopped
1 teaspoon cinnamon ground
1 teaspoon nutmeg ground
1/2 teaspoon salt
1/2 teaspoon black pepper
16 ounces part-skim ricotta cheese
1 tablespoon extra virgin olive oil
2 15 oz cans tomato sauce
1 teaspoon dried oregano
1 cup part-skim mozzarella finely shredded
Directions
Preheat oven to 350°F.
Cook pasta according to package directions. Lightly spray noodles with nonstick cooking spray when finished to prevent sticking; set aside.
Microwave squash in microwave-safe bowl on HIGH 4 to 5 minutes or until tender.* Place squash and garlic in blender or food processor container. Blend or process until smooth. Pour squash mixture into large bowl. Stir in chives, cinnamon, nutmeg, salt and pepper. Fold in ricotta.
Meanwhile, heat oil in medium saucepan over low heat until hot. Add tomato sauce and oregano. Cook 10 minutes to heat through, stirring occasionally. Spread a thin layer of tomato sauce (about 1/2 cup) on bottom of 9x13-inch baking dish. Top with one layer of pasta (3 noodles). Spread with a thin layer of squash-ricotta mixture (about 1/2 cup). Sprinkle with (scant 2 tablespoons) mozzarella cheese and top with a thin layer of tomato sauce (about 1/2 cup). Repeat this process until the baking dish is filled to the top.
Bake 30 to 45 minutes or until bubbly. Remove from oven. Let stand 5 to 10 minutes before serving.
Nutrition Facts
280 Calories
40g Carbohydrates
0g Saturated Fat
690mg Sodium
8g Fat
14g Protein
20mg Cholesterol
6g Dietary Fiber
Find Dreamfields Pasta near you.

Find Dreamfields at your favorite grocery and retail stores nationwide. Also available online.

Find a store