Rotini Recipes
Rotini with White Beans, Roasted Broccoli, and Fennel Breadcrumbs
Course

Main Dish

Servings

6 servings

Prep Time

15 minutes

Cooking Time

20 minutes

Total Time

35 minutes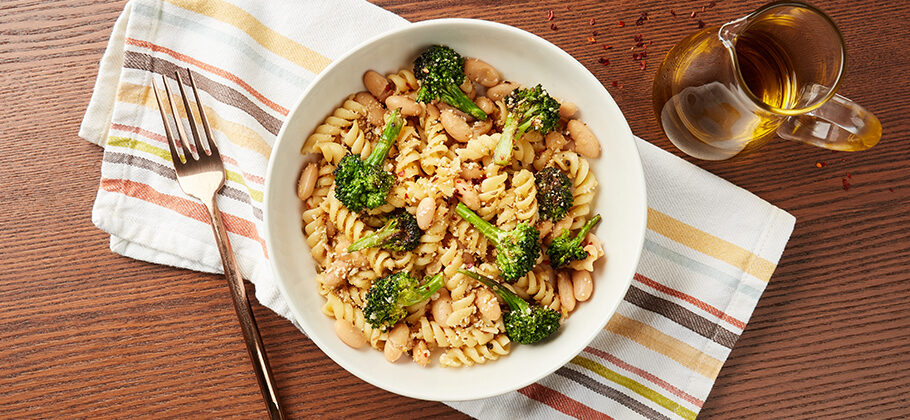 Made with
Dreamfields®
Rotini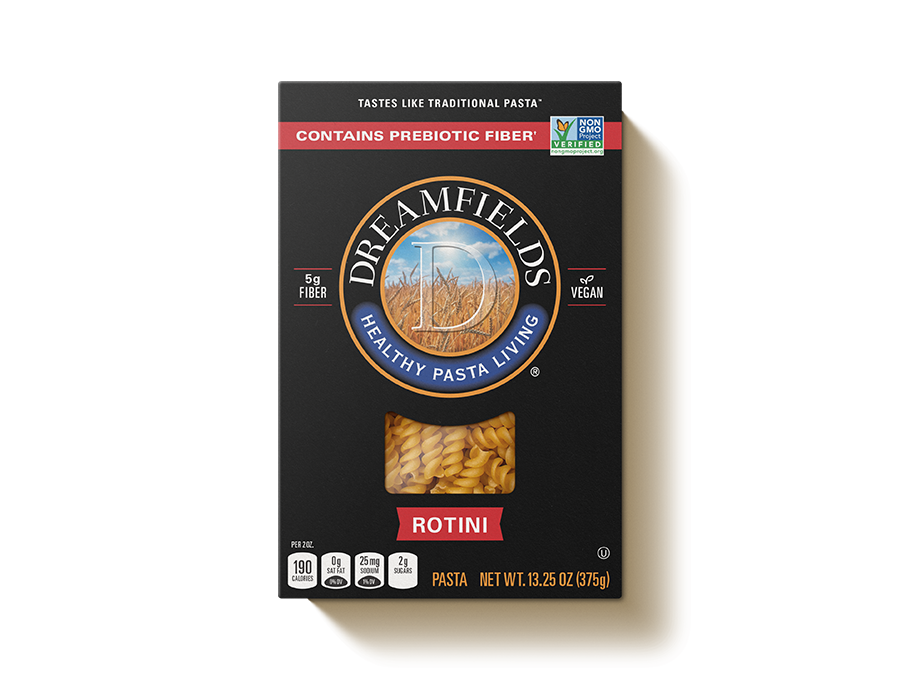 Ingredients
2 cups broccoli florets
6 tablespoons extra-virgin olive oil
4 garlic cloves, roughly chopped
4 teaspoons crushed red pepper flakes
Zest of 1 medium lemon
1 ½ cups breadcrumbs, store-bought or stale bread torn into small pieces
1 teaspoon fennel seeds
1 box Dreamfields® Rotini
1 15 ounce can white beans, drained and rinsed
Directions
Adjust oven rack to upper third of oven, preheat oven to 450° F. On a baking sheet, toss the broccoli florets with 2 tablespoons olive oil, 2 tablespoons garlic and 2 teaspoons chili flakes; season with salt and pepper to taste. Roast broccoli, stirring once or twice, about 15 minutes. Remove from the oven; toss with lemon zest and set aside.
Heat 2 tablespoons olive oil, add breadcrumbs, 2 teaspoons chili flakes and fennel seeds, tossing to coat. Remove the breadcrumb mixture from the hot pan and set aside.
Cook pasta per the directions on the box.
Meanwhile, heat the remaining 2 tablespoons olive oil in a large skillet over medium-high heat until just shimmering. Add the remaining garlic and cook about 30 seconds. Add the white beans and stir, season to taste with salt and pepper, and cook beans until warmed through.
Add cooked pasta with ½ cup of the pasta cooking water.
Add the roasted broccoli to the pan with the pasta mixture. Garnish with breadcrumbs.
Nutrition Facts
530 Calories
84g Carbohydrates
2.5g Saturated Fat
480mg Sodium
17g Fat
18g Protein
0mg Cholesterol
11g Dietary Fiber
Find Dreamfields Pasta near you.

Find Dreamfields at your favorite grocery and retail stores nationwide. Also available online.

Find a store