Rotini Recipes
Rotini with Seared Shrimp and Avocado-Chimichurri Sauce
Course

Main Dish

Servings

Makes 4 Servings

Prep Time

5 minutes

Cooking Time

20 minutes

Total Time

25 minutes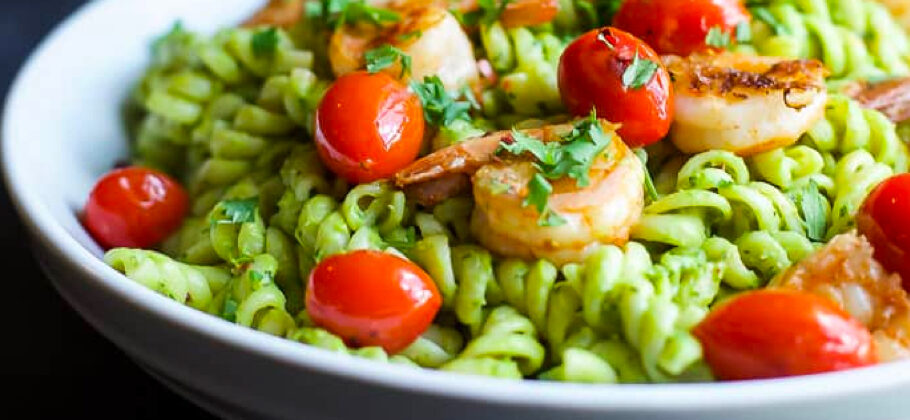 Made with
Dreamfields®
Rotini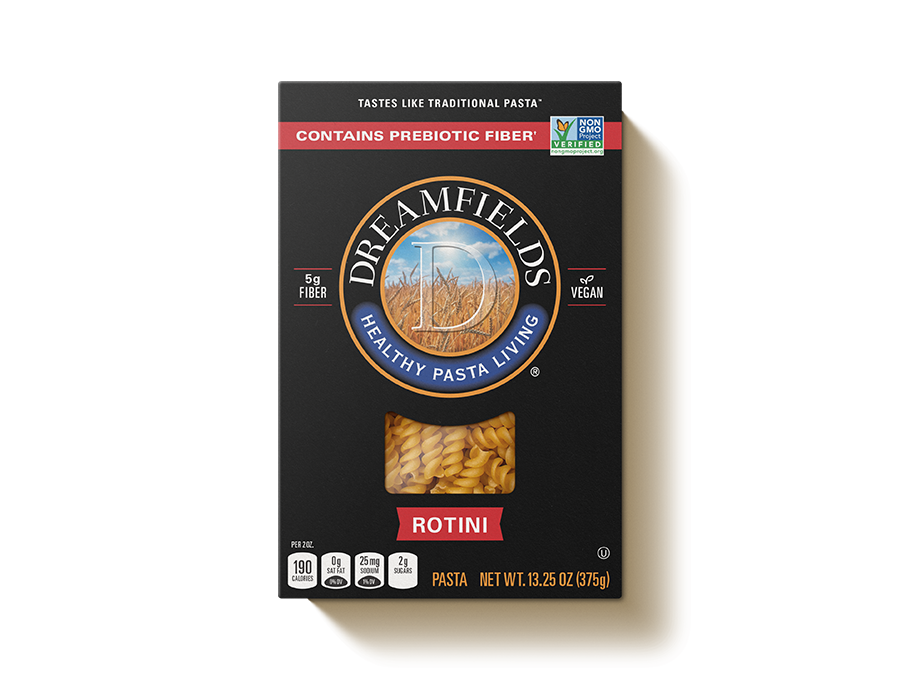 Ingredients
1 box Dreamfields Rotini
1 pound large shrimp peeled and deveined
1/4 teaspoon garlic powder
1/4 teaspoon smoked paprika
1/4 teaspoon sea salt
1/8 teaspoon chipotle chili powder
1 tablespoon olive oil
1 cup cherry tomatoes
Avocado-Chimichurri Sauce
3/4 cup fresh cilantro
1/4 cup fresh oregano
1 clove garlic
1/2 teaspoon salt
1/2 teaspoon crushed red pepper flakes
1/4 teaspoon smoked paprika
3 tablespoons fresh lime juice
3 tablespoons red wine vinegar
3 small avocados cut into chunks
Directions
In medium bowl, combine shrimp, garlic powder, 1/4 teaspoon paprika, 1/4 teaspoon salt and the chipotle chili powder; toss well to coat shrimp. Set aside.
For sauce, place cilantro, oregano, garlic, salt, red pepper flakes, paprika, lime juice and vinegar in bowl of food processor. Pulse 5 to 10 times to chop herbs. Add avocados; process until mixture is very smooth.
Prepare pasta according to package directions. Place in large bowl.
Meanwhile, heat 1 tablespoon oil in large skillet over medium-high heat. Add seasoned shrimp. Sear shrimp 2 to 3 minutes per side or until cooked through. Remove shrimp from skillet: set aside. Add cherry tomatoes to skillet. Cook 3 to 4 minutes, just until tomatoes have a slight char, stirring occasionally.
Add Avocado-Chimichurri sauce to pasta. Toss to coat well. Add shrimp and cherry tomatoes; toss to combine.
Note: Recipe prepared with shrimp that have not been treated or frozen with seawater or brine solutions which increases the sodium level.
Nutrition Facts
400 Calories
53g Carbohydrates
1g Saturated Fat
383mg Sodium
11g Fat
23g Protein
104mg Cholesterol
10g Dietary Fiber
Find Dreamfields Pasta near you.

Find Dreamfields at your favorite grocery and retail stores nationwide. Also available online.

Find a store