Rotini Recipes
Rotini with Chicken Tagine Sauce
Course

Main Dish

Servings

Makes 6 Servings

Prep Time

20 minutes

Cooking Time

35 minutes

Total Time

55 minutes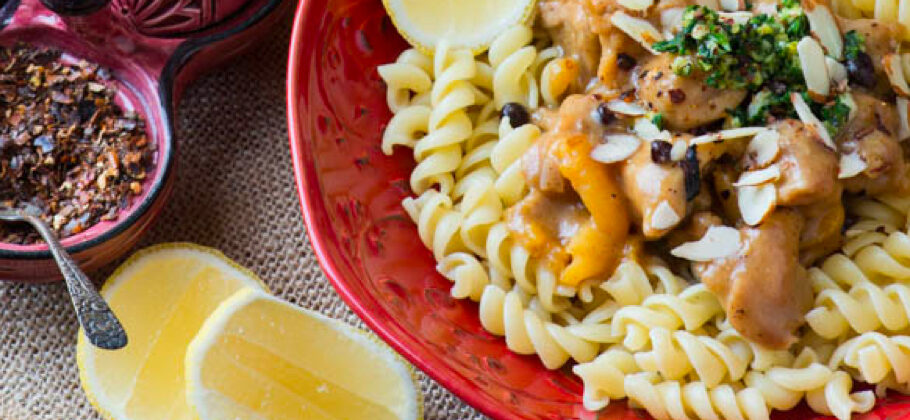 Made with
Dreamfields®
Rotini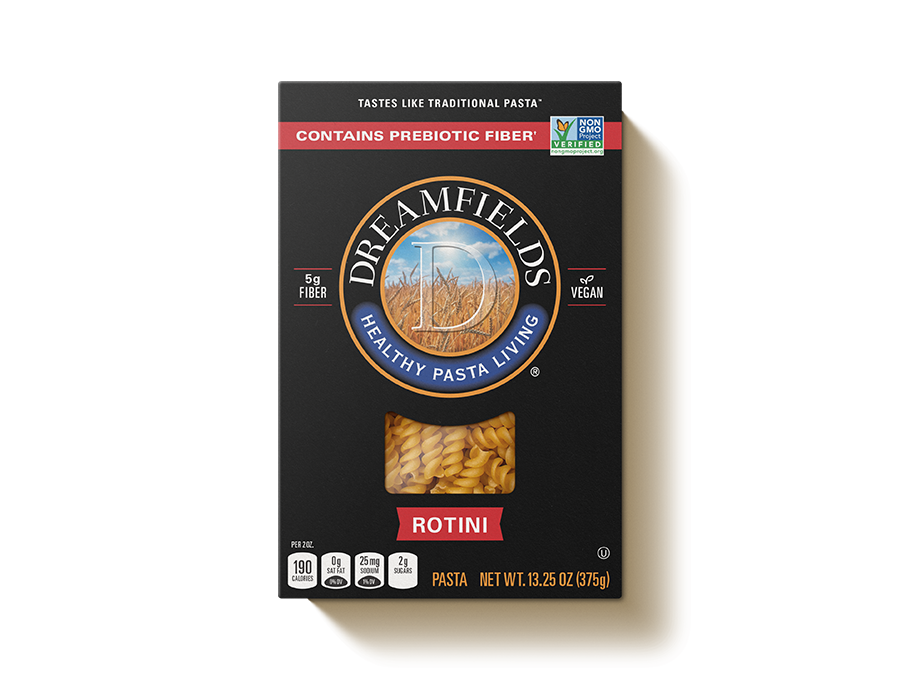 Ingredients
1 box Dreamfields Rotini
1/2 cup all-purpose flour
1 teaspoon cinnamon
1/2 teaspoon ginger ground
1/2 teaspoon pepper
1/4 teaspoon onion powder
1/4 teaspoon garlic powder
1 teaspoon salt divided
1/4 cup olive oil divided
2 pounds boneless, skinless chicken thighs cut into bite-sized pieces
1/2 red onion diced
5 cloves garlic minced, divided
3 cups low-sodium chicken broth (or stock)
1/2 cup dried apricots diced
1/4 cup currants
1 lemon zested and juiced
1/4 cup parsley
1/4 cup cilantro
sliced almonds
olive oil
Directions
Cook pasta according to package directions.
In medium bowl, combine flour, cinnamon, ginger, pepper, onion powder, garlic powder, and 1/2 teaspoon of the salt; set aside.
Heat 1 tablespoon of the oil in large skillet over medium-high heat until hot. Coat 1/3 of the chicken in the flour mixture, dusting off the excess. Add to skillet; cook 2 to 3 minutes per side, or until lightly browned. Remove to a separate dish. Repeat with remaining chicken, adding 1 tablespoon oil between batches.
Add remaining oil, onion, and 3 cloves of garlic (about 1 1/2 teaspoons minced) to skillet. Cook 2 to 3 minutes or until onion is translucent, stirring frequently. Add flour mixture; cook 2 to 3 minutes, stirring constantly.
Pour chicken stock into skillet. Cook and stir until slightly thickened. Add reserved chicken back into the pan along with apricots and currants. Reduce heat, cover, and simmer 8 to 10 minutes, stirring frequently.
Prepare a gremolata by finely chopping lemon zest, parsley and cilantro. Add remaining salt and garlic; set aside.
To serve, divide pasta among serving plates; top each with chicken and sauce. Top with gremolata and a squeeze of lemon juice. Garnish with sliced almonds and a drizzle of olive oil, as desired.
Nutrition Facts
430 Calories
51g Carbohydrates
0g Saturated Fat
420mg Sodium
14g Fat
27g Protein
100mg Cholesterol
6g Dietary Fiber
Find Dreamfields Pasta near you.

Find Dreamfields at your favorite grocery and retail stores nationwide. Also available online.

Find a store