Rotini Recipes
Roasted Vegetables with Rotini & Rosemary Pesto
Course

Main Dish

Servings

Makes 4 Servings

Prep Time

20 minutes

Cooking Time

40 minutes

Total Time

1 hour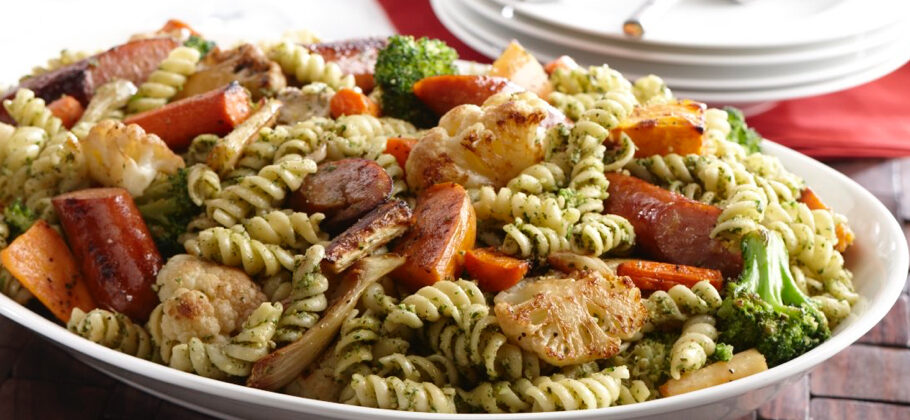 From the kitchen of Dreamfields Pasta

Made with
Dreamfields®
Rotini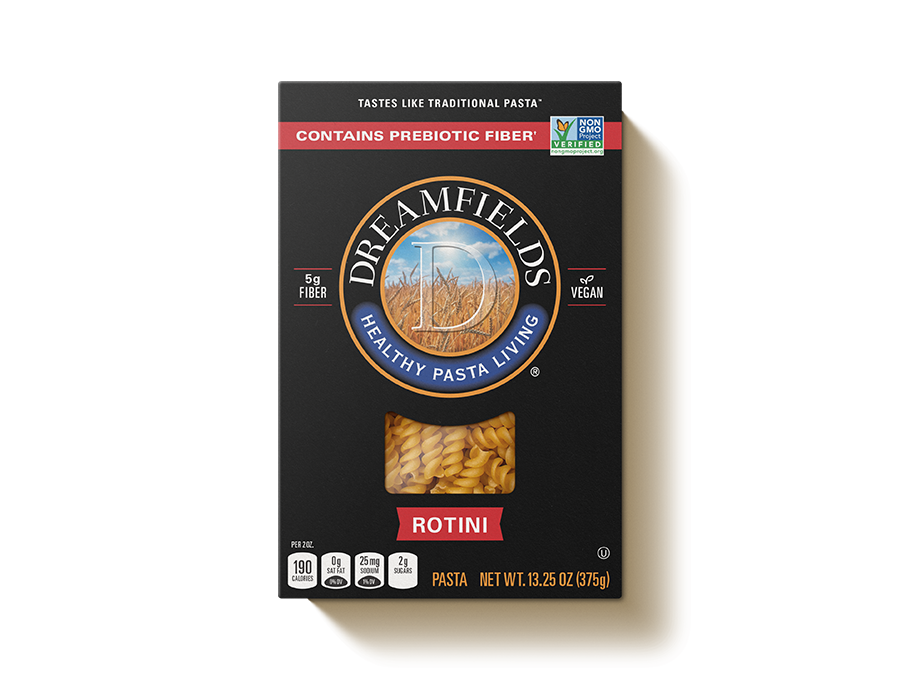 Ingredients
1 box Dreamfields Rotini
2 tablespoons olive oil
8 cups vegetables (see note)
8 cloves garlic
1/2 teaspoon salt (optional)
1 pound reduced fat and sodium chicken sausage fully-cooked, halved, diagonally sliced
black pepper coarsely ground
Parsley-Rosemary Pesto (see recipe below)
Parsley-Rosemary Pesto
1 cup Italian parsley packed
1/3 cup fresh rosemary packed, stems removed
3 cloves garlic
1/2 cup walnuts
1 ounce Parmesan cheese (about 1/4 cup shredded)
1/3 cup olive oil
salt
Directions
Line large rimmed baking pan (17x12x1-inch) with aluminum foil. Spray foil with nonstick cooking spray.
Place 8 cups vegetables (any combination) plus garlic cloves in large bowl; toss with 2 tablespoons oil, salt and pepper. Place vegetables (except broccoli and cauliflower, if using) and garlic cloves in single layer in baking pan. Roast in 425°F oven 15 minutes.
Stir vegetables. Add sausage, broccoli and cauliflower, if using. Continue roasting 15 to 20 minutes or until vegetables are lightly browned and tender.
Meanwhile, prepare pasta according to package directions. Return to pan; toss with pesto. Add vegetables and sausage. Transfer to platter.
Pesto Directions:
Place all ingredients except oil and salt in bowl of food processor. Pulse until well combined. With processor running, add oil in slow, steady stream until well combined. Add salt, as desired.
Note: Choose 8 cups of any combination of vegetables: fennel bulbs, cut into quarters; parsnips, cut into 2-inch lengths; carrots, cut into 2-inch lengths; medium onions, quartered; broccoli florets; cauliflower florets; sweet potatoes, cut into 2-inch pieces.
Note: If desired, substitute 2/3 cup favorite prepared pesto.
Nutrition Facts
520 Calories
50g Carbohydrates
5g Saturated Fat
798mg Sodium
27g Fat
26g Protein
56mg Cholesterol
8g Dietary Fiber
Find Dreamfields Pasta near you.

Find Dreamfields at your favorite grocery and retail stores nationwide. Also available online.

Find a store