Spaghetti Recipes
Roasted Vegetable Pasta Primavera
Course

Main Dish

Servings

Makes 6 Servings

Prep Time

25 minutes

Cooking Time

35 minutes

Total Time

1 hour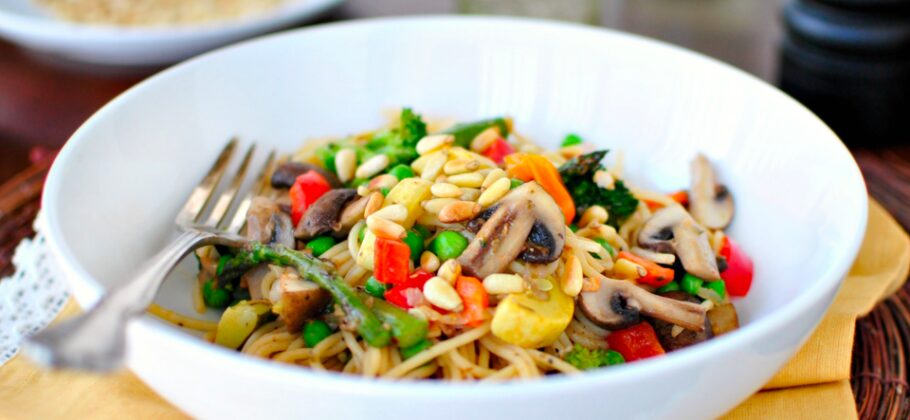 Made with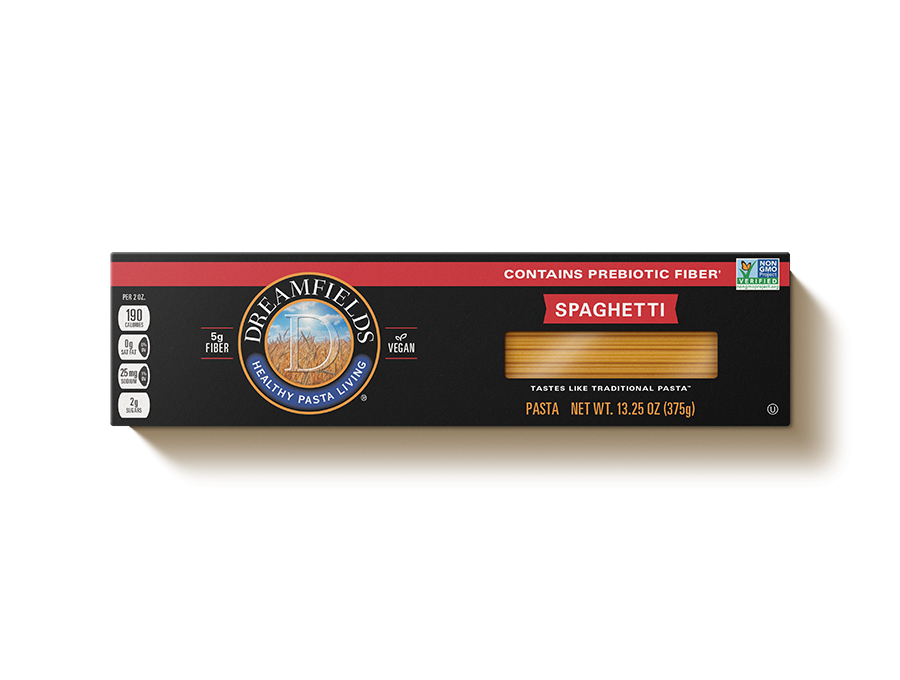 Dreamfields®
Spaghetti
Ingredients
1 13.5 oz box Dreamfields Spaghetti plus 1/2 C pasta water, reserved
4 tablespoons olive oil (+1 teaspoon, divided)
2 medium shallots sliced
4 cloves garlic minced
2 carrots peeled and sliced into half moons
1 bunch broccoli trimmed into florets
8 ounces crimini mushrooms quartered
6 spears asparagus trimmed into 1 inch pieces
1 small yellow squash halved, cut into half moons
1 small zucchini halved, cut into half moons
1/2 pint cherry and grape mixed tomatoes halved (equals 1 cup)
1/2 red bell pepper diced
1 cup frozen petite peas thawed
1/2 cup parmesan freshly grated to taste, plus more for serving
1 tablespoon Italian seasoning
1/4 teaspoon crushed red pepper flakes
1/3 cup pine nuts toasted
kosher salt and black pepper to taste
Directions
Preheat your oven to 500 degrees.
In a small skillet, add the pine nuts and cook over medium-low until toasted and fragrant, about 5-9 minutes. Remove the pine nuts to a plate and set off to the side.
In the same skillet add 1/2 a tablespoon of olive oil and heat over medium-low. Once hot add in the sliced shallots and cook for 4-5 minutes until softened. Add in the minced garlic and cook for 1 to 2 minutes. Remove the skillet from the heat and add the shallot and garlic mixture to a large bowl.
Meanwhile scatter the diced carrots on a small, rimmed sheet pan and drizzle with a little bit of olive oil. Season with a pinch of salt and pepper and roast for 8-10 minute or until soft and the underneath has started to caramelized. Once roasted add the carrots to the bowl with the shallots and garlic.
Place the broccoli florets, quartered crimini mushrooms and trimmed asparagus on one large, rimmed sheet pan and the yellow squash, zucchini, tomato halves and bell pepper on the other. Drizzle 1-1/2 tablespoon over each pan of vegetables, season with a couple pinches of kosher salt, toss to coat and spread the vegetables into an even layer before roasting for 12-14 minutes in your preheated 500 degree oven. Rotate the pans halfway through roasting to ensure even cooking. Once the vegetables are caramelized and slightly softened, add all of the roasted vegetables and their juices to the bowl with the shallots and carrots. Add in the cup of peas.
While the vegetables are roasting bring a large pot of water to a boil. Once the water is at a rolling boil, season with a heavy pinch of kosher salt and drop in the spaghetti noodles. Stir occasionally to break up the noodles. Once the pasta is cooked reserve a half cup of pasta water, drain and immediately add the hot spaghetti noodles to the bowl with the roasted vegetables.
Measure a tablespoon of Italian seasoning and 1/4 teaspoon (or more to preference} crushed red pepper flakes and add it to the bowl. Using tongs; toss the pasta, vegetables, seasonings and a 1/2 cup of freshly grated Parmesan. Pour in a quarter to half of a cup of the reserved pasta water to make a light sauce and toss to coat.
Taste-test and season with kosher salt and black pepper accordingly.
Serve into bowls and garnish with a tablespoon or so of the toasted pine nuts and more Parmesan cheese if desired.
Nutrition Facts
350 Calories
31g Carbohydrates
3g Saturated Fat
210mg Sodium
19g Fat
18g Protein
10mg Cholesterol
11g Dietary Fiber
Find Dreamfields Pasta near you.

Find Dreamfields at your favorite grocery and retail stores nationwide. Also available online.

Find a store