Elbows Recipes
Roasted Vegetable Macaroni & Cheese
Course

Main Dish

Servings

Makes 6 Servings

Prep Time

30 minutes

Cooking Time

40 minutes

Total Time

1 hour, 10 minutes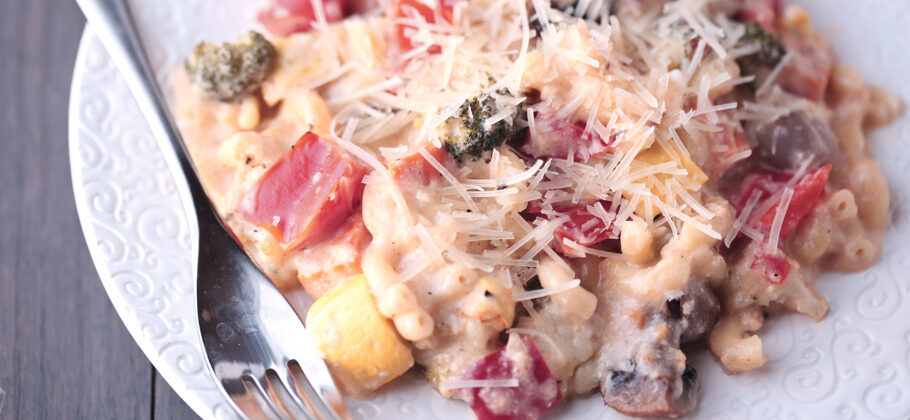 Made with
Dreamfields®
Elbows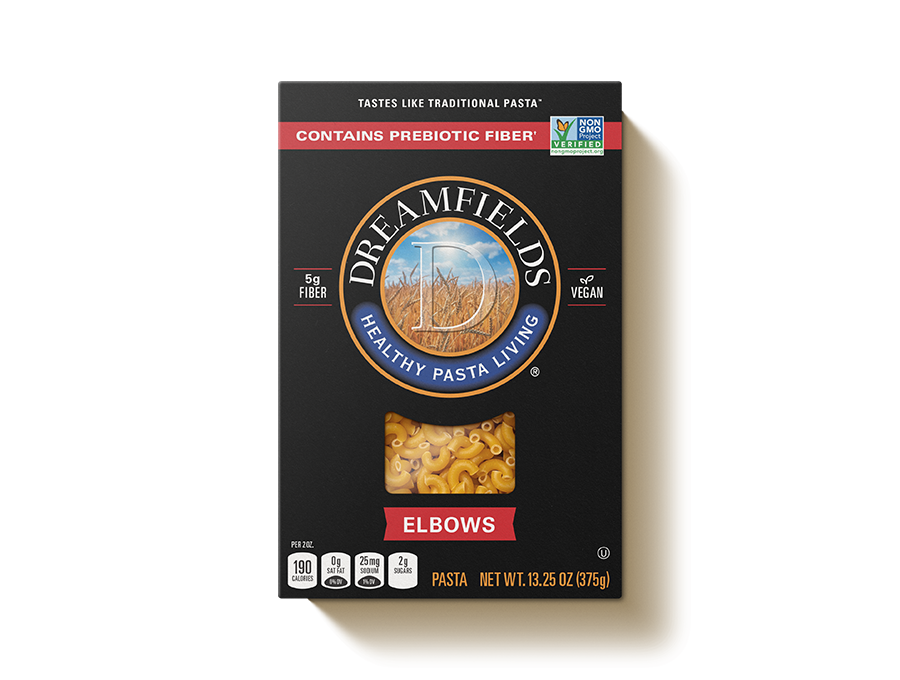 Ingredients
2 cups Dreamfields Elbows
1 large red bell pepper cored and cut into 1-1/2-inch pieces
1 medium sweet potato peeled and cut into 1-inch pieces
1 yellow squash cut into 1-1/2-inch pieces
1 small head broccoli separated into florets
1 8 oz package button or baby portabella mushrooms halved
1 small white onion peeled and diced
1 head garlic cloves peeled
2 tablespoons canola or vegetable oil
1 tablespoon butter
1 12 oz can 2% evaporated milk
2 large eggs beaten
1/2 teaspoon smoked paprika
1 pinch cayenne
1/2 pound white Cheddar cheese shredded
1/4 cup Parmesan cheese shredded (+ extra for garnish)
salt and freshly ground black pepper
Directions
Preheat oven to 400°F.
In large bowl, toss vegetables (except garlic) with canola oil. Place vegetables in a single layer on rimmed baking sheet lined with aluminum foil. Wrap garlic cloves in aluminum foil to form a sealed packet; place in corner of baking sheet. Season vegetables with salt and pepper, as desired. Bake 30 to 40 minutes, or until vegetables are tender and just beginning to brown. Remove from oven.
Meanwhile, cook pasta according to package directions. Drain and return to pot; toss with butter.
While pasta cooks, in heavy medium-size saucepan, whisk together milk, eggs, 1/2 teaspoon salt, 1/4 teaspoon black pepper, smoked paprika and cayenne until combined. Cook over low heat, stirring continuously with heat-proof rubber spatula or wooden spoon until mixture thickens and coats back of a metal spoon, about 4 to 5 minutes. (To prevent curdling, do not overcook or stop stirring sauce.)
Remove pan from heat. Stir in Cheddar and Parmesan cheeses until melted. Pour over elbows; stir to combine. Gently stir in roasted vegetables. Serve immediately, garnished with additional Parmesan cheese, if desired.
Nutrition Facts
487 Calories
49g Carbohydrates
11g Saturated Fat
433mg Sodium
24g Fat
23g Protein
106mg Cholesterol
6g Dietary Fiber
Find Dreamfields Pasta near you.

Find Dreamfields at your favorite grocery and retail stores nationwide. Also available online.

Find a store