Penne Rigate Recipes
Roasted Brussels Sprouts and Butternut Squash Pasta Salad
Course

Main Dish

Servings

Makes 6 Servings

Prep Time

20 minutes

Cooking Time

40 minutes

Total Time

60 minutes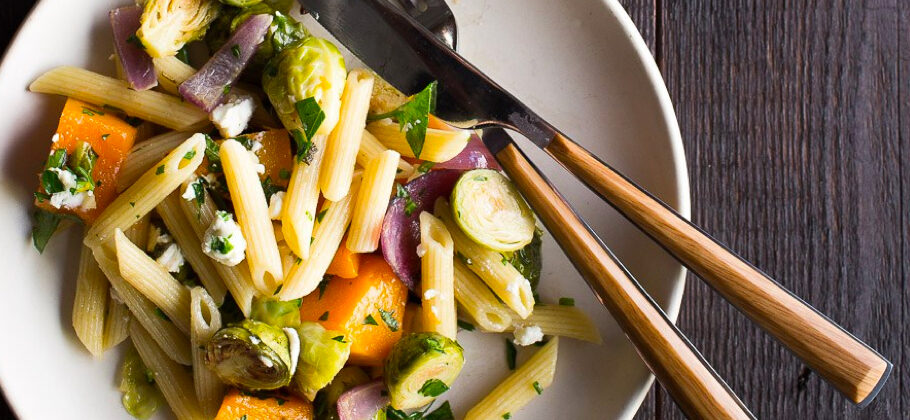 Made with
Dreamfields®
Penne Rigate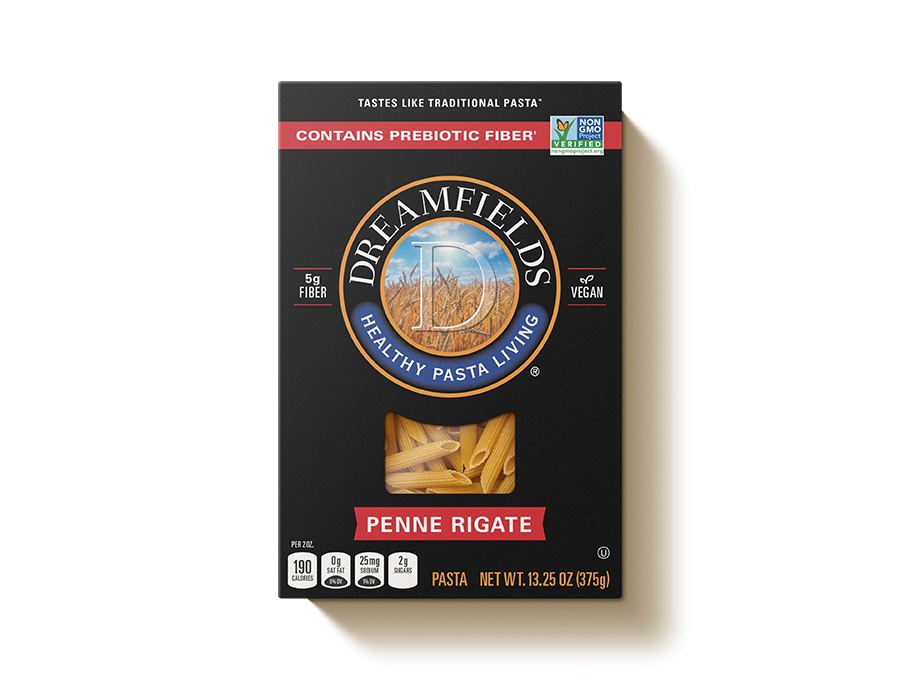 Ingredients
1 box Dreamfields Penne Rigate
1/3 cup fresh parsley minced
2 ounces goat cheese crumbled
salt
pepper
Roasted Vegetables
1 pound Brussels Sprouts
2 tablespoons olive oil divided
1 tablespoon fresh sage minced
1/2 red onion
3/4 pound butternut squash peeled, cut into 1in. cubes
1 clove garlic minced
Dressing
2 tablespoons olive oil
2 tablespoon balsamic vinegar
1/2 teaspoon Dijon mustard
Directions
Preheat oven to 400°F. For roasted vegetables, remove bruised or wilted outer leaves from Brussels sprouts. Cut small bottom stems off, and cut sprouts in half. Place in large bowl. Toss with 1 tablespoon of the oil and half of minced sage. Spread in even layer on rimmed baking sheet. Roast 10 minutes.
Meanwhile, cut red onion half lengthwise into quarters, then cut each quarter crosswise in half. Toss onion and squash with remaining tablespoon of oil and remaining sage. Add to pan with Brussels sprouts. Continue roasting 15 minutes. Stir minced garlic into vegetable mixture. Roast 5 minutes. Remove from oven; let cool. Use immediately or refrigerate, covered, up to two days. Bring to room temperature before preparing salad, if refrigerated.
Prepare pasta according to package directions; place in large bowl.
Meanwhile, for dressing, whisk together the 2 tablespoons olive oil, balsamic vinegar and mustard. Add roasted vegetables to pasta. Add dressing; toss to combine. Sprinkle with parsley and goat cheese. Season with salt and pepper, as desired.
Nutrition Facts
390 Calories
59g Carbohydrates
3g Saturated Fat
87mg Sodium
13g Fat
13g Protein
7mg Cholesterol
10g Dietary Fiber
Find Dreamfields Pasta near you.

Find Dreamfields at your favorite grocery and retail stores nationwide. Also available online.

Find a store