Penne Rigate Recipes
Roasted Beet Hummus Over Penne
Course

Main Dish

Servings

Makes 4 Servings

Prep Time

25 minutes

Cooking Time

20 minutes

Total Time

45 minutes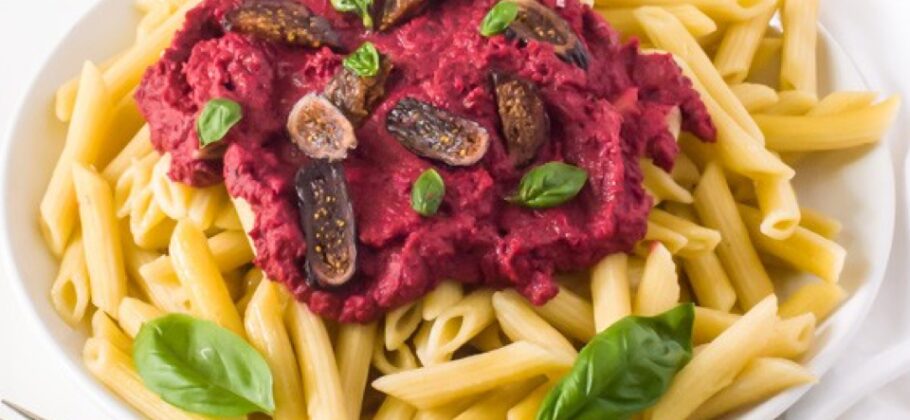 Made with
Dreamfields®
Penne Rigate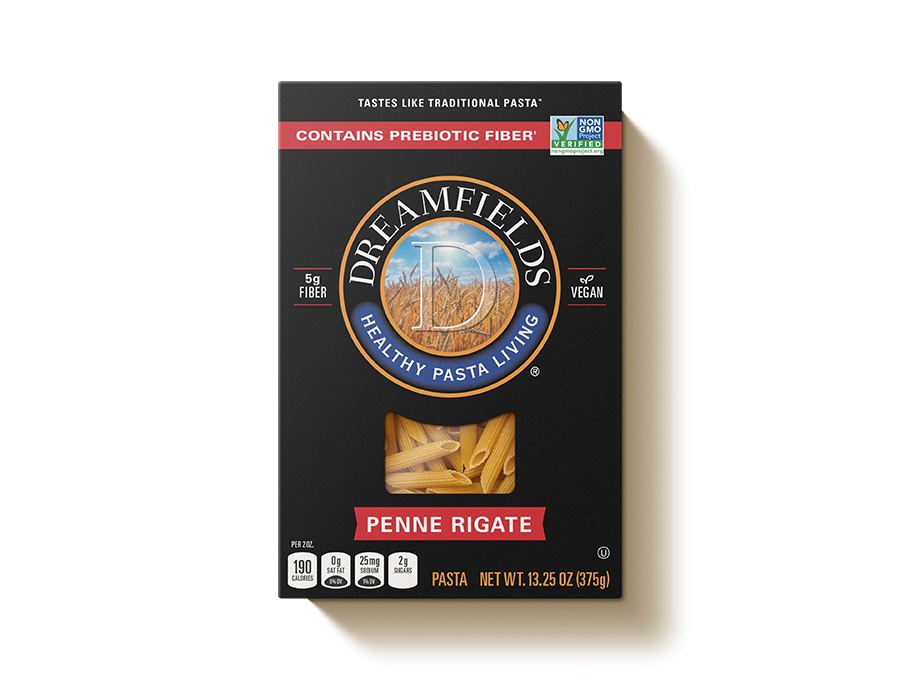 Ingredients
1 box Dreamfields Penne Rigate
1 medium beet peeled and chopped
2 cloves garlic chopped
1/4 cup red wine
1/4 cup raw almonds (not roasted)
1 tablespoon olive oil
1 15 oz can chickpeas drained and rinsed
1/4 cup fresh basil chopped (or 2 tablespoons dried)
1/2 teaspoon sea salt
1/4 cup dried figs chopped
basil leaves (optional)
Directions
Cook pasta according to package directions. Place in large bowl; set aside.
Spray medium skillet with light coating of nonstick cooking spray. Heat over medium until hot. Add chopped beets. Cook 5 minutes or until beets are tender, stirring occasionally. Add garlic; cook 5 minutes, stirring frequently.
Meanwhile, add wine and almonds to bowl of food processor. Pulse; push ingredients down with spatula. Continue pulsing about 1 minute, or until almonds and wine turn into a paste.
Add hot beets and garlic to food processor. Pulse about 30 seconds to combine with almond mixture.
When beets have cooled slightly, add oil and chickpeas to beet mixture; pulse about 1 minute or until smooth, stopping to push down ingredients with spatula as needed. Add basil and salt. Pulse until combined. Add water a tablespoon at a time if thinner consistency is desired.
Serve hummus over plated pasta; top with figs, and basil leaves, if desired.
Nutrition Facts
380 Calories
67g Carbohydrates
0g Saturated Fat
290mg Sodium
8g Fat
14g Protein
0mg Cholesterol
11g Dietary Fiber
Find Dreamfields Pasta near you.

Find Dreamfields at your favorite grocery and retail stores nationwide. Also available online.

Find a store