Linguine Recipes
Red Thai Curry Shrimp Linguine
Course

Main Dish

Servings

Makes 6 Servings

Prep Time

20 minutes

Cooking Time

15 minutes

Total Time

35 minutes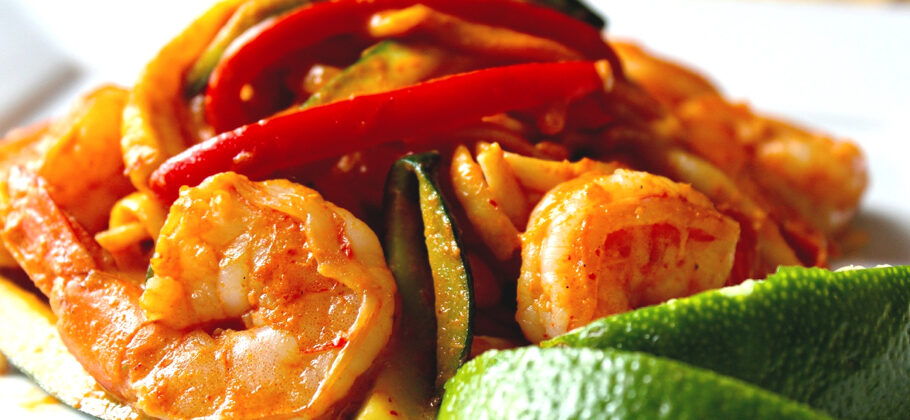 Made with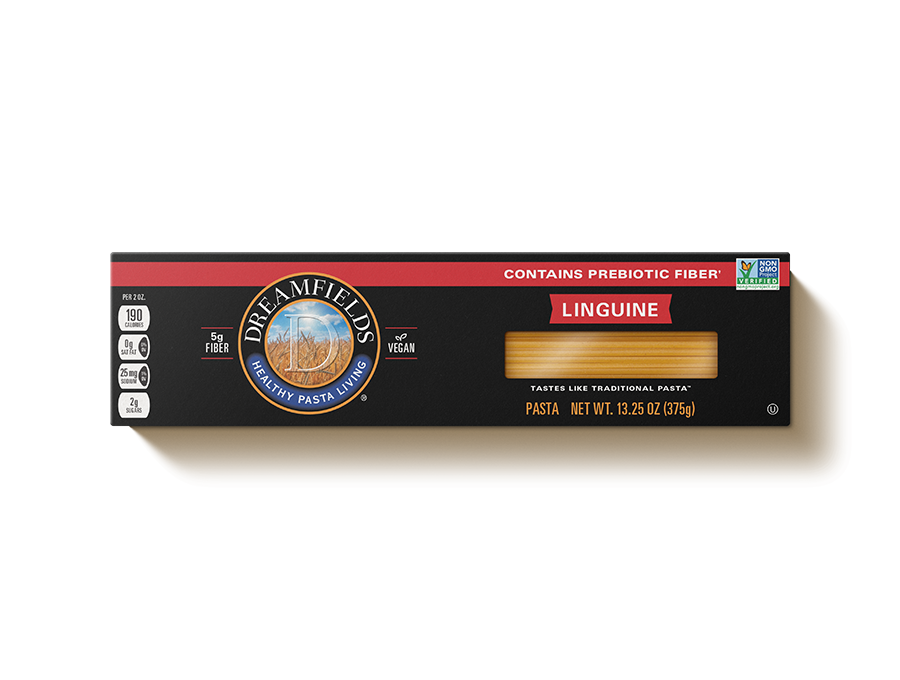 Dreamfields®
Linguine
Ingredients
1 box Dreamfields Linguine
1 pound medium shrimp peeled and deveined (see note)
2 tablespoons Thai red curry paste (prepared)
1 tablespoon vegetable oil (or olive oil)
1 zucchini sliced into matchsticks
1 red bell pepper sliced into matchsticks
1 small onion chopped
2 cloves garlic finely chopped
1/2 teaspoon fresh ginger minced
1 13.5 oz can coconut milk
lime wedges
3/4 teaspoon kosher salt (optional)
Directions
Cook pasta according to package directions. Reserve 1 cup cooking liquid before draining; set aside.
Meanwhile, in large skillet, heat oil over medium-high heat until hot. Add onion, garlic and ginger; cook about 2 minutes or until onion is tender, and garlic and ginger begin to caramelize, stirring frequently. Add bell pepper and zucchini; heat through. Do not overcook vegetables; they should remain crisp-tender. Add salt, if desired.
Add coconut milk; whisk until smooth. Stir in red curry paste until completely combined.
Add shrimp; cook about 2 to 3 minutes or until shrimp turn pink. Remove skillet from heat.
Toss pasta with curry mixture, adding reserved pasta water a small amount at a time if necessary to reach desired consistency. Garnish each serving with lime wedges.
Note: Recipe prepared with shrimp that have not been treated or frozen with seawater or brine solutions which increases the sodium level.
Nutrition Facts
460 Calories
53g Carbohydrates
0g Saturated Fat
465mg Sodium
20g Fat
24g Protein
110mg Cholesterol
8g Dietary Fiber
Find Dreamfields Pasta near you.

Find Dreamfields at your favorite grocery and retail stores nationwide. Also available online.

Find a store