Spaghetti Recipes
Red Curry Shrimp Laksa
Course

Main Dish

Servings

6 servings

Prep Time

15 minutes

Cooking Time

15 minutes

Total Time

30 minutes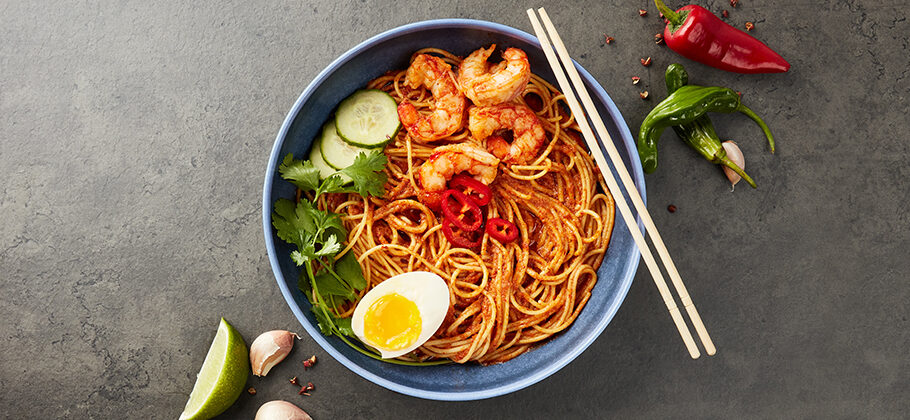 Made with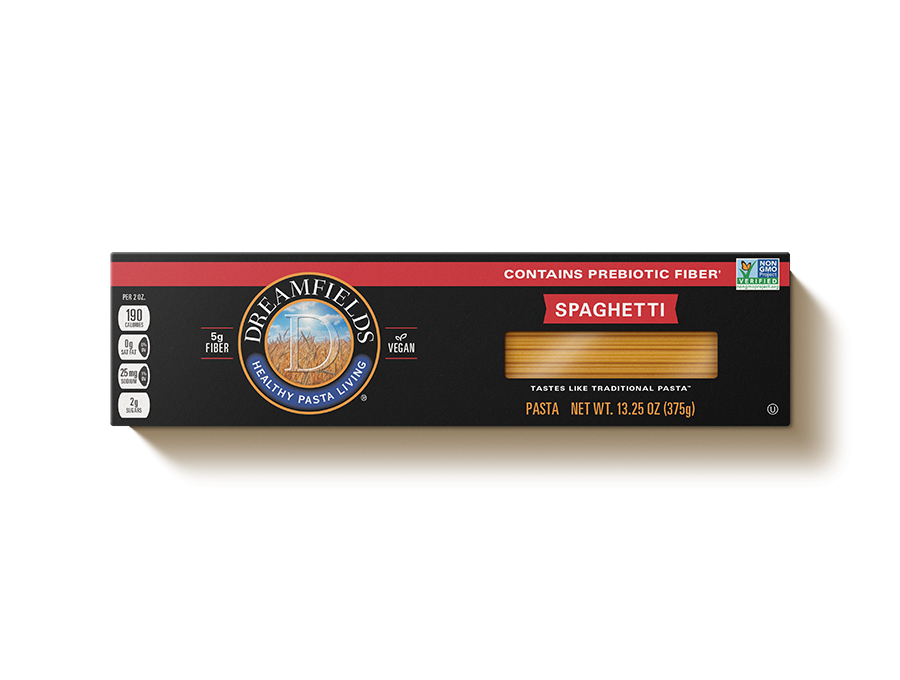 Dreamfields®
Spaghetti
Ingredients
1 tablespoon vegetable oil
4 (1-inch) pieces of lemongrass, bruised (optional)
4 garlic cloves, grated
2 thumb-sized pieces of ginger, grated
⅓ cup Thai red curry paste
1 teaspoon ground cayenne pepper
3 cups chicken stock (or fish stock, if available)
12 large-sized shrimp, peeled and deveined
3 teaspoons light brown sugar
Juice of 1 lime
1 cup lite coconut milk
Chili peppers, such as serrano or jalapeño, sliced
Chili garlic paste, such as sambal or sriracha
1 box Dreamfields® Spaghetti
Lime wedges, basil and/or cilantro leaves, soft-boiled eggs and cucumber slices for garnish
Directions
Heat oil in a large pot on medium heat; add lemongrass, garlic and ginger; cook until fragrant and the garlic is barely golden brown.
Add in red curry paste, cayenne pepper and ⅓ cup water; stir and cook 1 minute. Add in stock, stir and simmer 10 minutes.
Reduce heat to low, add in shrimp and cook until barely translucent. Add in sugar, lime juice and coconut milk; stir to combine until heated through.
To serve: place cooked pasta in a warmed bowl, and ladle over some broth and shrimp. Garnish each bowl with lime wedges, basil and/or cilantro leaves, soft-boiled eggs and cucumber.
Nutrition Facts
380 Calories
53g Carbohydrates
2.5g Saturated Fat
650mg Sodium
5g Fat
34g Protein
185mg Cholesterol
7g Dietary Fiber
Find Dreamfields Pasta near you.

Find Dreamfields at your favorite grocery and retail stores nationwide. Also available online.

Find a store