Rotini Recipes
Potluck Pasta Salad
Course

Pasta Salad

Servings

Makes 8 Servings

Prep Time

20 minutes

Cooking Time

10 minutes

Total Time

30 minutes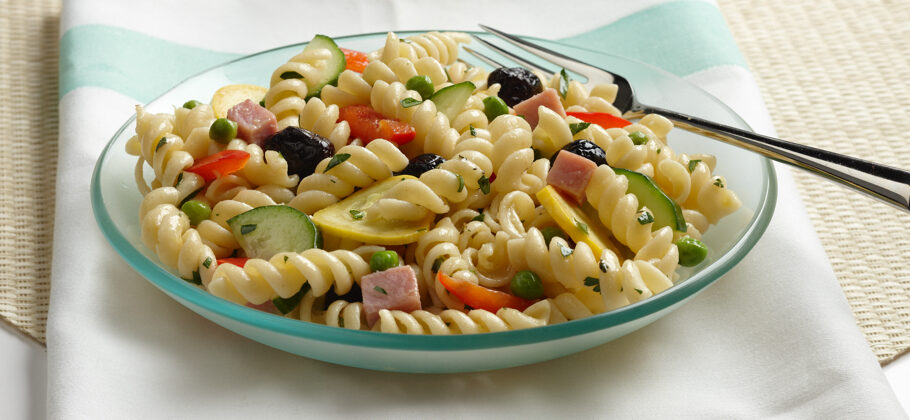 From the kitchen of Dreamfields Pasta

Made with
Dreamfields®
Rotini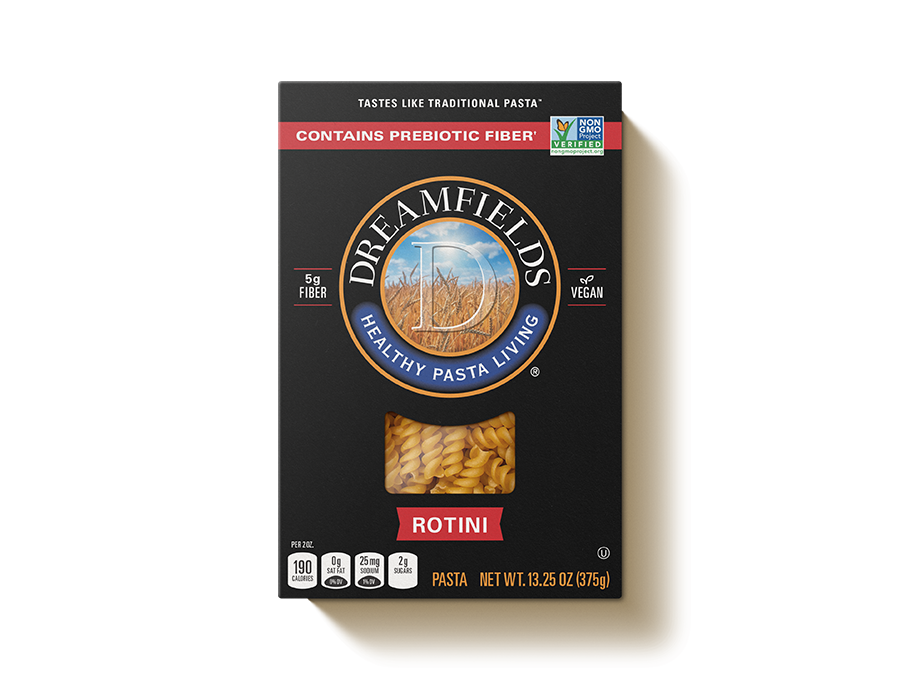 Ingredients
1 box Dreamfields Rotini or Dreamfields Penne Rigate
4 cups mix-ins (see below)
Herbed Vinaigrette or Homestyle Peppery Buttermilk dressing
Herbed Vinaigrette Recipe
1/2 cup white wine vinegar or rice vinegar
1/3 cup olive oil
1 tablespoon Dijon mustard
1 clove garlic minced
1/4 cup fresh herbs: thyme, basil, rosemary, parsley chopped
Homestyle Peppery Buttermilk Dressing Recipe
1/2 cup low-fat buttermilk
1/2 cup light mayonnaise or salad dressing
1/4 cup fresh parsley
1 teaspoon no-salt garlic and herb seasoning blend
1/4 teaspoon salt
Coarse-ground black pepper
Directions
Cook pasta according to package directions; drain. Rinse with cold water; drain again. Place pasta in large bowl.
Add desired mix-ins and half of dressing. Toss to coat. Serve immediately or cover and refrigerate up to 8 hours; toss again before serving. Add additional dressing, as desired.
Herbed Vinaigrette Instructions
In small bowl, whisk together vinegar and oil. Whisk in mustard and garlic. Add herbs.
Homestyle Peppery Buttermilk Dressing Instructions
In small bowl, stir together buttermilk and mayonnaise. Add remaining ingredients; stir to mix well. Add additional buttermilk if needed for consistency. Let stand about 10 minutes to thicken.
Suggested Mix-Ins:
Crisp-tender cooked vegetables: green beans, broccoli, asparagus, corn, sugar snap peas, green peas, edamame, zucchini, yellow squash
Raw vegetables: shredded or sliced carrots, tomatoes, cucumber, bell pepper, celery, avocado, spinach, radish, onions
Other: olives, cheese; shredded or crumbled, herbs
Meats: Salami strips, cooked chicken, tuna, shrimp, crabmeat, ham, beef steak slices, prosciutto
Notes: (Based on 8 servings; mix-ins used: 1 cup cooked ham, 1 cup sliced cucumber, 1/2 cup sliced squash, 1/2 cup green peas, 1/2 cup pitted black olives, 1/2 cup bell pepper and Herbed Vinaigrette)
Nutrition Facts
240 Calories
37g Carbohydrates
1g Saturated Fat
370mg Sodium
8g Fat
11g Protein
10mg Cholesterol
5g Dietary Fiber
Find Dreamfields Pasta near you.

Find Dreamfields at your favorite grocery and retail stores nationwide. Also available online.

Find a store