Rotini Recipes
Pesto Rainbow Pasta with Roasted Vegetables
Course

Pasta Salad

Servings

Makes 6 Servings

Prep Time

20 minutes

Cooking Time

25 minutes

Total Time

45 minutes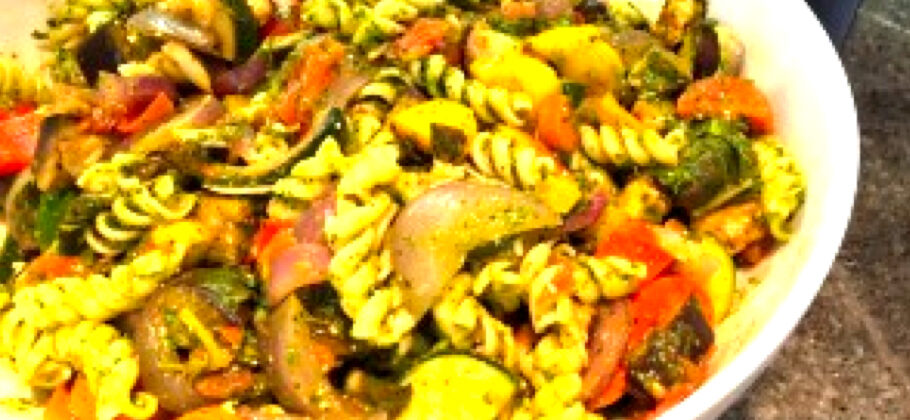 Made with
Dreamfields®
Rotini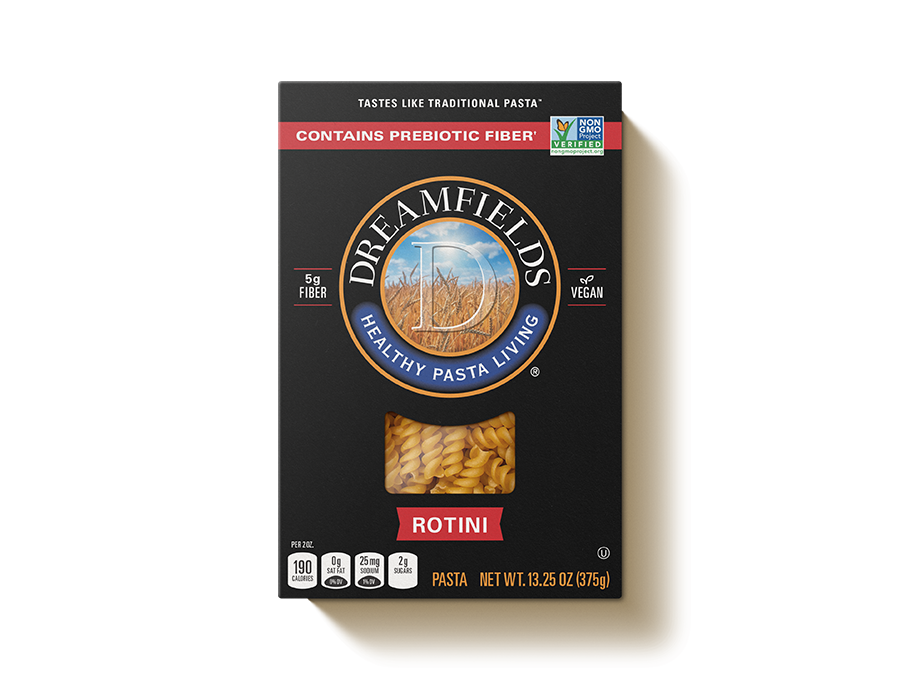 Ingredients
3 CUPS Dreamfields Rotini uncooked
1 medium zucchini halved, cut into 1/2 inch slices
1 red onion cut into slivers
1 small eggplant cut into 1-inch cubes
1 red bell pepper cut into 1-inch pieces
1 green, red and/or yellow bell pepper cut into 1-inch pieces
1 carrot sliced into 1/2-inch thick rounds
2 large tomatoes coarsely chopped
1 cup fresh basil chopped
Pesto Sauce:
1/2 cup Parmesan cheese shredded
1 bunch Italian flat-leaf parsley
2 tablespoons balsamic vinegar
1 tablespoon olive oil
1 clove garlic
salt and freshly ground black pepper
Parmesan cheese shredded (optional)
basil chopped (optional)
crushed red pepper flakes (optional)
Directions
Preheat the oven to 450°F. Spray large roasting pan with nonstick cooking spray. Add zucchini, onion, eggplant, bell peppers, carrot, tomatoes, and basil to pan. Lightly spray vegetables with cooking spray. Toss with salt and ground pepper, as desired. Roast vegetables 20 minutes.
Meanwhile, cook pasta according to package directions; set aside.
For pesto, combine Parmesan cheese, parsley, balsamic vinegar, olive oil, garlic and salt and pepper, as desired. In food processor or blender process until pureed.
In large bowl, toss together pasta, vegetables and pesto. Serve with Parmesan cheese, basil, and/or red pepper flakes, as desired.
Nutrition Facts
256 Calories
45g Carbohydrates
2g Saturated Fat
143mg Sodium
5g Fat
11g Protein
5mg Cholesterol
8g Dietary Fiber
Find Dreamfields Pasta near you.

Find Dreamfields at your favorite grocery and retail stores nationwide. Also available online.

Find a store