Penne Rigate Recipes
Penne with Caramelized Squash, Fried Sage, Toasted Hazelnuts and Balsamic Reduction
Course

Main Dish

Servings

6 servings

Prep Time

20 minutes

Cooking Time

15 minutes

Total Time

35 minutes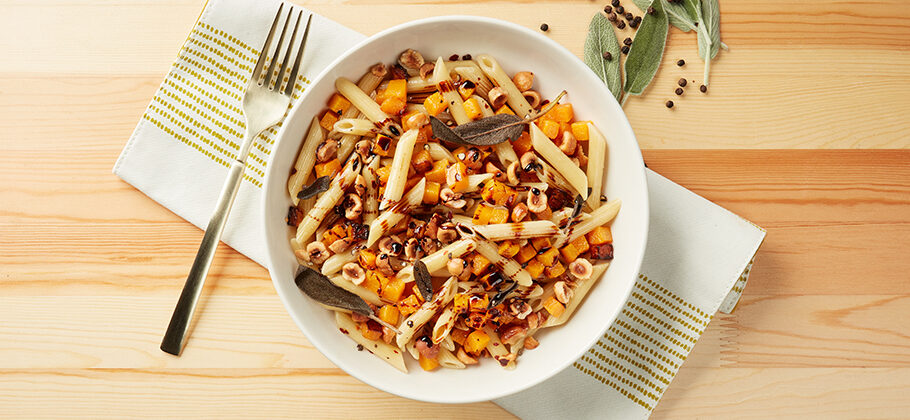 Made with
Dreamfields®
Penne Rigate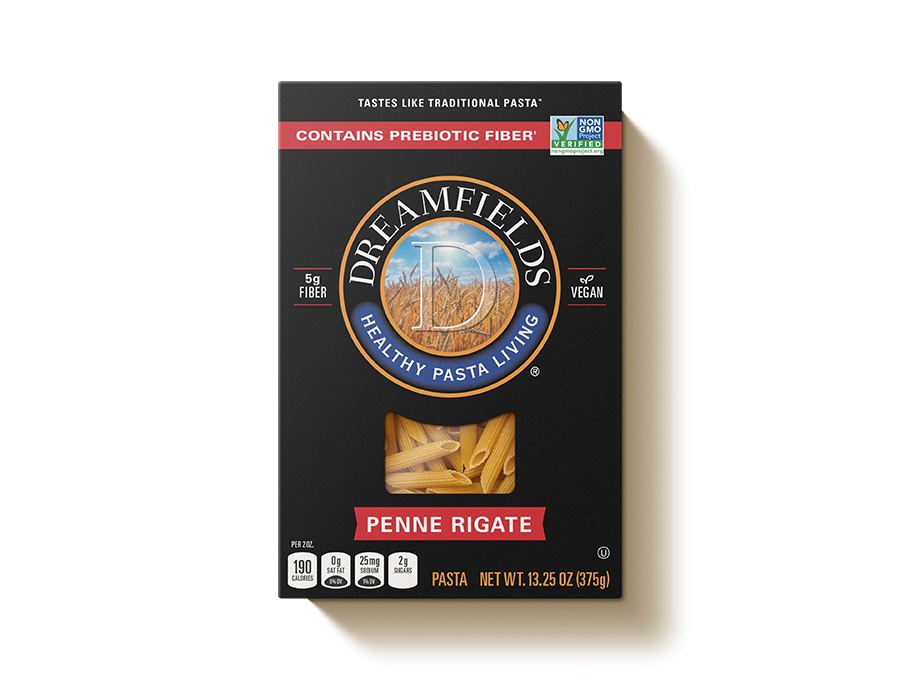 Ingredients
½ cup balsamic vinegar
⅓ cup hazelnuts, roughly chopped
3 tablespoons extra-virgin olive oil
¼ cup whole sage leaves, lightly packed, plus 2 tablespoons chopped fresh sage leaves
1 box Dreamfields® Penne
2 cups butternut squash (or other hard winter squash), peeled and cubed (medium dice)
2 garlic cloves, roughly chopped
2 teaspoons crushed red pepper flakes
¼ cup dry white wine
1 cup low-sodium vegetable stock
Directions
In a small sauce pot over medium-high heat, reduce the balsamic vinegar by about one half and set aside. While vinegar is reducing, toast hazelnuts in a sauté pan over medium-high heat.
Place the skillet over medium-high heat and heat olive oil. Add the whole sage leaves and fry, stirring until darkening and just beginning to crisp, then remove leaves from oil and drain on a paper towel-lined plate, reserving oil in skillet.
Cook pasta per the instructions on the box.
While pasta is cooking, add squash to the skillet with the reserved sage-infused oil and cook over medium heat. Add garlic, chili flakes and chopped sage, and cook until just fragrant. Increase heat to high, add white wine and stock, and cook until reduced by half.
Add pasta and ½ cup of pasta cooking liquid and heat through. Add half of the hazelnuts.
Notes:
Garnish with remaining toasted hazelnuts and fried sage leaves, and drizzle with balsamic vinegar reduction.
Nutrition Facts
390 Calories
45g Carbohydrates
2.5g Saturated Fat
170mg Sodium
22g Fat
8g Protein
0mg Cholesterol
11g Dietary Fiber
Find Dreamfields Pasta near you.

Find Dreamfields at your favorite grocery and retail stores nationwide. Also available online.

Find a store