Penne Rigate Recipes
Penne in Eggplant and Chickpea Tagine with Black Olives
Course

Main Dish

Servings

6 servings

Prep Time

15 minutes

Cooking Time

20 minutes

Total Time

35 minutes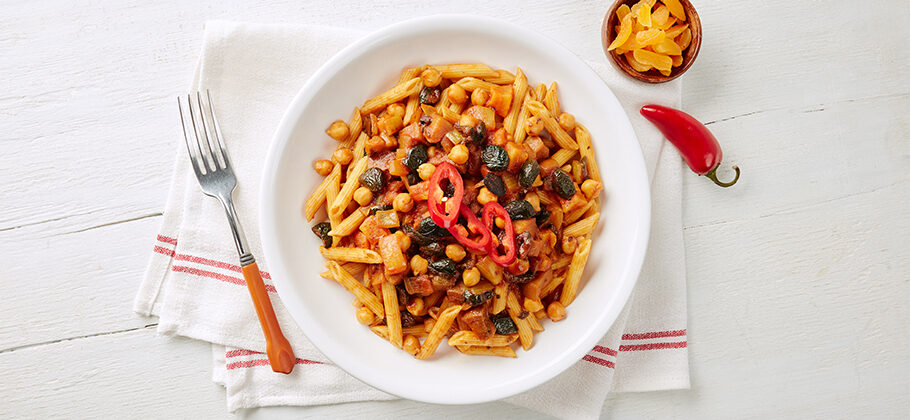 Made with
Dreamfields®
Penne Rigate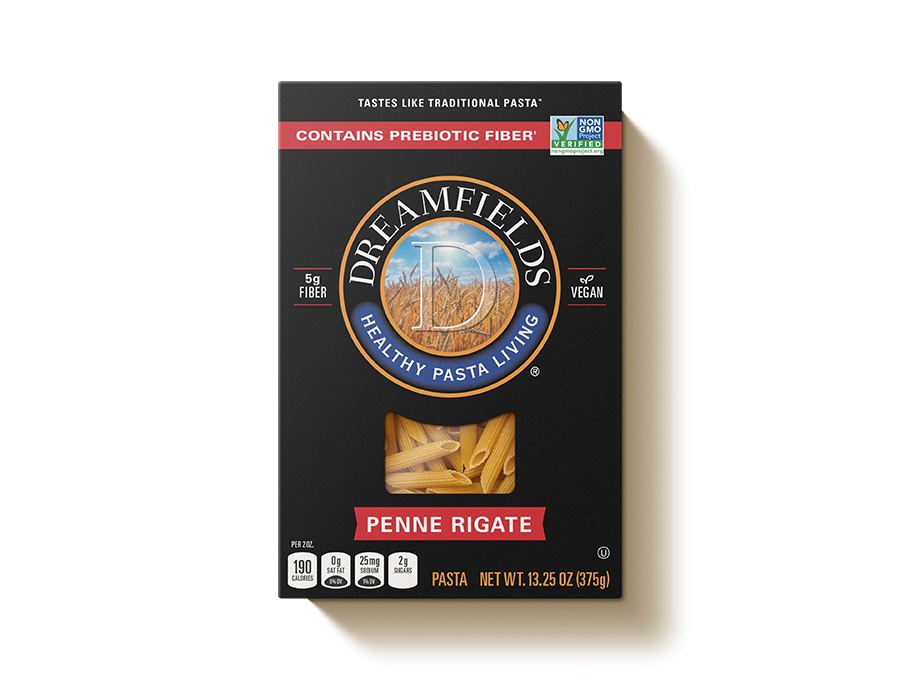 Ingredients
¼ cup extra-virgin olive oil
2 medium yellow onions, medium dice
8 - 10 garlic cloves, roughly chopped
1 medium eggplant, peeled, medium dice
2 tablespoons chili paste
1 teaspoon ground cardamom
½ teaspoon ground turmeric
1 can whole San Marzano tomatoes
1/4 cup chopped dried apricots
1 quart low-sodium vegetable broth
1 box Dreamfields® Penne
1 can chickpeas, drained and rinsed
4 ounces black olives, roughly chopped
Directions
In a large, heavy pot or Dutch oven, heat olive oil over medium-high heat. Add onions and cook until translucent. Add the eggplant and cook until softened. Add the garlic and the dry spices and cook 1 - 2 minutes. Add the chili paste, tomatoes, apricots, olives and broth. Bring to a simmer then reduce heat and cook until tomatoes begin to break down and vegetables soften.
Cook pasta per the directions on the box and reserve some of the pasta cooking water.
Stir the chickpeas into the tomato mixture and cook another 5 minutes to heat. Add cooked pasta and cook, stirring occasionally, using the reserved pasta water to adjust the consistency of the sauce as needed.
Garnish with chopped parsley and lemon wedges.
Nutrition Facts
500 Calories
84g Carbohydrates
1.5g Saturated Fat
950mg Sodium
15g Fat
14g Protein
0mg Cholesterol
14g Dietary Fiber
Find Dreamfields Pasta near you.

Find Dreamfields at your favorite grocery and retail stores nationwide. Also available online.

Find a store