Rotini Recipes
Pasta Arrabbiata with Shrimp
Course

Main Dish

Servings

Makes 6 Servings

Prep Time

30 minutes

Cooking Time

20 minutes

Total Time

50 minutes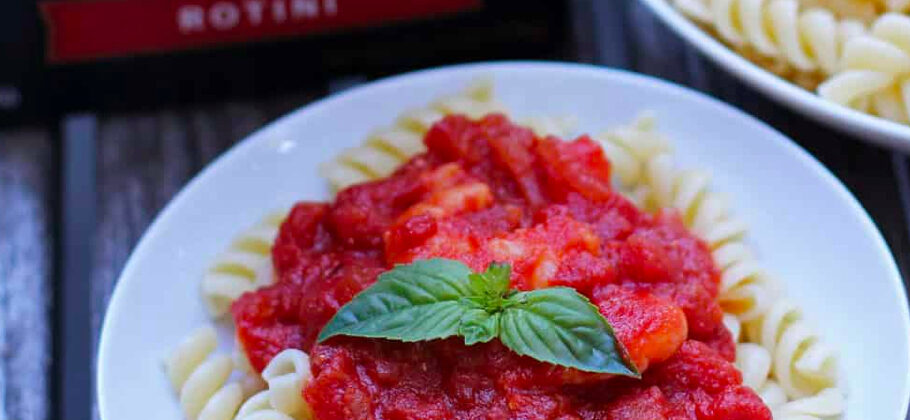 Made with
Dreamfields®
Rotini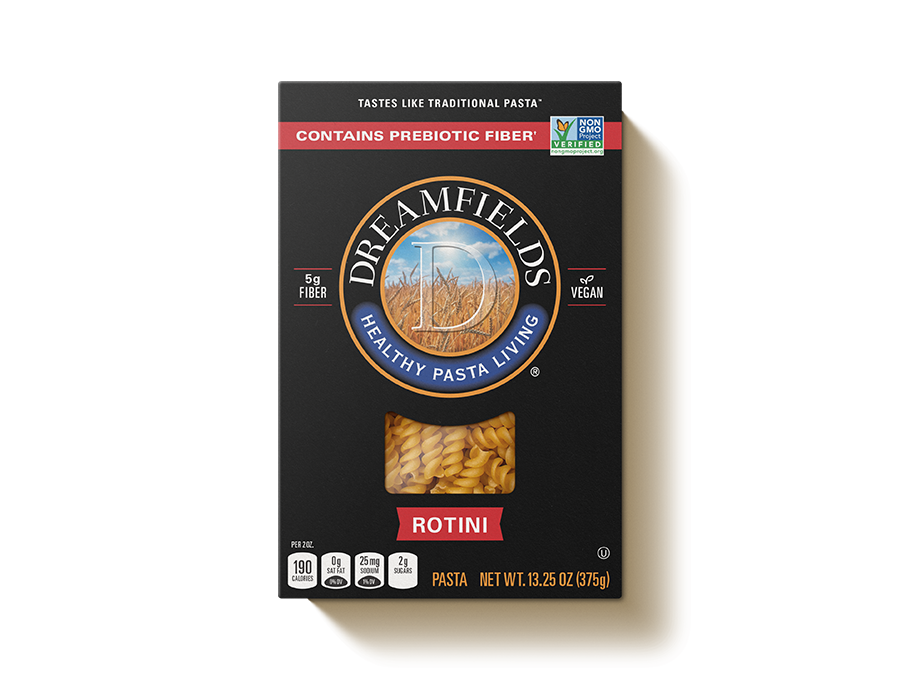 Ingredients
1 box Dreamfields Rotini Pasta
1 pound shrimp fresh or frozen, peeled and deveined
2 pounds Campari tomatoes
4 tablespoons extra virgin olive oil divided
sprigs fresh oregano
sprigs fresh thyme
5 cloves garlic whole, peeled
1/2 large yellow onion diced
3 tablespoons red wine
1/4-1/2 teaspoon crushed red pepper flakes
4-5 fresh basil leaves cut in chiffonade
fresh herbs* Italian parsley, basil, oregano or thyme (optional)
Parmigiano Reggiano cheese (optional)
smaller colorful tomatoes (optional)
salt and pepper
Directions
Preheat oven to 350°F.
Cut tomatoes in half. Arrange tomatoes cut-side-up on shallow roasting pan. Drizzle with 3 tablespoons of the oil; season with salt and pepper, as desired. Top with sprigs of oregano and thyme, as desired. Sprinkle with garlic cloves. Roast 1 hour or until tomatoes are softened and beginning to wrinkle.
Meanwhile, heat 2 teaspoons of the oil in large saucepan over medium heat until hot. Add onion; cook 10 minutes or until softened, stirring frequently.
When tomatoes are cooked, remove oregano and thyme sprigs. Add tomatoes to pan with onion; stir to combine. Add remaining 1 teaspoon of the oil, salt and a few pinches of black pepper, as desired. Stir in wine and red pepper flakes. Reduce heat to medium low. Simmer 20 to 25 minutes, stirring frequently.
Cook pasta according to package directions. Reserve 1/2 cup cooking liquid prior to draining.
Stir reserved cooking liquid into tomato mixture. Season with salt and pepper, as desired. Remove from heat. Use an immersion blender to slightly puree the sauce.* (It will still be a chunky sauce, without much liquid.) Stir in basil. Add pasta; toss to coat. Serve immediately, garnished with fresh herbs, cheese and/or additional tomatoes, as desired.
Nutrition Facts
330 Calories
53g Carbohydrates
0g Saturated Fat
540mg Sodium
10g Fat
9g Protein
85mg Cholesterol
9g Dietary Fiber
Find Dreamfields Pasta near you.

Find Dreamfields at your favorite grocery and retail stores nationwide. Also available online.

Find a store