Spaghetti Recipes
Nicoise Pasta Salad with Low-Fat Tonnato Dressing
Course

Pasta Salad

Servings

Makes 4 Servings

Prep Time

30 minutes

Cooking Time

5 minutes

Total Time

1 hour, 10 minutes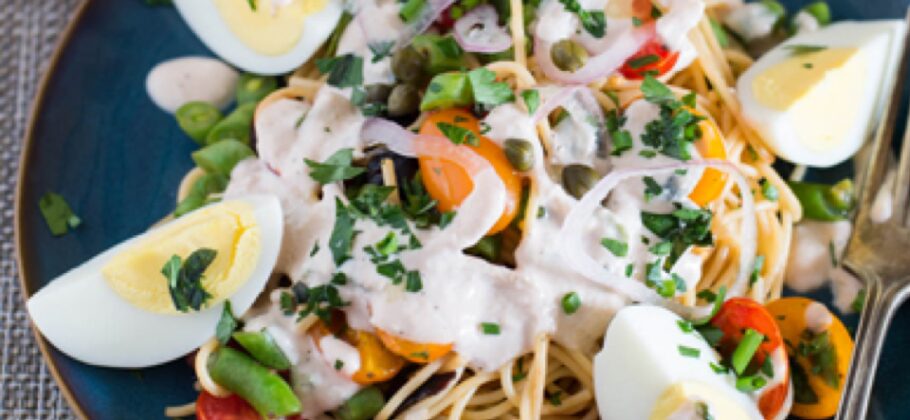 Made with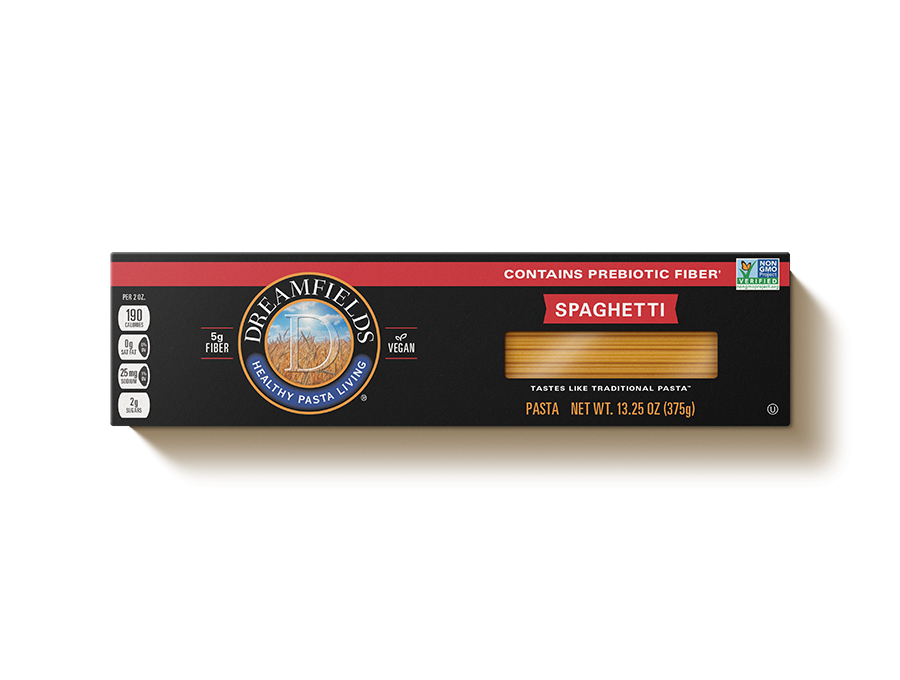 Dreamfields®
Spaghetti
Ingredients
1 box Dreamfields Angel Hair Pasta
2 tablespoons fresh parsley finely chopped
2 tablespoons fresh chervil finely chopped
2 tablespoons fresh chives finely chopped
1 tablespoon fresh thyme finely chopped
4 teaspoons fresh tarragon finely chopped
2 cups cherry tomatoes halved
2 cups cut raw green beans 1/2-inch pieces
1/2 cup Nicoise olives chopped
2 tablespoons capers divided (plus more for garnish)
1/4 cup olive oil
1 teaspoon ground black pepper
1 lemon juiced
8 hard-boiled eggs quartered
1/4 cup thinly sliced shallots
lemon wedges (optional)
Dressing
16 oz can tuna packed in water, undrained
1/2 cup low-fat mayonnaise
1/2 cup plain nonfat Greek yogurt
1/2 cup shallots roughly chopped
3 cloves garlic roughly chopped
1 lemon juiced
1 teaspoon fish sauce
salt and pepper
1-2 tablespoons water
Directions
Cook pasta according to package directions. Place pasta in large bowl; set aside.
In small bowl, combine chopped herbs.
In large bowl, combine tomatoes, green beans, olives, capers, olive oil, black pepper and 3 tablespoons of the herb mixture. Add to pasta; toss to combine.
For dressing, combine tuna, mayonnaise, yogurt, shallots, garlic, lemon juice and fish sauce in food processor bowl. Process until completely combined. Season with salt and pepper, as desired. If necessary, add water, one tablespoon at a time, until dressing reaches desired thickness.
Divide pasta mixture among 8 serving plates. Drizzle each with 2 to 3 tablespoons of the tonnato dressing and some lemon juice. Top each serving with 4 egg quarters, additional capers, sliced shallots and a sprinkle of remaining herb mixture. Garnish with lemon wedges, if desired.
Nutrition Facts
390 Calories
46g Carbohydrates
0g Saturated Fat
445mg Sodium
16g Fat
19g Protein
195mg Cholesterol
6g Dietary Fiber
Find Dreamfields Pasta near you.

Find Dreamfields at your favorite grocery and retail stores nationwide. Also available online.

Find a store