Rotini Recipes
Mixed Greens Rotini with Feta and Roasted Tomatoes
Course

Main Dish

Servings

Makes 6 Servings

Prep Time

20 minutes

Cooking Time

15 minutes

Total Time

35 minutes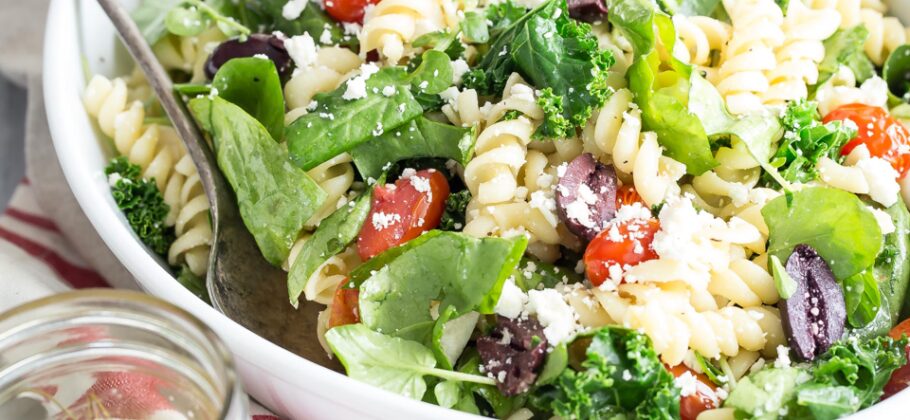 Made with
Dreamfields®
Rotini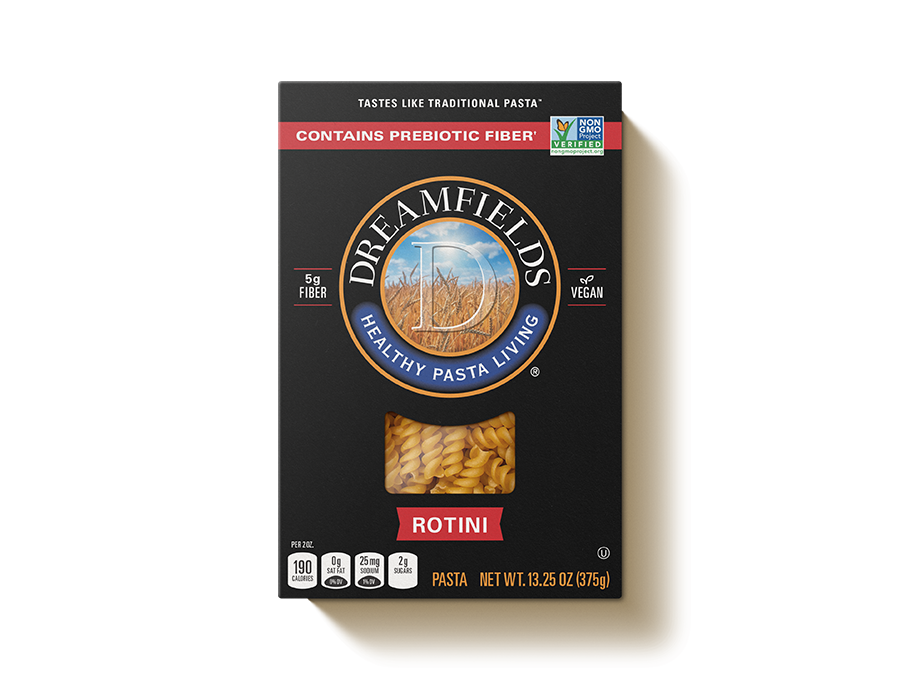 Ingredients
1 box Dreamfields Rotini
1/2 cup olive oil +2 tablespoons, divided
10 ounces cherry tomatoes
2 tablespoons water
1 bunch green kale chopped into small pieces
1 bunch spinach
1 bunch watercress leaves only
1/2 cup Kalamata olives chopped and pitted
2 tablespoons lemon juice
2 tablespoons red wine vinegar
1 tablespoon sugar
2 cloves garlic peeled
1/4 cup basil leaves fresh
1/2 teaspoon oregano dried
1/2 cup reduced-fat feta cheese crumbled
salt
black pepper cracked
Directions
Prepare pasta according to package directions. Place pasta in large bowl.
Heat the 2 tablespoons olive oil in large pan or Dutch oven over medium heat. Add cherry tomatoes. Cook 3 to 4 minutes or until skins begin to slightly blister. Transfer to a plate to cool.
In the same pan, add water and kale. Cover and steam 2 to 3 minutes. Drain and cool.
Add tomatoes, kale, spinach, watercress and olives to bowl with pasta.
In a food processor or blender, combine lemon juice, red wine vinegar, sugar, garlic, basil and oregano. Process on high, gradually adding remaining 1/2 cup olive oil in a steady stream until emulsified.
Add dressing to pasta; toss to coat well. Add feta cheese, and salt and pepper, as desired. Toss and serve immediately or refrigerate, covered.
Based on 6 Servings
Based on 12 Servings
299 Calories
5 g Protein
21 g Carbohydrates
11 g Total Fat
2 g Saturated Fat
2 mg Cholesterol
165 mg Sodium
4 g Dietary Fiber
Nutrition Facts
400 Calories
42g Carbohydrates
3g Saturated Fat
330mg Sodium
22g Fat
10g Protein
3mg Cholesterol
7g Dietary Fiber
Find Dreamfields Pasta near you.

Find Dreamfields at your favorite grocery and retail stores nationwide. Also available online.

Find a store