Penne Rigate Recipes
Manly Surf & Turf
Course

Main Dish

Servings

Makes 6 Servings

Prep Time

30 minutes

Cooking Time

30 minutes

Total Time

1 hour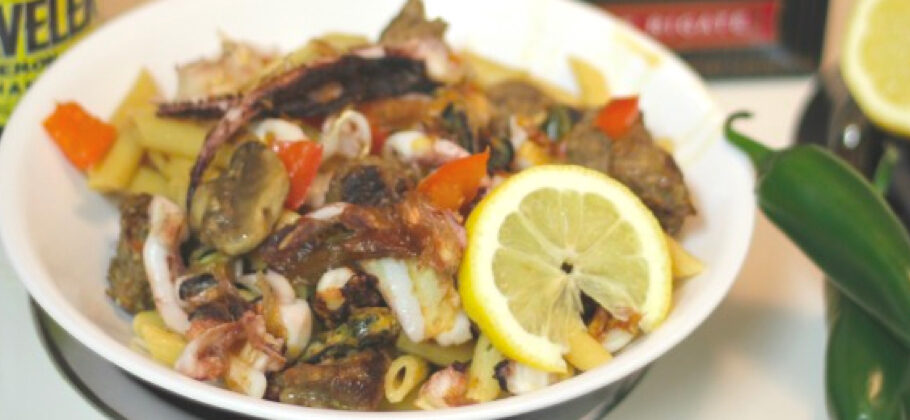 Made with
Dreamfields®
Penne Rigate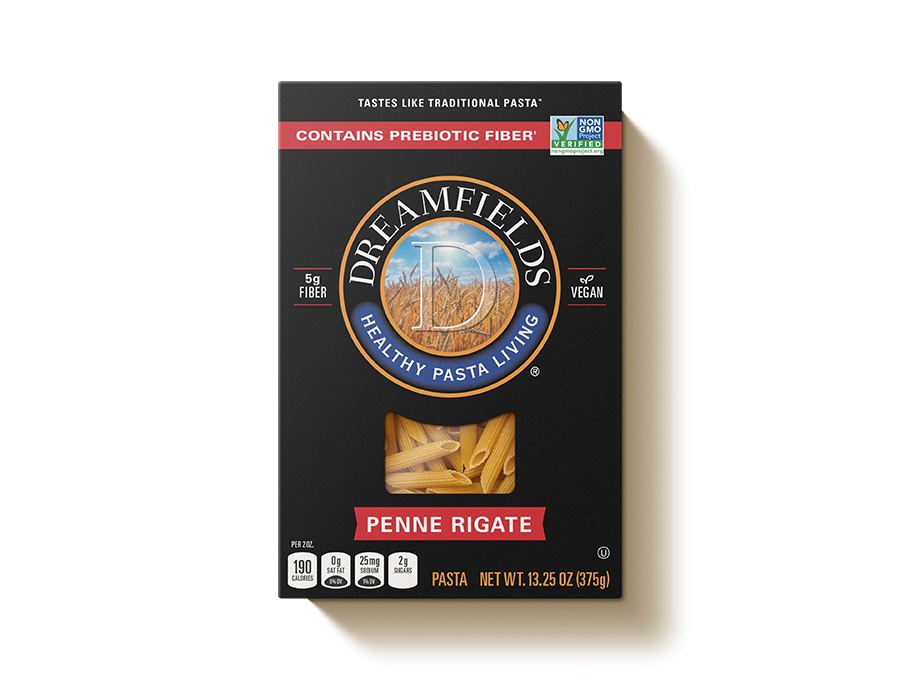 Ingredients
1 box Dreamfields Penne
1 pound ground pork sausage
1 can lemon shandy beer
1/2 cup unsalted butter (4 oz or 1 stick)
1 cup mushrooms chopped
1 red bell pepper coarsely chopped
2 jalapeno peppers chopped
2 tablespoons garlic crushed
1-1/2 teaspoons seasoning salt
1 pound mixed mariscos such as shrimp, mussels, squid, octopus
olive oil
1 lemon juiced


Garnish
1 lemon sliced into wheels
Parmesan cheese shredded
Directions
Cook pasta according to package directions. Place pasta in a large bowl; set aside.
Place sausage in a large skillet. Cook over medium heat about 10 minutes or until browned and cooked through, stirring frequently and breaking into large crumbles.
Add beer, butter, mushrooms, peppers, garlic and seasoning salt to the skillet with sausage. Continue cooking over medium heat about 10 minutes or until vegetables are tender, stirring occasionally.
Meanwhile, grill mariscos on an oiled grill or grill basket as desired, just until slightly charred and cooked through. Do not overcook.
Add lemon juice to the pan with sausage mixture; stir to combine. Add marisco mixture. Cook another 2 to 3 minutes or until most of the liquid evaporates. Add sausage-marisco mixture to pasta. Toss to combine.
Garnish with lemon wheels and shredded Parmesan cheese, as desired.
Nutrition Facts
700 Calories
56g Carbohydrates
XXXXg Saturated Fat
1230mg Sodium
37g Fat
35g Protein
200mg Cholesterol
7g Dietary Fiber
Find Dreamfields Pasta near you.

Find Dreamfields at your favorite grocery and retail stores nationwide. Also available online.

Find a store