Linguine Recipes
Linguine With Meatballs, Mushrooms and Creamy Onion Sauce
Course

Main Dish

Servings

Makes 6 Servings

Prep Time

25 minutes

Cooking Time

30 minutes

Total Time

55 minutes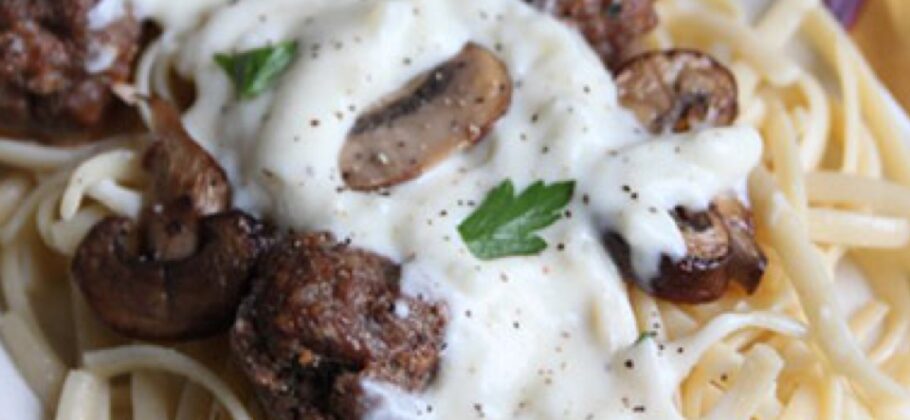 Made with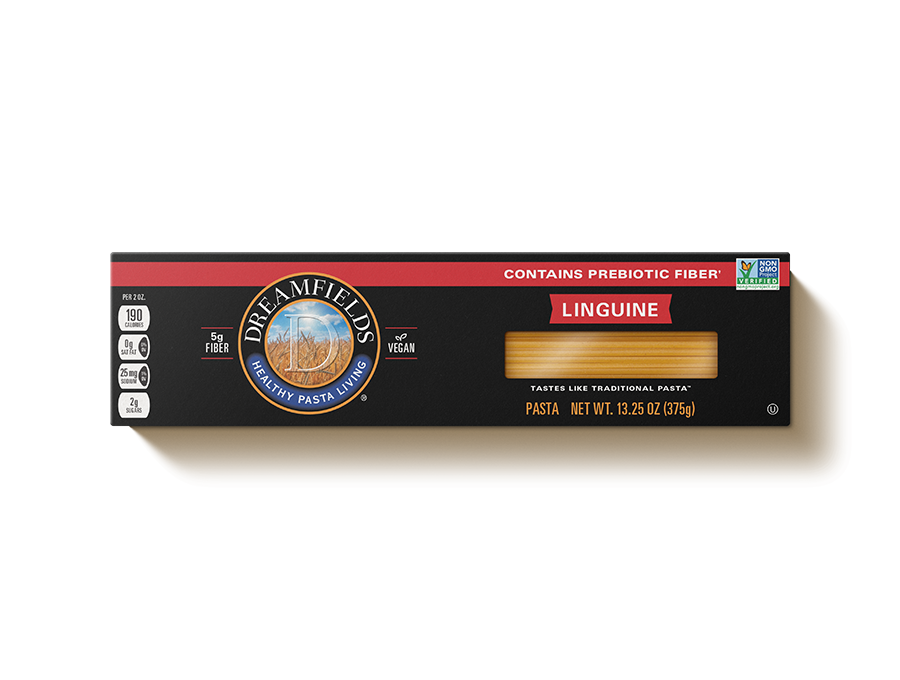 Dreamfields®
Linguine
Ingredients
Meatballs
1 pound lean ground beef (85% lean)
1 teaspoon garlic powder
1 teaspoon onion powder
1 teaspoon parsley flakes
1 teaspoon salt
1/2 teaspoon pepper
Pasta and Sauce:
1 box Dreamfields Linguine
1/4 cup olive oil
8 ounces cremini mushrooms sliced
1 small onion diced
1/4 cup all-purpose flour
2 cups mik
1 teaspoon salt
1/2 teaspoon pepper
1/4 cup fresh parsley chopped
Directions
Place a large skillet over medium heat.
Mix the ground beef with the garlic powder, onion powder, parsley flakes, salt and pepper. Roll the beef mixture into 1-inch round meatballs.
Add 1 tablespoon of olive oil to the skillet. Place the meatballs in the skillet (cook in two batches if they won't all fit) and cook the meatballs completely, turning to brown on each side every 3-4 minutes. Once the meatballs are cooked through, remove them from the pan and set aside.
Add another tablespoon of oil to the pan and add the mushrooms. Let them cook on one side for 3-5 minutes, until nicely browned, then turn them over and cook for another 3-4 minutes. When all the mushrooms are browned, remove them from the pan.
Toss the diced onion into the skillet. Cook the onion for 4-5 minutes, until it's beginning to soften, stirring frequently. Add the remaining 2 tablespoons of olive oil to the onion and cook for another minute. Add the flour, cooking and stirring for another minute, until all the flour is incorporated into the onion and the olive oil.
Stir the milk into the onion mixture. Cook and stir for 3-5 minutes until the milk is starting to bubble. Lower the heat, just a little (so it doesn't burn or stick to the bottom of the skillet) and let the sauce thicken for another 5-7 minutes, stirring frequently. Stir in the salt and pepper.
While the sauce is thickening, bring a large pot of water to a boil. Add the linguine to the pot, with a palmful of salt. Cook the pasta 7-9, until al dente. Remove the pot from heat and drain the pasta.
To serve, place the pasta on a large platter. Top with meatballs and mushrooms. Drizzle the sauce over the pasta and top with chopped fresh parsley.
Serve 1/4 the pasta and vegetables per person, and top each serving with 1 tablespoon toasted walnuts and 1 tablespoon grated Pecorino-Romano cheese.
Nutrition Facts
490 Calories
57g Carbohydrates
5g Saturated Fat
880mg Sodium
20g Fat
26g Protein
50mg Cholesterol
7g Dietary Fiber
Find Dreamfields Pasta near you.

Find Dreamfields at your favorite grocery and retail stores nationwide. Also available online.

Find a store