Linguine Recipes
Linguine with Fennel and Kale
Course

Main Dish

Servings

Makes 4 Servings

Prep Time

10 minutes

Cooking Time

30 minutes

Total Time

40 minutes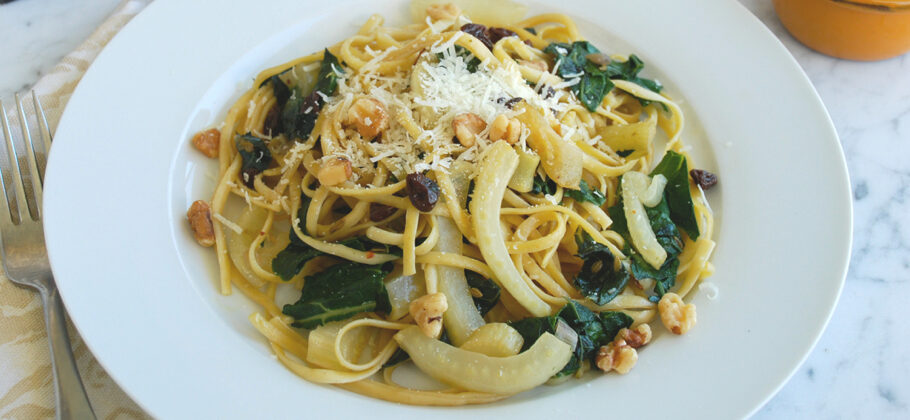 Made with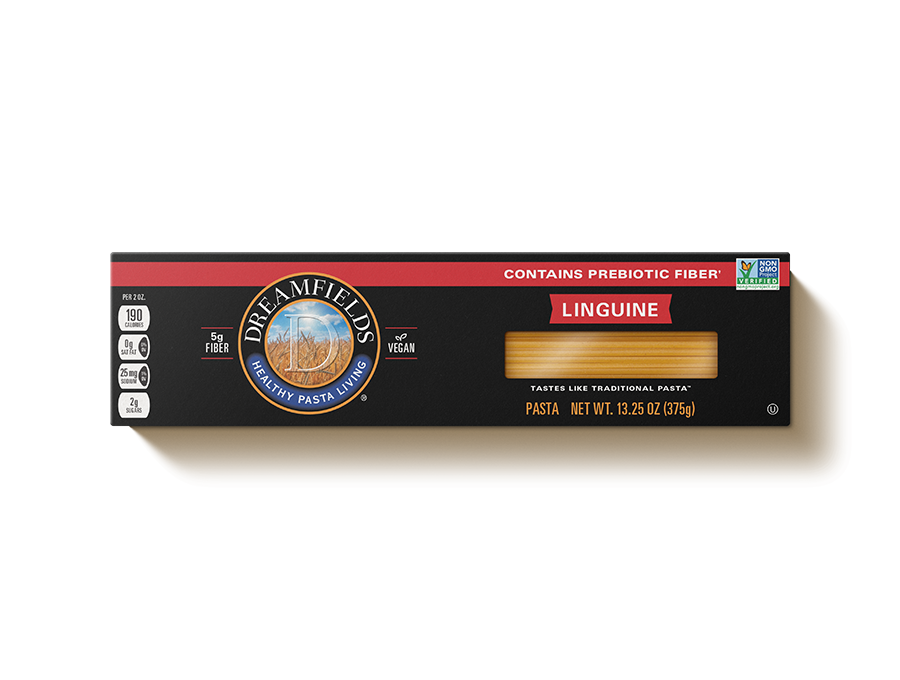 Dreamfields®
Linguine
Ingredients
8 ounces Dreamfields Linguine prepared according to package
2 tablespoons olive oil
1 medium shallot peeled, trimmed, finely chopped
1 pound fennel Makes 3 cups, trimmed and cut into 1/4 half-rounds
1 teaspoon fennel seed
1/8 teaspoon crushed red pepper flakes
1 bunch Lacinato kale makes 4 cups when sliced into wide ribbons
1/4 cup seedless raisins plumped in warm water
1/2 cup water (reserved from pasta-cooking)
1/4 cup walnuts chopped, toasted
kosher salt
black pepper freshly ground
Not vegan? You may prefer it with the following:
4 tablespoons grated Pecorino-Romano cheese (1 tablespoon per serving - optional)
Directions
Prepare the pasta according to the package directions.
Heat the oil in a large saute or frying pan over medium heat. Add the shallot, fennel, fennel seed and crushed red pepper flakes and saute until the fennel has softened and is becoming translucent, 7 to 8 minutes.
Add the kale and raisins to the saute pan and cook, stirring frequently, until the kale has wilted and is bright green, 5 to 6 minutes.
Reserve 1/2 of the pasta cooking water and add to the saute pan.
Transfer the linguine to the saute pan, stir well and cook for 1 to 2 minutes before serving, then season with salt and pepper.
Serve 1/4 the pasta and vegetables per person, and top each serving with 1 tablespoon toasted walnuts and 1 tablespoon grated Pecorino-Romano cheese (optional).
Nutrition Facts
390 Calories
62g Carbohydrates
1g Saturated Fat
110mg Sodium
14g Fat
14g Protein
5mg Cholesterol
11g Dietary Fiber
Find Dreamfields Pasta near you.

Find Dreamfields at your favorite grocery and retail stores nationwide. Also available online.

Find a store