Linguine Recipes
Linguine with Chinese Eggplant and Chili Crisp
Course

Main Dish

Servings

6 servings

Prep Time

15 minutes

Cooking Time

15 minutes

Total Time

30 minutes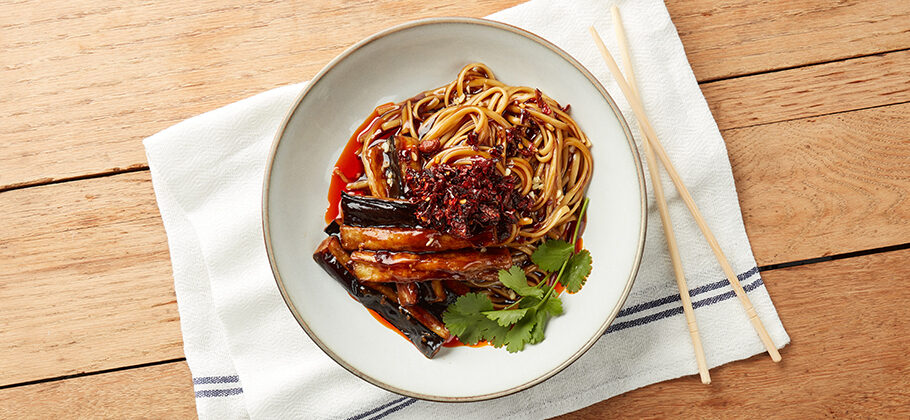 Made with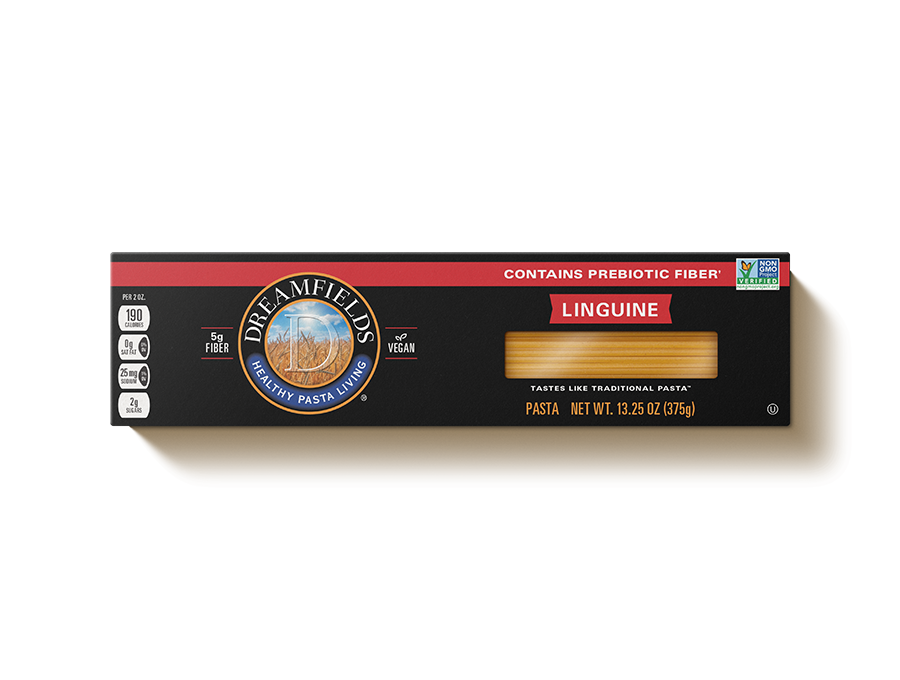 Dreamfields®
Linguine
Ingredients
4 tablespoons vegetable oil
2 tablespoons soy sauce
1 tablespoon sesame oil
1 tablespoon sugar
½ cup corn starch plus 1 teaspoon
1 tablespoon minced garlic
1 tablespoon minced fresh ginger
1 box Dreamfields® Linguine
3 scallions, bias sliced white and green parts
4 cups diced eggplant
Garnish with Asian chili oil
Directions
Slice eggplants on the bias if small Asian style or dice if large European style, leaving skin on. Sprinkle with salt and set aside for 10 minutes.
Prepare pasta per directions on the box.
Combine all liquid ingredients and sugar in a bowl.
Toss eggplant with ½ cup corn starch to coat and stir fry in vegetable oil until done, approximately 5 minutes, stirring regularly to promote uniform cooking. Eggplant should be crispy, dark brown and cooked through. Remove from pan and set aside.
Sauté ginger and garlic until fragrant (1 - 2 minutes) and add the combined liquid ingredients. Mix 1 teaspoon corn starch with water and add to thicken.
Add the reserved crispy eggplant and toss to coat with the sauce, remove and set aside, keeping as much sauce in the pan as possible.
Add pasta and toss to coat with the sauce. Serve pasta with eggplant placed on top and garnish with scallions and chili oil.
Nutrition Facts
390 Calories
63g Carbohydrates
1.5g Saturated Fat
340mg Sodium
13g Fat
9g Protein
0mg Cholesterol
7g Dietary Fiber
Find Dreamfields Pasta near you.

Find Dreamfields at your favorite grocery and retail stores nationwide. Also available online.

Find a store