Lasagna Recipes
Lighter Lasagna Bolognese
Course

Main Dish

Servings

Makes 12 Servings

Prep Time

10 minutes

Cooking Time

70 minutes

Total Time

1 hour, 50 minutes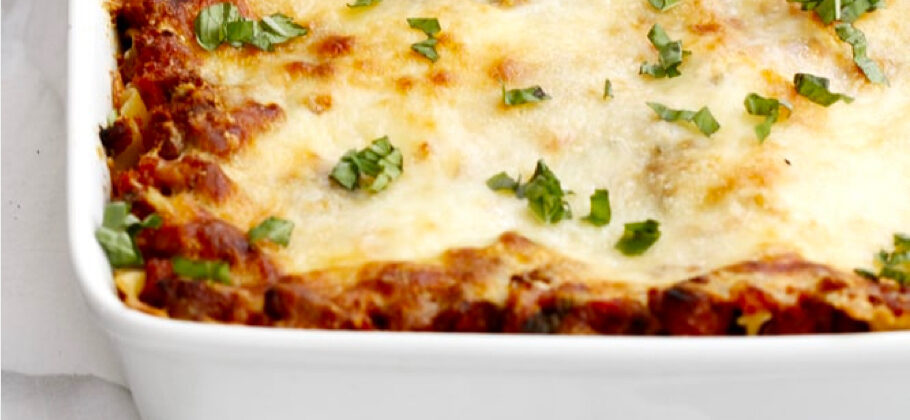 Made with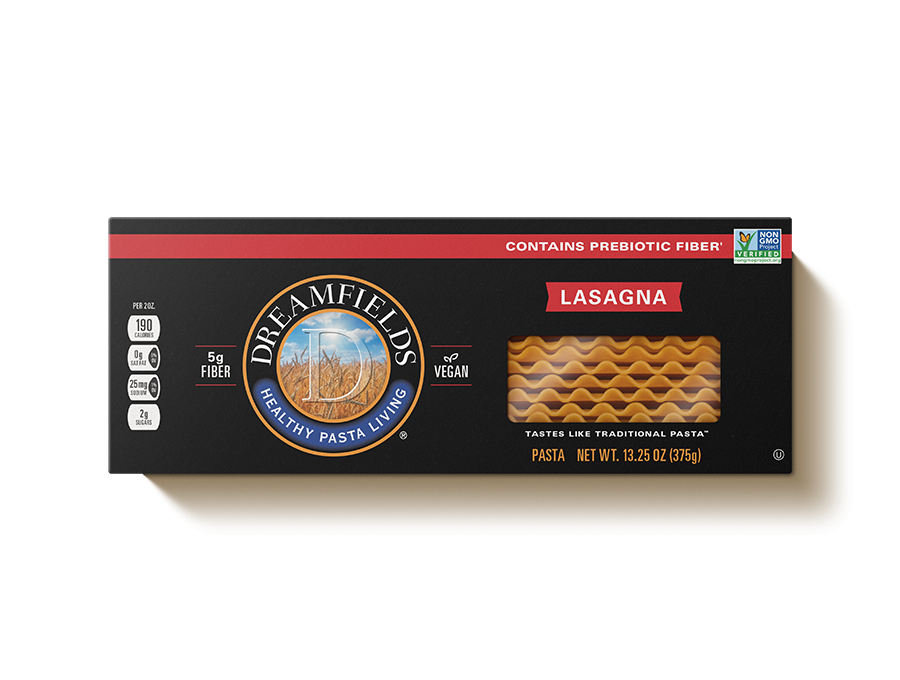 Dreamfields®
Lasagna
Ingredients
9 Dreamfields Lasagna Noodles
1 cup yellow onion coarsely chopped
3/4 cup celery coarsely chopped
1/2 cup carrots coarsely chopped
4 teaspoons garlic minced
1 tablespoon olive oil
1 tablespoon tomato paste
2 ounces dried pancetta
1 pound lean ground beef (90% lean)
1/4 cup white wine
3/4 teaspoon salt
1/2 teaspoon crushed red pepper flakes
1/2 teaspoon dried oregano
1/2 teaspoon pepper
1 cup 1% milk
1/2 cup fresh basil chopped
1 28 oz can no-salt-added crushed tomatoes undrained
15 ounces part-skim ricotta cheese
2-1/2 cups mozzarella cheese divided
1 cup Parmesan cheese
1 egg lightly beaten
fresh basil chopped
Directions
Preheat oven to 425°F.
Prepare pasta according to package directions. Set aside in single layer.
Meanwhile, add onion, celery, carrots and garlic to bowl of food processor; pulse until finely chopped; set aside.
Heat oil in large skillet over medium heat until hot. Add tomato paste and pancetta; cook 1 minute, stirring frequently. Add ground beef; cook about 6 to 8 minutes or until beef is browned and cooked through, stirring occasionally, breaking beef into crumbles. Add wine; cook and stir 2 minutes, scraping up any browned bits stuck to bottom of skillet. Add onion-carrot-celery mixture to skillet along with salt, red pepper flakes, oregano and pepper. Cook 3 minutes or until onions are softened, stirring occasionally. Add milk and basil; cook 3 minutes, stirring occasionally. Stir in crushed tomatoes. Reduce heat to medium-low. Simmer 20 minutes, stirring occasionally.
In medium bowl, whisk together ricotta, 1 1/2 cups of the mozzarella, 1/2 cup of the Parmesan and the egg; set aside.
To assemble lasagna, spray 9X13-inch baking dish with nonstick cooking spray. Spread 1 cup sauce in bottom of prepared baking dish. Top with 3 lasagna noodles. Top with 1/3 of remaining sauce and 1/3 ricotta mixture. Repeat layers twice, ending with ricotta mixture. Sprinkle with remaining 1 cup mozzarella and 1/2 cup Parmesan.
Bake uncovered 35 to 40 minutes until cheese is melted and sauce is bubbling. If desired, heat broiler (with lasagna still in oven) and broil just until cheese on top is golden brown. Let lasagna sit 10 to 15 minutes. Sprinkle with fresh basil.
Nutrition Facts
370 Calories
27g Carbohydrates
0g Saturated Fat
620mg Sodium
17g Fat
26g Protein
75mg Cholesterol
4g Dietary Fiber
Find Dreamfields Pasta near you.

Find Dreamfields at your favorite grocery and retail stores nationwide. Also available online.

Find a store