Rotini Recipes
Lemony Rotini With Goat Cheese Sauce & Spring Vegetables
Course

Main Dish

Servings

Makes 6 Servings

Prep Time

15 minutes

Cooking Time

15 minutes

Total Time

30 minutes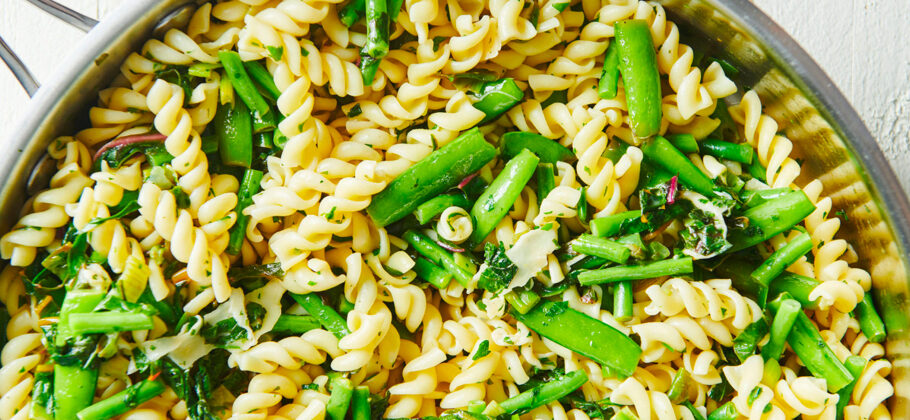 Made with
Dreamfields®
Rotini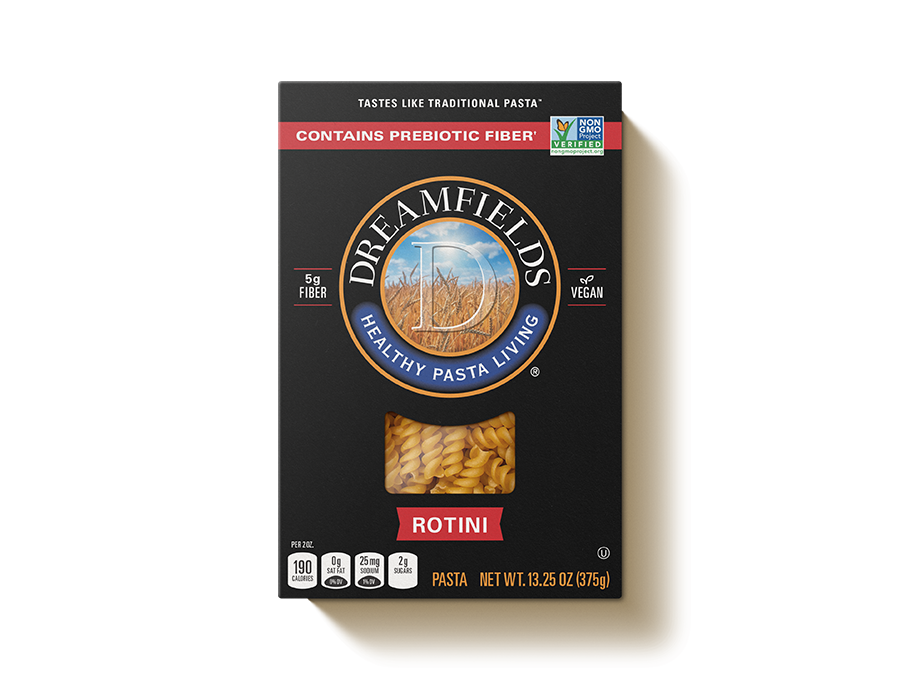 Ingredients
1 box Dreamfields Rotini
2 tablespoons olive oil more if needed
2 cups thickly sliced scallions (about 1/2-inch)
8 ounces sugar snap peas trimmed and halved crosswise
8 ounces string beans or haricot verts trimmed and cut into 1-inch pieces
2 cups thinly sliced Swiss chard leaves
4 ounces fresh goat cheese crumbled
1/4 cup freshly grated Parmesan cheese plus more for passing at the table
1 cup vegetable broth
1 cup low-sodium vegetable broth
Grated zest and juice of one lemon
1/2 cup roughly chopped fresh parsley
freshly ground pepper
Red pepper flakes for garnish
Directions
Cook pasta according to package directions. Before draining, remove 1 cup of the cooking water.
Meanwhile, in very large, deep skillet heat the 2 tablespoons olive oil over medium heat. Add scallions; cook 2 minutes or until softened, stirring occasionally. Add sugar snap peas and green beans. Cook 2 minutes then add chard and cook 1 minute or until it begins to wilt, stirring occasionally. Sprinkle in goat cheese and 1/2 cup Parmesan. Stir in half of cooking water and the broth. Increase heat and bring to a boil; reduce heat to simmer. Stir in zest, lemon juice, parsley and ground pepper. Add salt, as desired, if needed.
Remove from heat. Add cooked pasta and toss until pasta is well blended with sauce and vegetables. If pasta mixture seems dry, add some or all of the remaining cooking water and additional olive oil, as desired. Toss to combine.
Turn pasta into a serving bowl. Sprinkle with red pepper flakes. Pass a small bowl of Parmesan at the table for sprinkling, as desired.
Nutrition Facts
360 Calories
55g Carbohydrates
5g Saturated Fat
215mg Sodium
10g Fat
16g Protein
20mg Cholesterol
9g Dietary Fiber
Find Dreamfields Pasta near you.

Find Dreamfields at your favorite grocery and retail stores nationwide. Also available online.

Find a store