Elbows Recipes
Lemon Poblano Mac And Cheese
Course

Side Dish

Servings

Makes 6 Servings

Prep Time

20 minutes

Cooking Time

25 minutes

Total Time

45 minutes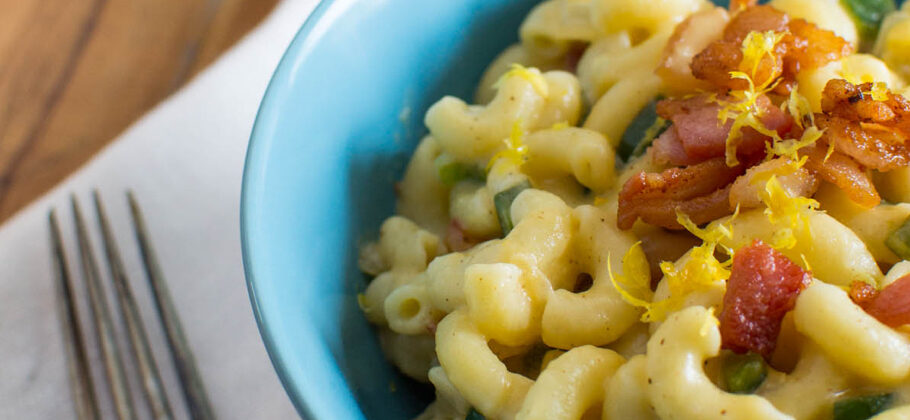 Made with
Dreamfields®
Elbows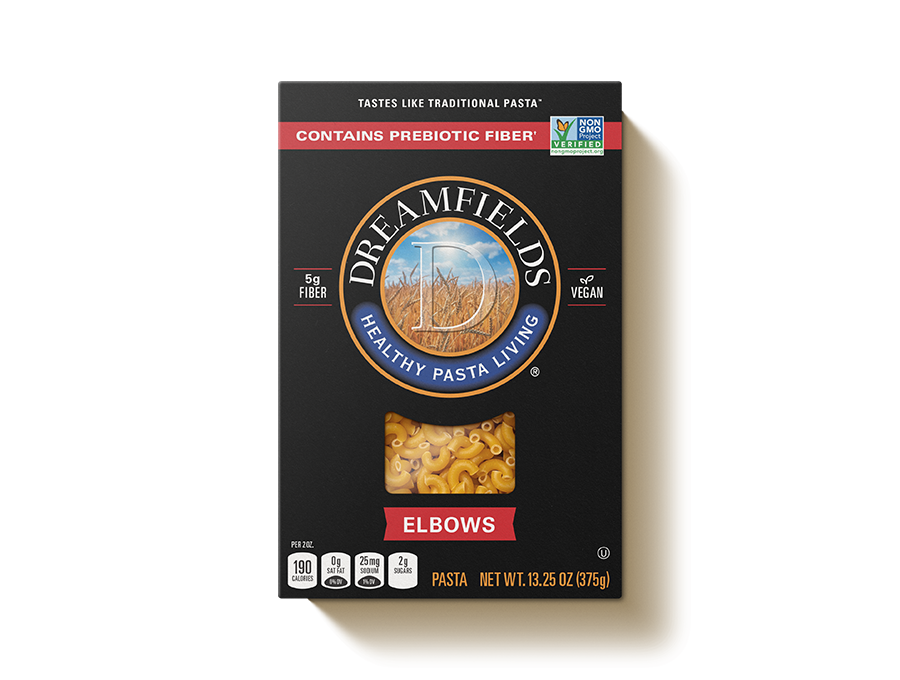 Ingredients
1 box Dreamfields Elbows
1 medium lemon
6 slices thick-cut applewood smoked bacon diced
1 medium onion diced
1-2 poblano peppers seeded and chopped
1/2 teaspoon salt
1/2 teaspoon freshly ground black pepper
3 tablespoons all-purpose flour
12 ounces lemon shandy beer
1/2 cup water
2 cups Cheddar cheese shredded
Directions
Cook pasta according to package directions. Place pasta in large bowl; set aside.
Juice and zest lemon; set aside 1 tablespoon lemon juice and all of zest. Reserve remaining juice for another use.
Meanwhile, cook bacon in large skillet over medium-high heat until crisp. Transfer bacon to paper towel-lined plate; set aside.
Add onion, poblanos, salt and pepper to skillet with hot bacon fat. Cook over medium-high heat 3 to 5 minutes or until onion just begins to brown, stirring frequently. Add flour; cook and stir 2 to 3 minutes. Slowly add lemon juice, beer and water, stirring until flour and vegetables are fully combined and flour mixture is smooth. Bring to boil; reduce heat to simmer. Cook and stir 3 to 5 minutes or until mixture is smooth and thickened.
Add cheese 1/2 cup at a time, stirring to fully incorporate each addition. Fold cheese sauce into cooked pasta. Add about 3/4 of reserved bacon; toss to combine. Sprinkle pasta with reserved lemon zest and remaining bacon.
Nutrition Facts
570 Calories
54g Carbohydrates
0g Saturated Fat
65mg Sodium
29g Fat
23g Protein
0mg Cholesterol
6g Dietary Fiber
Find Dreamfields Pasta near you.

Find Dreamfields at your favorite grocery and retail stores nationwide. Also available online.

Find a store